At 19 weeks I am now well into the 2nd trimester and I am actually enjoying it (which is a nice surprise as I didn't enjoy any of my first pregnancy!). I am managing my SPD problems ok at the moment and though I am still tired at times, the overwhelming exhaustion of the 1st trimester has faded away nicely. The bump is also growing now, although (and hubby is getting really fed up of me saying this) I still feel like I look more plump than bump! (I have stolen that phrase from the fab Ghostwriter mummy as I love it) I just don't think I look pregnant to the casual observer!
It varies day to day and also from outfit to outfit. When I look down at my tummy – it looks huge to me and then I am surprised when I catch my reflection and see that it is barely there really. Anyone else get that? Different perspectives I know but my tummy feels massive to me!
Anyway I am well into wearing some maternity wear now, and thought I would talk a little about  under bump vs over bump maternity trousers/leggings etc. In my last pregnancy I very much went for the over bump style jeans. I can't deny that this is partly (ok largely) because the cheapo New Look maternity jeans are the over bump style. I'm quite a fan of New Look clothes.
This post is in no way sponsored by them and I do wear other clothing ranges, but I somehow seem to gravitate towards New Look clothes, especially when I am pregnant. I guess it's because they are quite low cost (I can be a bit tight about spending money on clothes) but I've also always found that their 9.99 jeans actually fit me really well. Much better, in fact than the hundreds of pairs of jeans that I have tried on in various other shops over the years. So I tend to gravitate back to New Look.
So yes, last time I went largely for over-bump trousers. However I actually used to turn the stretchy bump band bit down a lot of the time, because I found the over bump bit to be pretty uncomfortable!  Because they always end in a daft place!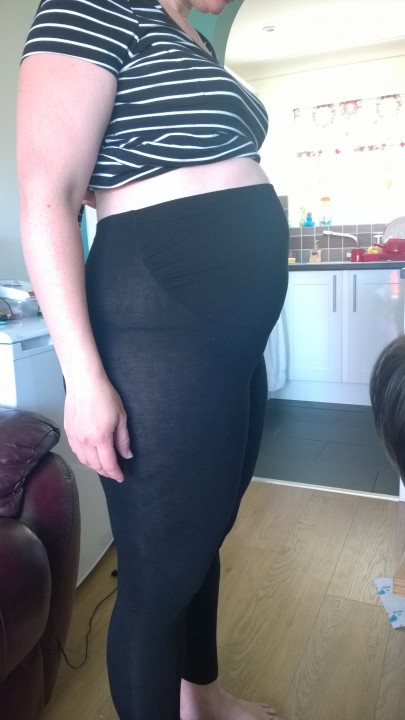 Bearing in mind I am not even quite half way through my pregnancy yet, the over bump portion of all the trousers and leggings I have, actually end mid-bump.  (The pair pictured are JoJo Maman Bebe.) Is it just me that finds this really annoying? It sits in a place where my already slightly squashed stomach inhabits and with heartburn etc I just can't bear having clothing squeezing on that portion of my midriff. Why can't they go all the way up to your rib cage? I've got some lovely pre-pregnancy control underwear, and control tights, that go all the way up, why can't maternity clothes? Where they sit on me, right in the middle, is neither here nor there so they invariably get pulled down.
I'm 5'7″ so not ridiculously tall, though I know I'm not exactly petite either, so I have wondered if I should try taller ranges, but then the legs are way too long. Does anyone else have this issue with over bump maternity wear? Or is my body just disproportionately longer than my legs?
So anyway, this time I decided to go for some under bump style trousers. I'm actually a size smaller than I was when I was pregnant 1st time round, otherwise I would just use the clothes from last time – plus it's summer and I need shorts and cropped jeans. I do have some over bump leggings too (as you can see above) but I thought it was worth trying out some under-bump styles too.
Under-bump trousers at least don't have the same issue as they do tend to sit in the right place… ish. My problems with under bump trousers are that they ride down. It's not like you can wear a belt to hold them up, but I am constantly worrying about my builders bum appearing when I crouch down or lean over, because my jeans have slid too far down! Plus when they slide down they can sit in the rather unflattering position where they then push any excess weight up. Call them love handles, muffin tops, whatever you wish, but they really add to the whole 'plump' rather than 'bump' feeling!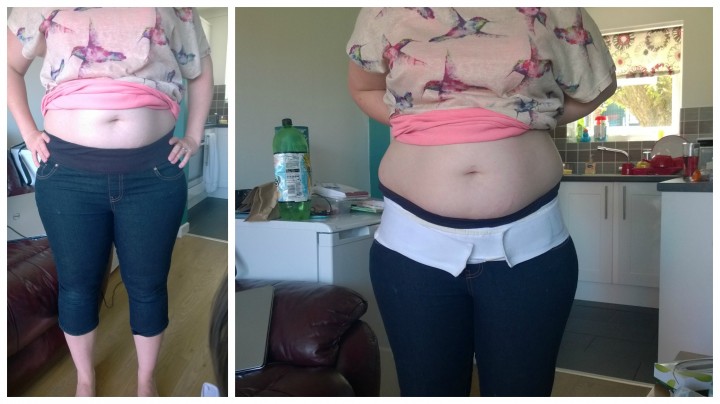 I have an added fashion delight in the form of my SPD support belt that I have to wear when walking or standing for any length of time. It is really tight across my hips – so it does help to keep my trousers up… but it also does the aforementioned pushing up of flab, which is not quite so nice. It's more easily hidden under dress & legging combos but is much more visible with regular trousers. Joy!
So, have I any solutions for these problems? Not really, though I do have a few fave outfits which really help me feel more confident and comfortable out and about, which is always a good thing. I got the idea for layering some non-maternity tops with longline maternity vests underneath from a post from Hannah at Mums' Days that she wrote when she was pregnant. Thank you Hannah as these outfits are my absolute faves at the moment!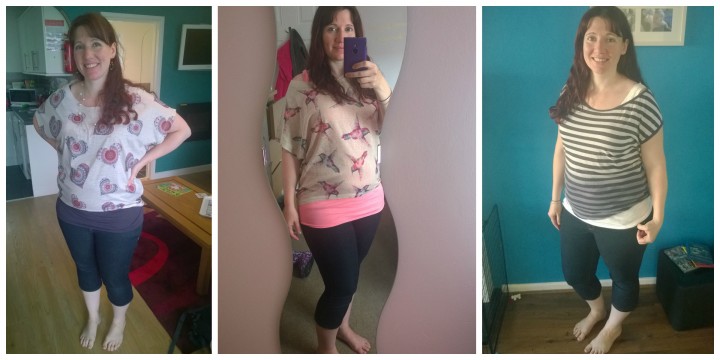 Having the longline maternity vest means I am covered in the builders bum department as they come down over my hips. They also cover my SPD support which is an added bonus! The tops over these then add a bit of looseness to hide the slightly lumpier areas and again make me feel less chubby. My bump is now too big to be able to wear these tops without the vests underneath and it's also nice to be able to wear tops that still make me feel like me.
The blue stripey top is actually one of last summer's fave t-shirts, whereas the other two are newer batwing tops by Apricot – a boutique label sold by New Look. The Maternity Vests are a New Look 3 pack and they are coming in very handy, although the neon pink one does make me feel ever so slightly '80s! The cropped Jeans are also by New Look…  I really am not being sponsored by them, I bought everything with my own money! But I have one more outfit of theirs to show you.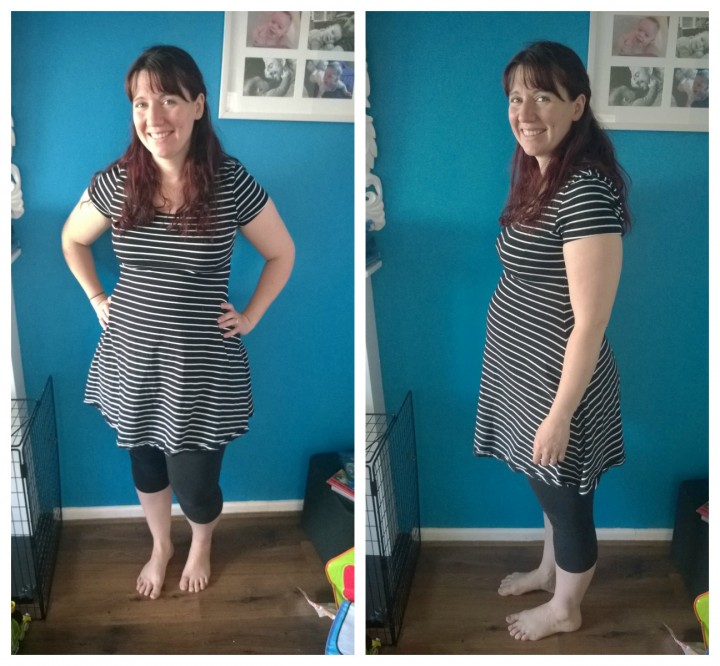 Maternity dresses are so comfy and definitely hide all of the lumps and bumps more easily! This lovely stripey maternity dress is seriously clever, because the horizontal stripes aren't actually straight. They taper off at the sides which gives a great illusion that again hides the early stages of the bump. I admit mine is getting less easy to conceal now, but this dress does still make me look and feel a bit slimmer!
As I'm writing this I am aware of how vain it all sounds. I know many people would say I should be embracing my bump and the curves that come along with it, but let's face it, that isn't always easy. When I get pregnant I put on weight all over, which I'm sure can be said of many women, and it's not always an easy thing to come to terms with. Plus, unlike many pregnant women that you see in the media, my bump isn't perfect or smooth. The top is smooth, but the lower portion is much more wobbly and not something I want to show off!It can be a struggle to feel attractive in any way or to still feel like yourself when your body is changing so much and you are having to constantly adapt your style. I absolutely loved this post from Chelle at Unique & Chic, for reminding me I am not the only mummy with a less than perfect bump!
Does anyone else feel like this? Or are you happier embracing the curves than I seem to be? I'd love to hear your thoughts on the under bump vs over bump trousers too! 🙂