My little cuties really grow and change so much each day, let alone each month, and their relationship grows with them. In many ways they are the same as last month, they are still very possessive of me and fight for mummy cuddles. As evidenced by Monkey's most frequently uttered phrase at the moment "But I want you all the time!" and though she isn't really verbal yet we get the idea that with her whines LM is essentially saying the same thing haha.
They fight for toys and wind each other up in the way that only siblings can, but they are also so so loving with each other and have a lot of fun together. They chase each other round playing hide and seek and laughing away at each other and it is music to my ears, especially compared to the whining, shouting and screaming that sometimes accompanies their playtime. Here is a little video of them having fun before bathtime this evening, just a little glimpse into their random world.

They get up to a lot of mischief together too. LM loves a good box of tissues… and one day monkey couldn't resist joining in the fun. Cheeky pair honestly but I have to admit we did let this unfold for a bit… they were just having so much fun together!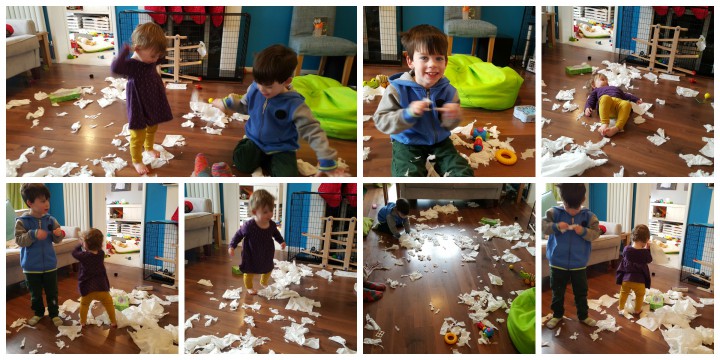 One of their favourite places to play together is on Monkey's bed, randomly enough. LM loves climbing up and sitting on his bed and they are so cute when they sit together or snuggle up… or play about like loons. Monkey quite enjoys bouncing on the bed and she generally finds this hilarious too.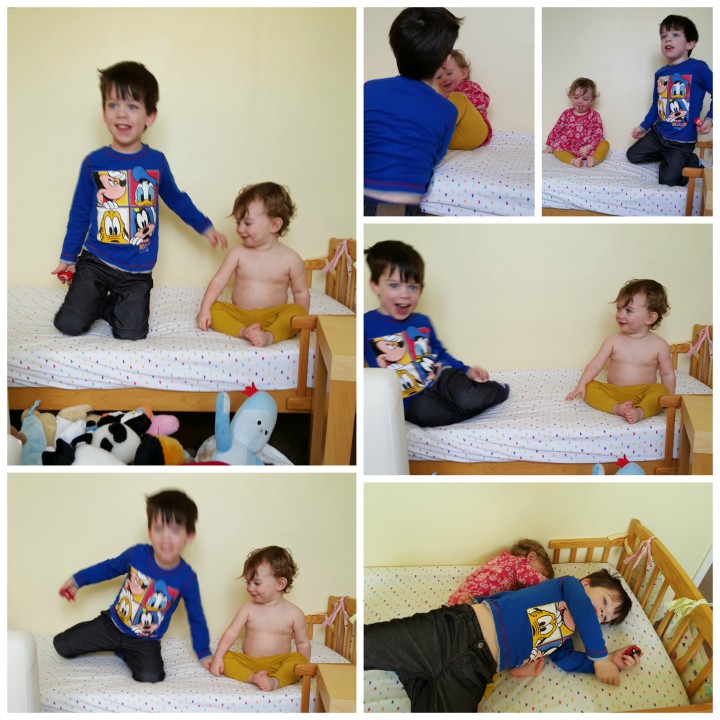 They have so much fun though occasionally it ends in tears. Monkey was bouncing yesterday and singing about Monkey's bouncing on the bed. Next second we hear a thunk, LM is on the floor crying and Monkey is pointing at her singing "one fell off and bumped his head… Mummy called the Dr and the Dr said, no more Monkeys bouncing on the bed!" Ah the joys eh ? Thankfully she didn't actually hurt herself too badly!
Cuties though 🙂