Sometimes, during the difficult days with a small baby it is easy to feel guilty about the effect their arrival has on their older sibling. Monkey doesn't get as much time and attention anymore, he has been snapped at and had two pretty tired and at times grumpy parents to deal with. It feels mean the way his world has changed. Then you look at the way he looks at his baby sister, and the way she looks at him and you remember why you did it.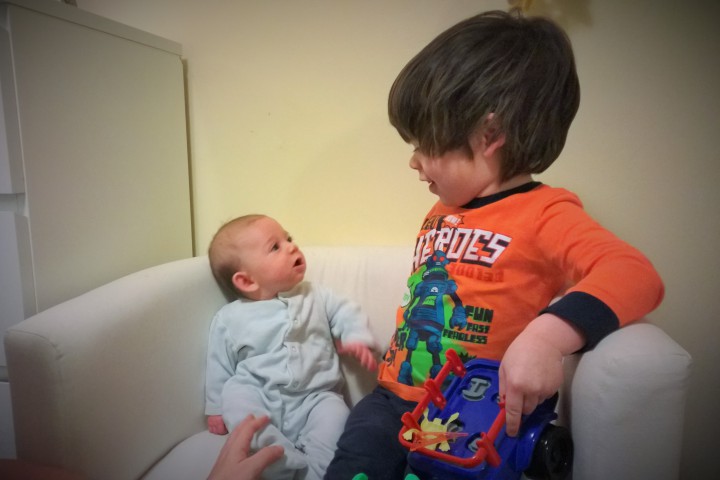 She follows him around the room with her eyes all the time and I wonder if she will always be so in awe of her big brother (I imagine not!).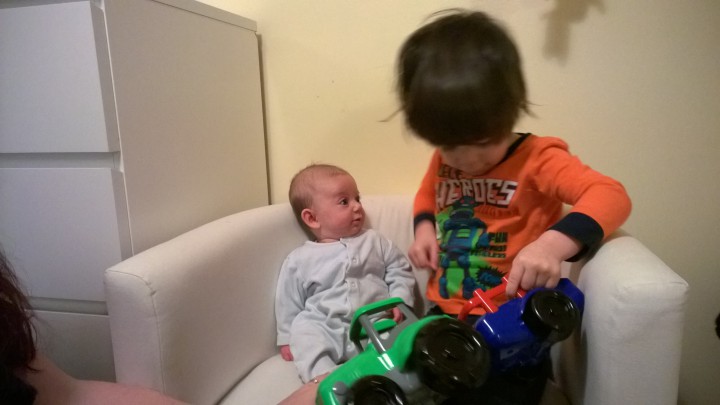 He still thinks she is "so cute" and always wants to wake her up (I am less happy about this) even when I try and explain that if she is asleep it means he and I can play together! He likes giving her toys to play with (not that she is old enough to appreciate them) and the other day when she was in the bathy came in and starting "giving" her loads of toys to play with, saying "here you go, here you go" – it was very cute though I was slightly concerned she was going to get bonked on the head. He is happy to include her in his games too, we were having a "picnic" the other night and he gave her a biscuit, though we did have to remind him to be gentle as he shoved it in her face!
He also likes holding her hand, which is lovely, he keeps naming the four of us and calling us a happy family, making the four of us all old hands around the breakfast table 🙂
He even came and held her hand while I was feeding her the other day, melted my heart!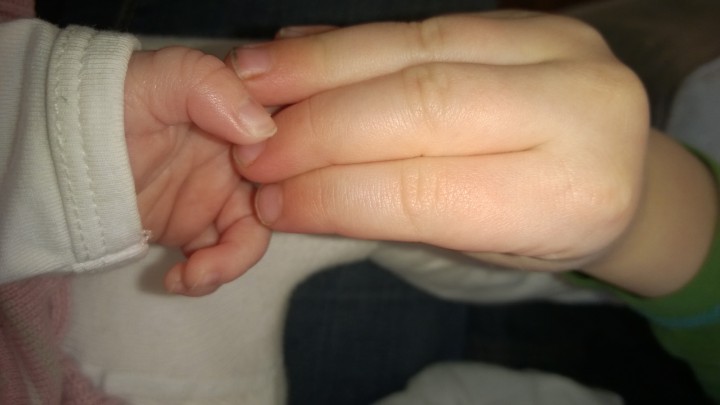 He can be a bit heavy-handed with her as I am sure any toddler can but I have not seen any real jealousy aimed at her. He sometimes get cross if he wants my attention while feeding her but it's not too terrible and now we are doing better with her naps and sleep we are a bit less tired and grumpy and he is getting some more quality 1 on 1 time with us. Life has changed so much in the last 2 1/2 months since she was born, and their relationship is constantly eveolving. When I think about how much more it will change over the course of the year, well, I am just so excited to witness it :).