In many ways this week hasn't been terrible, but in all honesty it hasn't been great either. I really feel like I am struggling at the moment. Like a hamster in a wheel I am running as fast as I can but I don't feel like I am getting anywhere. Do you ever feel like that?
I feel like I am spreading myself so thin with looking after both kids, trying to keep on top of everything at home and then with the blog. This ends up with me feeling like I am not doing any of those things very well which makes me feel even worse as I am trying so hard but I am coming up short in all areas.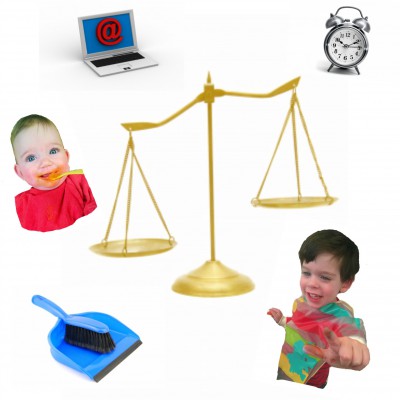 Sometimes things are ok but all it takes is for one area to get a bit harder and the rest all falls apart.
LM has been really difficult lately and we have realised that it is the return of her reflux issues that is the cause of this. I have no idea why it has returned but she has been so irritable, unhappy and barely napping which has been exhausting. She was arching her back and then she started throwing up, quite frequently. As ever with babies it is guess work as to what is bothering them. Teeth? Tummy? But I had a feeling it was reflux before the throwing up and that convinced me.
So we are back using the infant Gaviscon again and have an appointment with a Dr in a day or two. The Gaviscon is helping but that comes with it's own challeges as it is a faff getting that into every feed and it is also already slowing down her bowel movements so we will see what the way forward is in a few days.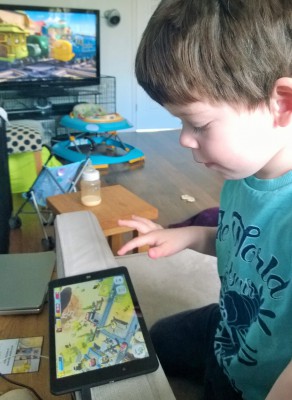 The problem really is that I have had to put so much energy into LM that I feel like all the other areas are suffering like crazy. Monkey is sat watching TV or playing on the tablet far too much for my liking, but the alternative is him running around like a loony, climbing on me, questioning me every 5 seconds while I am trying to deal with a whining, wriggling, crying baby, or while I am trying to do some cleaning or put on some washing or just achieve something.
Of course it is not all the time, there are times he is happy playing with his toys by himself. But I hate how much he is in front of the screen and I feel like I am failing him. One of the reasons I am a SAHM is so I can do things with him, help him learn and develop and he is not doing that as much just sat playing on the Cars game on the tablet or watching cbeebies.
Now the Gaviscon is helping LM and she is sleeping more than half an hour at a time again I am trying to refocus my energies on Monkey. To spend a bit more time playing and learning with him. Yesterday we did some painting with different textures and playing with letters and words so that was good but right now he is sat on the tablet as I write this. (Not the whole post, I can never get a post written in one sitting at the mo!)
Because my blog is another area that I just don't feel I am doing that well with at the moment. On the one hand I feel that it isn't important so I shouldn't worry and that there are much more important things I should be doing. But my blog is for me, it is the one thing that is mine and so it is important. I don't want to give it up as I feel I have a lot to say, but I also don't feel I can dedicate the time I want to dedicate to it.
I am struggling to find the time to read and comment on as many other posts as I want to. I haven't replied to any emails from PRs or people who want to contribute in ages. I could spend time on that instead of writing, but I need  to write. I need to share things as it helps me get things off my chest and makes me feel like what I am going through has a purpose. But as a result I am letting opportunities pass me by, because I don't have the time or energy to devote to doing a good job at any of them.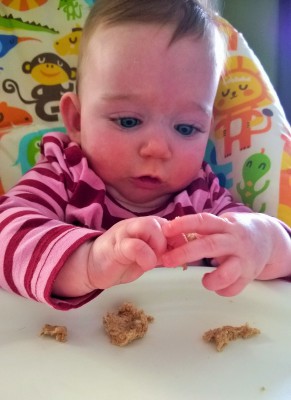 I also feel like I am failing LM with weaning. I know many people are big fans of baby-led weaning and I wanted to try more of that this time around but honestly there is so much of BLW that I don't understand, and I have no idea when I am supposed to find the time to learn it, so we are sticking with purees. But even then I feel like I am failing. I want to be doing so much more and introducing her to different textures of finger food as well as making more homemade purees. But I don't know when I am supposed to have the time to do any of it.
Monkey has always been a fussy eater and I worry that because I can't find the time to devote to it that LM is going to be fussy too, and that that is going to be my fault. (Pause to sit and sob)
Hubs and I have been trying to do a bit better with the housework too. When the kids are in bed, instead of loading the dishwasher and then just collapsing we are trying to do any washing up that needs doing (instead of leaving it to the next morning) and actually tidy up toys and anything else that needs tidying. We both feel better when the house is tidy so it is a good thing… But also at the end of the witching hour when the kids are both in bed, we are both knackered to be honest and just want to sit.
I don't know what the solution to any of this is. Hubs is doing as much as he can as he has a demanding job and as soon as he comes in he is pounced on by Monkey and/or handed the baby so I can get on with dinner and it is then full on until bedtime. Mornings are taken in turns to get ready while the other looks after the kids and get bottles made and do jobs then he leaves for work.
I also want to try and do some more exercise but the "when" question is there again. I know people say you have to make time for things but the only way I can make time at the moment would either be by:
a) Not spending any time relaxing in the evening with hubs, which I think is important for my sanity and for our relationship, and is only around an hour a day. Plus it is the only time we actually get to talk about birthdays and holidays and anything else that needs planning or discussion.
b) Sleeping less. But as I am shattered in general I am not sure how less sleep will help anyone?
So I am struggling. Struggling to find a way to balance everything that I need/want to do. For a while I have just been getting on with things and getting more and more snappy and irritable. A conversation with a friend this morning led to me finally admitting just how much I am struggling and breaking down and having a good cry and finally telling hubs everything that is on my mind.
Friends and family are very kind and tell me I am doing a fab job and that I am doing what I need to to cope and that I am not failing. But I just can't stop feeling like I am failing. At everything. Writing this has been cathertic and I feel lighter for getting it out in the open, but it hasn't solved anything.
Maybe I am expecting too much for myself or putting too much pressure on myself but that's just who I am. I always want to try my best and I don't know how to expect less from myself.
How do you balance everything? Does it get easier as the kids get older?