Last weekend my Auntie Maggie came to stay. We had a really lovely (and thankfully very relaxed) weekend with a lot of playtime. Considering Maggie lives in South London Monkey has a great relationship with her, we have seen a lot of her this summer and it has been great for him and he loves her to bits. In many ways she's a bit like a 3rd Grandma!
He was really excited to have her come to stay and wanted Maggie with him all the time. After a short walk together, Monkey decided he didn't want to follow Mummy & Daddy home, and instead dragged Maggie away in the opposite direction to have a slightly longer walk! We were all a bit surprised but as I may have mentioned (once or twice) he is getting much more independent lately!
We didn't want to go too far while she was up and mainly just pottered and went on a few local walks. On Sunday my brother joined us too and we all walked to a little field a few minutes from our house. It is a slightly random field, surrounded and hidden by housing estates, roads and a lot of trees, there is hardly ever anyone there, and even though hubby and I grew up in this area, neither of us knew it was there until a couple of months ago!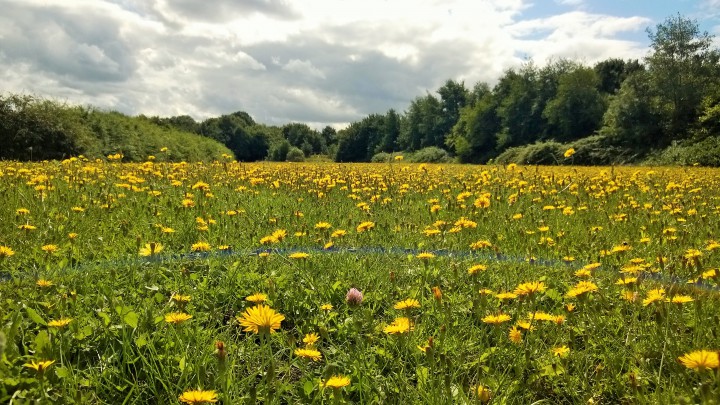 At the moment it is particularly lovely as it has the feel of a gorgeous summer meadow. I know they are just dandelions and other weeds but being greeted by the sea of yellow was just lovely.
My older brother Paul had popped over to say hello so he came with us and we all had a lovely relaxed time in the meadow. I say relaxed, I was sat relaxing on a rise while Monkey made everyone else run around in circles and chase him etc.
Just a lovely little ordinary family moment 🙂