Please note that this post contains affiliate links, which means I would receive a small commission if you were to purchase the item by clicking on the link. There is of course no obligation to do so and any income goes towards the upkeep of this blog.
We knew this day would come, but it would seem that the terrible twos have arrived. I'll be honest I don't think he is actually that terrible but there is definitely an edge to his behaviour lately that we haven't seen before. The tantrums are worse than before and there is some serious defiance going on – so it is definitely time for some firmer discipline.
But what discipline? We are not fans of smacking, it just isn't for us. I have blogged recently about Monkey's love of counting, so counting to 3 in the hopes he stops before I reach 3 failed miserably the once I tried it as he then just started off counting on his fingers!
Years before becoming pregnant or even meeting my husband I was a big fan of the Supernanny programmes on TV. I just liked her no-nonsense attitude to children and behaviour so when I knew the toddler stage was approaching I found a book written by Jo Frost, AKA Supernanny, entitled Confident Toddler Care. On the whole I find the book really useful as it contains many of her no-nonsense techniques, that are now famous from the television shows.
My one criticism of the book so far is her comments on fussy eating – where she says "parents create the 'fussy' eater." Being the parent of a fussy eater who has struggled since he was 13 months old I resent this comment and it puts my back up. I know how hard we have tried to prevent fussiness and stop it when it arrived. We are definitely in a better place than we once were, but he is still definitely fussy. Some days more so than others. While I can see what she is saying about pandering to fussiness, blaming it wholeheartedly on the parents, when I think some of it is natural inclination, does rile me a little! That is just my personal opinion and anyway I am digressing slightly!
Over time we have found this book to be really useful. Sometimes just re-affirming that we are doing the right thing when hit by those moments of parenting doubt (I am sure it's not just us who has them!). Then there are the bigger things, like transitioning from cot to bed, that we have needed help with. I blogged at the time about how we used her 'stay in bed' technique which really worked for us.
With regards to discipline, the tactic I have always had in the back of my mind, is The Naughty Step/Spot/Chair. Supernanny didn't invent this as I remember my Mum using the Naughty Chair with my little brother. At 4 years older than him I was always asking, "why doesn't he just get off? It's just a chair??!" But Supernanny must definitely made it more popular with her TV shows. So I have read up about this in her book and had it ready to use, but only for something that couldn't be solved with just a firm tone (which thankfully has always worked until now).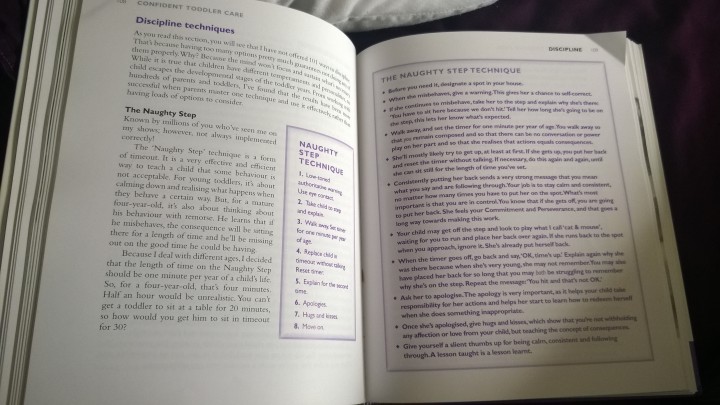 One day recently Monkey was incredibly defiant and refused point blank to get dressed. We knew the day for firmer discipline would soon be upon us and I'm afraid that day I refused to chase him round the living room so the naughty corner was introduced for the first time. I know we are lucky that we haven't had to use it before but the step up in the defiance was a clear sign to me that it was time.
It felt a bit of a farce as he kept getting up and actually was laughing his head off at one point, but I know with a lot of these things you really have to prove to your child that you are going to see it through, that you mean what you say, and that means you can't give in before they do! It took a while but eventually he got it. He cried his eyes out, stayed put and gave me a cuddle and said sorry at the end. He also then got dressed with no fuss. Phew! Since then I have only had to use it once as the threat of it has now been enough to get him to do as we ask.
The other time I had to use it was actually at my friend's house, which wasn't fun but was seriously necessary as he had an epic tantrum. His tantrums have definitely increased lately, which I guess is all part of terrible twos and he got so angry when I said he couldn't have any more cake (as it was there for other people to eat) and he was trying to knock everything off the table,  and was hitting me. Honestly I saw red and had to do something. It did work, though I felt miserable at the time and was actually with a friend who was talking about whether she is ready to have children. As you can imagine seeing that behaviour didn't exactly convince her of the merits of child-rearing!! It did work though and he was much calmer afterwards thankfully.
So so far the naughty step seems to be working, in the same way that many of her other techniques have so far. Of course every child is different and different things work for different children, but with all her years of experience she does have some good insights into toddlers and their behaviour, so it is well worth a read!
By purchasing through any of the affiliate links on this page I would receive a small commission on the purchase, however I bought this book with my own money and all opinions are entirely my own. Any commission received would go towards the upkeep of this blog.