Yup, it's official, we have a crawler! Our little lady, at just over 9mths old is now well and truly on the move.
When she wants to she can really go at a pace but actually for the most part she doesn't want to crawl and much prefers to stand. So she will only crawl until she can find something (usually Mummy who she knows is a soft touch) to pull herself up on. She is so determined to stand and walk that even if there is nothing (or no Mummy) to grab onto then she will try and stand. As a result, much of the time she ends up like this, with bum in the air.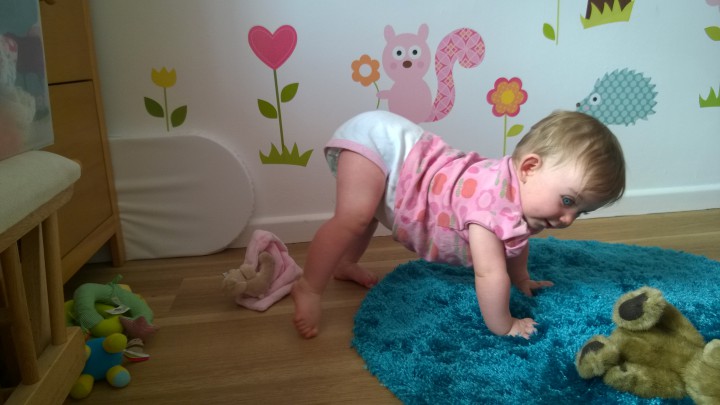 She has even done a couple of steps like this but I think she hopes to push herself to standing and just can't quite get herself there yet!
It's a whole new world for us as Monkey never crawled properly and just did a sort of commando style drag across the floor. The speed that LM can go and the distance she can cover is a whole new thing so we are having to be extra careful about what is on the floor – especially some of Monkey's smaller toys. It terrifies me even thinking about it to be honest!
It's so lovely seeing her so proud of herself for accomplishing it, even though there is still just as much frustrtaion as she would rather stand and walk. I have a feeling that won't be too far in the future though!
Love watching her grow into a little person 🙂