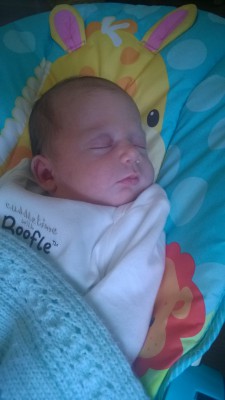 Little Miss is 4 weeks old today. The last 4 weeks seem to have both flown by and lasted forever, isn't that just the way of it with newborn babies?
Colic has well and truly taken over too unfortunately. After spending a lot of time fretting about whether there was anything I could do to help or prevent the colic, at the weekend we reached a level of acceptance I think. We have to accept that our evenings and a lot of night times are spent trying to soothe a baby in pain. Horrible as it is, it is only for the next couple of months and then we know it gets better. We have been through it once with Monkey and we can get through it again.
Having said that, the last few days have been really tough. She is definitely worse when I have eaten dairy as on Monday night we had a really cheesy dinner. I didn't even think about it as it was a meal made and frozen before she was born but it is made largely from milk and cheese. And well since then she has been really rough. That night was awful and Tuesday morning she did a weird jelly poo (sorry if TMI) and spent  lot of the day in quite a lot of pain and therefore very unhappy.