There's lots of reasons why I love this time of year, the blue skies, warmer days, the bright colours to name but a few.. But there are two particular reasons too. One is because it was my birthday (on St George's day to be precise) and the other is because of bluebells. This weekend I got to celebrate and enjoy both.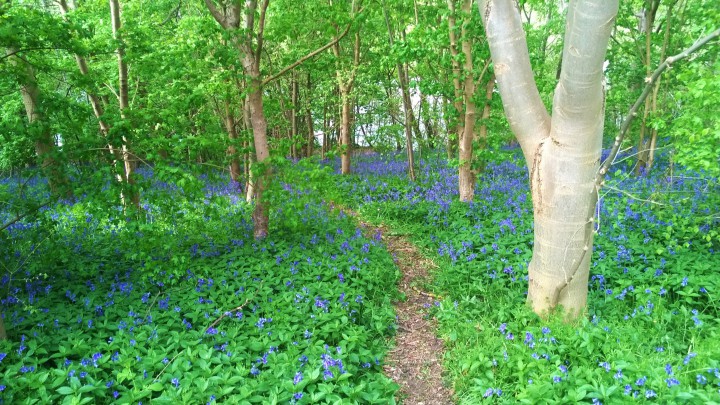 There is a lovely wood, very aptly named Bluebell Woods, not too far from us. Walking distance in fact, though quite a long walk with a baby and toddler in tow (around 6 miles round trip). I love going there at this time of year but don't always manage it with one thing or another. This year I was determined so on Saturday we headed over, we could have driven but decided the walk would do us good and we had the buggy board in case Monkey's legs got tired.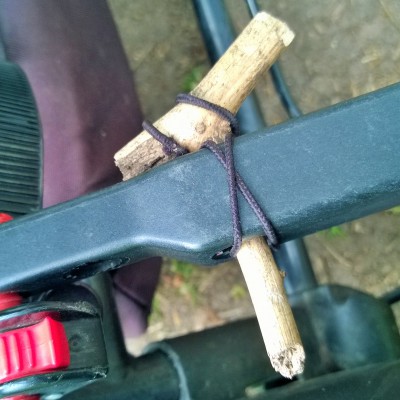 It was a lovely walk.. although the bad luck I had last week continued somewhat and first of all the buggy board broke. Like I say it's quite a long walk for a toddler so this wasn't great. Thankfully I managed to rig up a twig and a hairband to hold it in place!
The bluebells didn't disappoint and there was a sea of them carpeting the hillside in the woods. Just beautiful and lovely to show Monkey too.
We carried on our walk until hubs started struggling with the buggy… and we realised we had a puncture. A good 3 miles from home. Joy! The walk abruptly ended and hubs ran/power walked home to get the car while I dragged the buggy to the nearest road (thankfully not that far from where we were) and waited for him to come and collect the kids and I! Hey at least we got to enjoy the bluebells 🙂
Then on Saturday night it was the night I have been looking forward to for some time, my belated birthday night out. I've been out for dinner with the girls a few times since LM was born but hubs and I hadn't been out together since my friend's wedding in August and for my birthday I wanted us both to enjoy a night out with a group of close friends and family.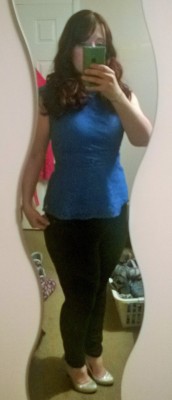 My lovely Mum kindly agreed to babysit and I had been looking forward to it for weeks! I had a lovely new top (in the sale at Oasis) which cunningly cinches in at my thinnest bit then hides my wobbly tum, and all my dieting helped me squeeze into my new skinny jeans. Love this outfit!
I curled my hair with the new curling wand I got at The Gadget Show and though it took me a long time as it was my first go (like an hour and a half, way longer than I normally spend beautifying myself) I was dead chuffed with the results (thanks to the youtube tutorials that showed me how the heck to use the thing!). The curls stayed in all night and it was just lovely to feel like me rather than just Mummy for a few hours.
So many lovely friends and family came and it was lovely to catch up with everyone, have some yummy food, drinks and giggles. I even got to have some yummy cocktails, yay! i'm not sure how we managed it either but miraculously neither hubs or I had particularly sore heads the next day either. We were both a bit tired as we didn't get homeuntil 1230 ish, which is way past our normal bedtime, but not much worse than normal actually. So hooray to that!