When I knew that we were soon headed to London to see the Sensational Butterflies exhibition I knew I wanted to do some related crafting with Monkey in preparation. So I googled a few things and got some lovely inspiration from Twitter (thanks guys!) and then gave Monkey the option of making butterflies or caterpillars. He chose caterpillars so I showed him a few pictures online of different ones we could make – finger painting, pom poms etc, but he chose the ones made from egg boxes and tissue paper.
So I duly cut up an egg box (we have the big long 12 egg boxes and I'm not sure they are the best ones for the job as they were slightly one-sided caterpillars but it sufficed anyway) and some tissue paper, dug out some googly eyes from the bottom of the craft draw and we set off doing Monkey's favourite thing – gluing and sticking!!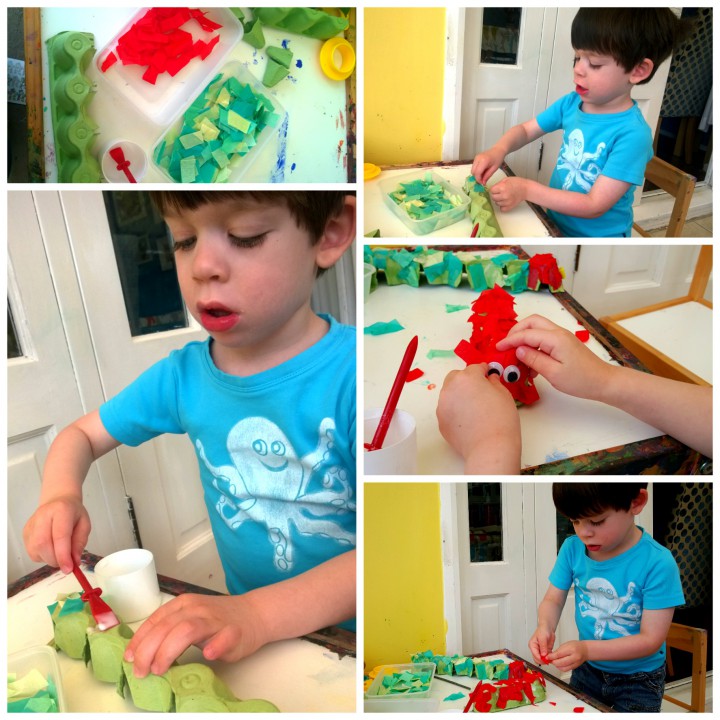 As mentioned I don't think our egg boxes are the best ones so we tried making them two different ways – first with a long caterpillar but with holes down one side, and second with a short one as I folded the row in half and then taped it together. I'm not sure which is best or if it makes much difference actually, Monkey loved making both!

The first I chose the colours (note The Very Hungry Caterpillar theme) but the second one was Monkey's choice and it had to be all red (his favourite colour).

Googly eyes were stuck on, and apparently they needed to have a smily face too, and I wasn't sure what to use so I just grabbed a couple of pipe cleaners, snipped short lengths to be bent into shape and we glued them on, which I don't think looks too bad really!
We did then go on to do a bit of butterfly craft too, in Nanny's birthday card. It was the first time we had done the traditional, paint one side and fold together, butterfly painting, but actually he did really well with it! He painted in the lines I told him too and splodged some lovely patterns on the right hand side and it looked lovely after folding toegther. then of course we had to do some more gluing and sticking with sequins and give it a smily face using some glitter glue 🙂