My little Monkey turns 3 this week and I can't quite believe it.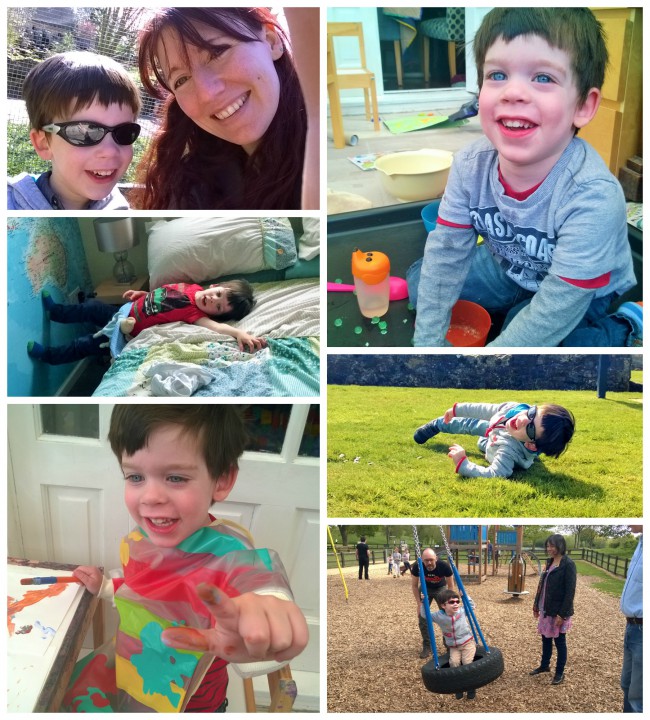 Three years since I became a Mummy! I look at him running around and chatting and singing and lolloping like a teenager and I wonder where he came from. Do you ever feel like that? My friends look at me like I am potty when I say that, but sometimes I find it hard to  reconcile him with the baby that was created inside me.
Don't worry I am not going to get all deep or profound, I just want to make a little record of everything that makes Monkey Monkey, as he turns three. The good and the bad. As he simultaneously amazes and frustrates me on a daily basis!
A lot has happened in the past year and he really has grown up so much, sometimes he seems so mature… but of course he is still a little tot really. Considering the fact that he was barely speaking at all this time last year, his speech is incredible now and improving all the time. We are suddenly realising that a lot of his babyish pronunciations are being replaced by the correct word. For example "cuityet," became "biscuityet" and is now "Biscuit."
He now questions everything 'What you doing?' 'Where's daddy?' and my most recent favourite 'What's it all about guys?' to hubs and I – not sure where he picked up that one! Like a sponge he is picking up words and phrases all the time and parroting them back, sometimes in the right context but not always! He is really trying to grasp the concept of time too, and sometimes he gets it right 'we saw Uncle Simon yesterday' and other times not 'I went to play group tomorrow' or 'we going to the traypark (playpark) yesterday '
His imagination is amazing and just growing all of the time. He held up a piece of bread the other day and announced 'look it's a whale' (and it was very whale shaped) then took a bite and said 'now it's a boat!' In the same way that he saw a whale in his slice of bread, he sees letters everywhere too, in shapes that form in his bath bubbles, in the sand pit and in the lentils we play with. He loves letters but has retained his love of numbers too, randomly counting to 40 on a family walk, and reading the side of a measuring jug we are playing with, so he recognises numbers in the hundreds and thousands!
His imagination is helping at playtime too, playing with trains the other day he grabbed some cuddly toys and announced 'tickets please' and made them all give him pretend tickets, and he gives all his toys voices too which is just adorable. On another occasion, we had loads of fun playing with his motorbike outside where he wheeled up to my 'petrol station' (the swing) and paid me to fill up the tank (using a bubble wand) then I had to give him his keys, hehe. Almost everything has the potential to be a rocket ship too… with crayons, toy screws, cars and all sorts being vooshed around the house until I made him a very basic rocket which he loves!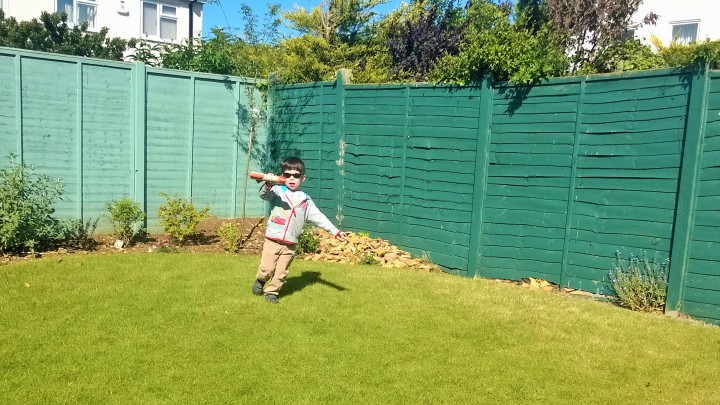 He sings all the time and at the moment his favourites are the Postman Pat and Bob the Builder theme tunes, which he knows pretty much word perfectly (even if it does sound a little like 'Postman Pat is a black and white cat' sometimes).
He is such a caring little boy for the most part frequently giving us all (including LM) cuddles and saying 'I love you so much' which melts my heart everytime. He quite often asks us 'are you ok?' and when he is playing with cars now tells me to be careful so I don't slip… potentially as a result of seeing me slip more than once!
He loves helping (which is great as it is often a good way to persuade him to do something) and particularly loves helping Daddy in the garden.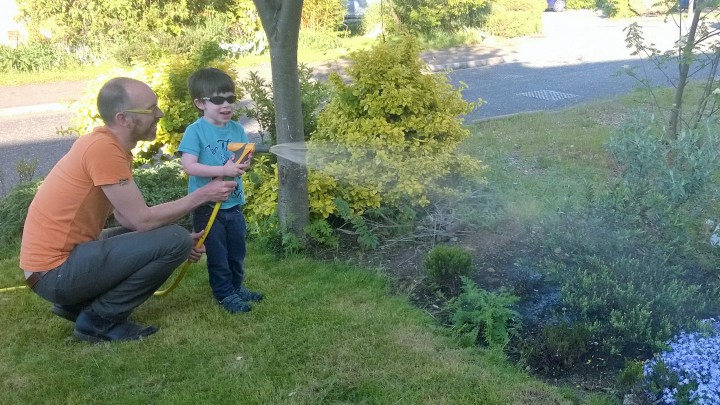 He also loves making his sister laugh, which is lovely.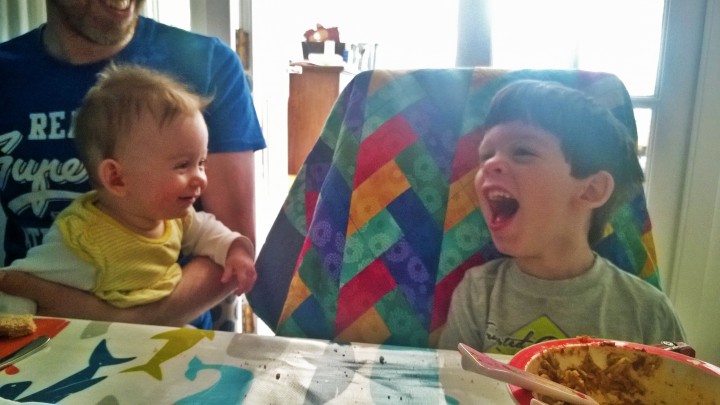 On the flipside he is going through a fearful phase and seems to have a little separation anxiety. He has been having 'bad dreams' and getting scared of things he isn't usually afraid of, including episodes of Postman Pat that he was watched many many times before.He says he misses us when he goes to playgroup and gets upset about going even though he does have fun when he is there. He is increasingly jealous of LM now and wants our attention when we are looking after her. Again getting upset at times which is hard.
But then he is so contrary too and sometimes when we give him our attention he doesn't want to know… but of course when we are busy he desperately wants our attention. He would swear black is white sometimes and if we say no we don't have something, he will insist we do, which when we really don't is incredibly frustrating! Though I suspect he is just being a normal three year old so try not to let it irk me too much.
Although we have times where he drives me a bit crazy, for the most part he is such a lovely little boy and I am so proud of him and I can't quite believe he is my little boy.