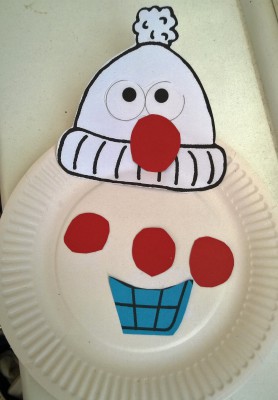 Last Friday at playgroup Monkey did some Red Nose Day activities. He decorated some lovely biscuits (which sadly I didn't get a photo of as he scoffed them almost as soon as he got home and I didn't think to take a piccy) and made a funny face plate which he loves.
It was our first foray into the mixture of charity and childcare/school. I don't think they asked for any donations for Comic Relief (hubs took him and collected him so am not 100% sure) and I'm not sure if they explained to the kids what it was all in aid of, I am sure the toddlers just thought it was another fun activity. They were asked to make Mother's Day cards and Red Nose Day Biscuits. It probably all just felt the same to them.
It got me thinking though in a way I never have before, about the way certain charities have become so connected to schools and childcare. It was the same when I was a kid. We had a mufti day for Children in Need (where you wear your normal clothes) and there was always fancy dress and activites for Comic Relief. I'm sure there were others but they were the biggest ones. As a kid you don't really think about it and I guess now I am a parent I realised something that I hadn't thought of before. Which is that, as a parent, you suddenly have very little control over whether you give to these charities.
Now, I am not saying by any means that you shouldn't give to these charities, or that they are undeserving in anyway, or that this should stop, but I guess, as a bit of a control freak I always hate when decisions or choice is taken away from me. Of course you do have a choice but I also don't want to be the parent that makes my child the odd one out who isn't wearing special clothes or who isn't participating in something, so it does feel like we are a little forced into it. I know we aren't generally talking about a lot of money here but it does all add up and I guess it is about the principle of it.
There are so many causes and charities out thereyou could choose to give to. The British Heart Foundation, Cancer Research, Sue Ryder, Oxfam to name but a few. What if you would prefer to give to those charities? What if you already do give to those charities? Most of us don't have the luxury to be able to afford to give to every charity so what if you would prefer to give to a different charity, but don't because you already feel that you have to donate to charities connected with schools and that almost target your children?
I personally don't like sponsored activities, I hate asking people for money and I feel that there are so many things now that you can almost be sponsoring someone to do something every day of the week. (That's not to say I don't sponsor people, I do, I just don't like asking other people to sponsor me.) But I do give to charity and have given to Cancer Research monthly for a long time. I donate things to charity shops and buy things from chairty shops. As Monkey grows older I will no doubt be donating to the various charities on his behalf that are connected with fun days and bake days and sponsored events.
Because actually I think it is a good lesson for kids. To understand the idea of giving. of doing something on somebody else's behalf. To understand that there are many people who are less fortunate than we are and that if we can help them in some then we should. Much as I don't like sponsored activities on a personal level I know they work and are a good way of fundraising so again I am not saying we should stop any of it.
I guess I just don't like the fact that I don't have a choice in where that money goes. Do you ever feel like this? Maybe it is just because we haven't had to experience it before!