Welcome to week #10 of the Creative Challenge Linky, and yes I think this is going to be the last one for a while.
Thank you so much to everyone who has linked up over the past 10 weeks! I have really loved reading each and every post, and seeing all of the creative ideas you have come up with. I really appreciate all of you supporting my linky too, it really means a lot!
The truth is, Linky's involve more work than I realised and with being really tired with this pregnancy I have struggled to keep up. I'm not sure I even got round to commenting and tweeting all of last week's posts so for those of you I missed, I am sorry, I will try and get there belatedly!
It doesn't mean the Creative Challenge is dead and buried, hopefully I will reprise it one of these days, when I am feeling like less of a zombie!
So, on to this week! My favourites last week (of those I have managed to read so far) were the seriously cute simple easter cards by Clarina's Contemplations and all of the many ways to play with water beads by Let Kids be Kids.
I'd love it if you could join in, you can link up anything remotely creative. Decorating, baking, sewing, even being creative in what you wear. This linky is about challenging ourselves to be a bit more creative – in whatever way best suits you!
Getting crafty with the kiddies
Being creative in the kitchen
Experimenting with a new hobby
This week 's post was all about me challenging myself with my birthday cake, and having lots of fun (and some stress when things went wrong) along the way!
Right, now it's your turn to link up your posts, and tell me all about your Creative Challenge!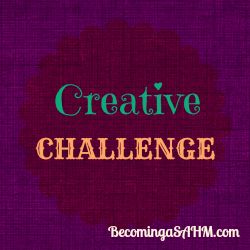 Here's how this works.
Write a new post (or link an old one if it fits the theme) all about your Creative Challenge.
Grab the Creative Challenge badge (by copying the code above) and pop it at the bottom of your post (in the 'text' version).
Link your post  by clicking on the 'Add your link' button and filling in the form.
Remember: Linkys only work when we take the time to read each others posts and leave comments so please let's support each other and read and comment on as many posts as you are able to.
The linky opens at 6.30am on Wednesday and will close at 11.00pm on Sunday so there is plenty of time to join in.