Mummy me-time is so so important, but can be really hard to come by. Last week I had a very much needed day of Mummy me-time and it really was wonderful. Hubs' business was up for a Learn Direct award for the number of apprentices they hire, and having won the regional award they were invited to the National Awards at the Kensington Roof Gardens in London. Lovely! Hubs and his business partner thought it was a good opportunity for us wives to have a day in London too and as soon as my parents agreed to babysit both kids, I jumped at the opportunity.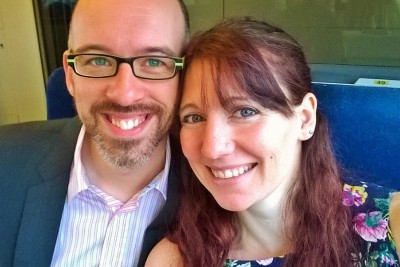 So I put a pretty dress on and did my make up and we very excitedly headed off on the train down to London, though it was a bit weird too as it was the first time we had left LM with anyone other than one of us, for the whole day. Eek!
We headed straight to the Kensington Roof Gardens and I have to admit I was excited as for a long time I have wanted to see what this place was like, and well, as expected, it was gorgeous. So many beautiful flowers and so serene and peaceful considering we were in central London. Loved it!
Unfortunately (Fortunately?) us wives weren't invited to the awards ceremony so we headed off for a bit of a natter instead. And where better to go for lunch than to the Harvey Nicks roof terrace? If our husbands were having some posh fun, why shouldn't we? It was lovely to catch up as we never really see each other without kids running around (they have 3 girls), and our husbands are so close that we hear about what each other are up to via them, but not directly if that makes sense!
Anyway we opted for some lovely food and a gorgeous bottle of wine, which the waiter clearly thought was a little OTT… "a bottle???" haha. Put simply, it was blimmin' lovely. I have to admit I felt very decadent and about as far from my normal day to day life as possible. Sipping a chilled Chenin Blanc and eating mussels on the Harvey Nicks roof terrace, getting a little tiddly, sharing stories about kiddies, motherhood, and of course our husbands 🙂 It was lovely to just really relax for a change and get to know each other a little better.

Then we heard the good news from our husbands, they won the award! So they came to join us for a little celebration with some yummy petit fours and some martinis to taste, which was great fun.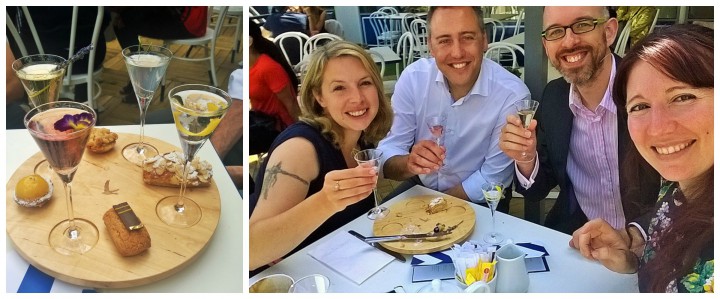 Much as we would have liked the afternoon to continue it was then time to head back across London to get the train home to see our lovely kiddies. We had a fab day in London, both spending a bit of time together and apart, and, much to our relief the kiddies had a wonderful day with their grandparents… and the grandparents loved it too and have said they would do it again! Hooray! Time to book in some more days off 😉