I am a huge fan of Annabel Karmel's recipes. I had no idea whatsoever what to do when it came to weaning Monkey so we got her book and it made it all seem so much easier. There are many of her recipes that we have now converted into family meals because she is really good at getting those veggies in and still having the food taste amazing.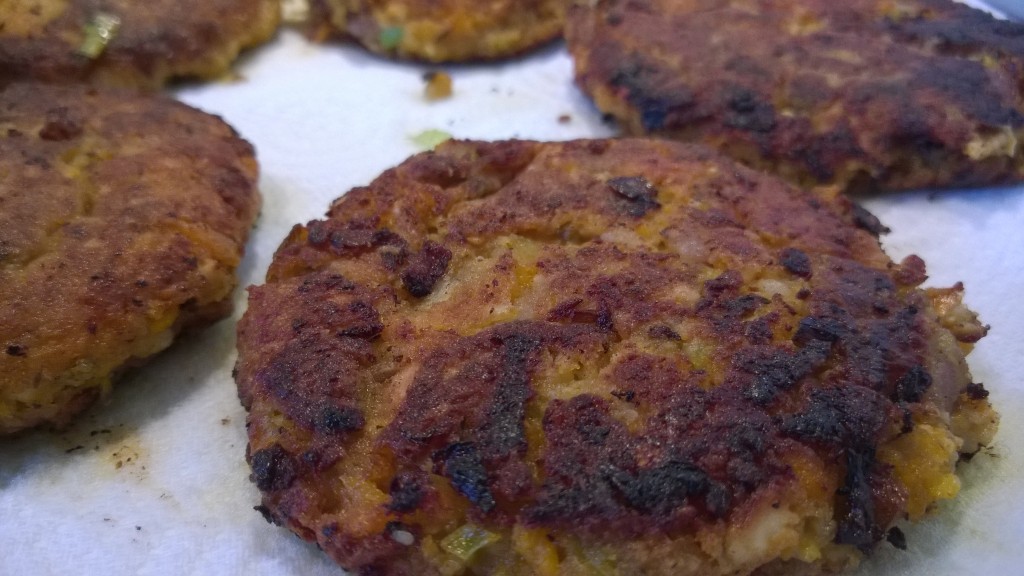 I actually saw these burgers on her website when Monkey was at one of his fussiest times and decided to give them a go. They have become a regular in our house since then as they are seriously delicious and they get all of us to eat a lot of lovely vegetables. Initially Monkey loved to eat them in a Pitta Bread, then during the worst fussy stage he refused to eat them, but now he loves them and tends to open the Pitta bread and just pick out the burger – with all the vegetables and goodness in there that is fine by me! 🙂
The original recipe was for a smaller batch (halve all of the ingredients below if you'd prefer to make less) but we make a whole load of burgers, which we then freeze and reheat as and when as they are a bit of a faff to make – but so worth it!! It doesn't feel as much of a faff now as I've got a bit more efficient at it!
We also made these for one of my best friends who is a notoriously fussy vegetarian (she doesn't like many vegetables!?!) and both her and her veggie boyfriend loved them too so that is definitely a good endorsement for you.
Ingredients
100g Roasted Unsalted Cashew Nuts finely chopped  
(we whizz them in the food processor)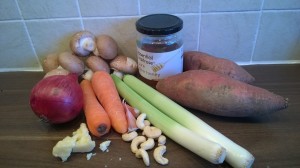 100g White Breadcrumbs ( or toast a few slices of white bread then whizz in the food processor)
4tsp Thyme (Fresh or Dried – I use dried)
100g Grated Cheddar Cheese
300g Sweet Potato (approx. 2 medium sweet potatoes) peeled and cubed.
2 Red Onions, finely chopped
2 Carrots, Peeled and Grated
2 Small Leeks, finely chopped (see below *)
200g Chestnut Mushrooms, finely chopped (we aren't fans of mushrooms so we whizz them in the food processor, they go a bit mushy but it works well in the burgers!)
2 Cloves Garlic, Crushed
2 tsp Runny Honey
Flour
Oil for frying
*This may not be helpful at all, but we don't like big bits of leek, so I have found that if you slice  along the length of 3/4 of the leek so it is in halves, then turn and slice again so it is in quarters (and again so it's smaller if you can) while still attached at one end, it makes it easy to chop it into very small bits. (If that makes sense at all??? If not just ignore and chop how you like!)

Method
Put  the breadcrumbs, cheese, thyme and nuts into a bowl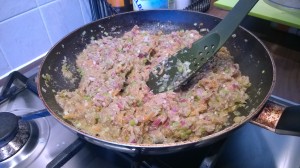 Boil some water in a pan, add the Sweet Potato and cook until soft. Drain and put to one side.
Heat a little oil in a large frying pan. Fry the Leek, Onion, Carrot and Mushrooms for 10 minutes or until soft.
Add the garlic and fry for 1 more minute
Tip the vegetables into a large bowl. Add the breadcrumb mixture, the Sweet Potato and the honey.
Mash together and season to taste, I don't find it needs much seasoning, if any.
Put some flour into a small bowl, shape the mixture into approximately 16 burgers and coat each burger in flour.
(No my arms haven't suddenly got hairy, hubby helped with this bit :))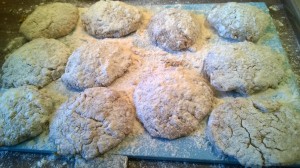 It can help to rest the burgers on a pre-floured surface before cooking so they don't stick!
Heat some more oil in the frying pan (we tend to use Rapeseed Oil or Extra Virgin Olive Oil but it's up to you which you use) and fry on a medium-high heat for 2-3 mins on one side, until browned, then flip (they are still quite soft so it helps to use a spoon in one hand and spatula in the other, you have to be a bit gentle though!) and cook for a further 2-3 mins on the other side. Hubby likes them quite well cooked so ours end up quite a dark brown!
Leave to cool on some kitchen towel to remove excess oil.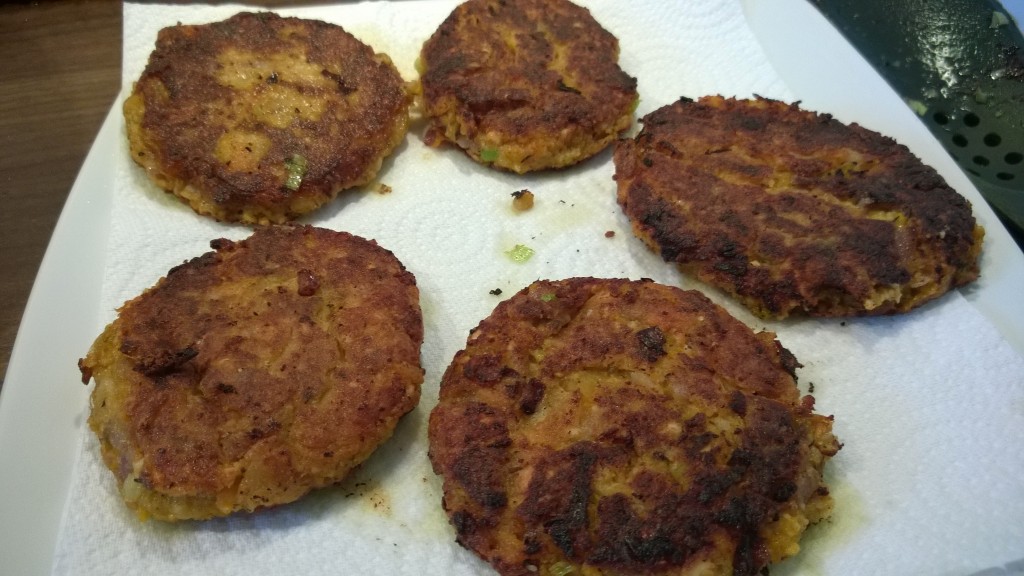 Serve! We often serve in toasted Wholemeal Pitta Bread, and I love them with a dash of chilli and tomato chutney, but Hubby and Monkey love them just as they are.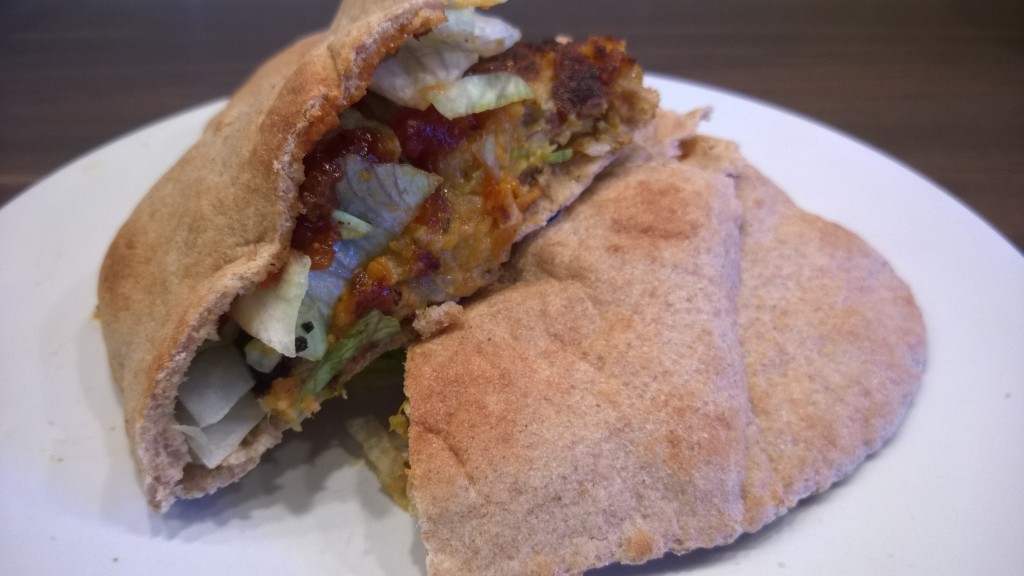 You can serve in bread rolls of course but because they are quite a soft texture we find the pitta breads work really well, and they help hold it together, we made bigger burgers for my friends and they were delicious but they all squished out of the sides of the roll when you bit into them!
To Freeze, I layer in parchment paper (to prevent them sticking together) and freeze in freezer bags. Then I just reheat them in the microwave. I'm not sure what the recommendations are but I just take them straight from the freezer and microwave for a minute or 2 (to make sure they are piping hot) leave them to cool a little bit for Monkey then serve.