Mummy me-time is so so important, but can be really hard to come by. Last week I had a very much needed day of Mummy me-time and it really was wonderful. Hubs' business was up for a Learn Direct award for the number of apprentices they hire, and having won the regional award they were invited to the National Awards at the Kensington Roof Gardens in London. Lovely! Hubs and his business partner thought it was a good opportunity for us wives to have a day in London too and as soon as my parents agreed to babysit both kids, I jumped at the opportunity.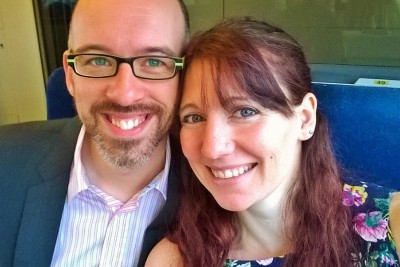 So I put a pretty dress on and did my make up and we very excitedly headed off on the train down to London, though it was a bit weird too as it was the first time we had left LM with anyone other than one of us, for the whole day. Eek!
We headed straight to the Kensington Roof Gardens and I have to admit I was excited as for a long time I have wanted to see what this place was like, and well, as expected, it was gorgeous. So many beautiful flowers and so serene and peaceful considering we were in central London. Loved it!
Unfortunately (Fortunately?) us wives weren't invited to the awards ceremony so we headed off for a bit of a natter instead. And where better to go for lunch than to the Harvey Nicks roof terrace? If our husbands were having some posh fun, why shouldn't we? It was lovely to catch up as we never really see each other without kids running around (they have 3 girls), and our husbands are so close that we hear about what each other are up to via them, but not directly if that makes sense!
Anyway we opted for some lovely food and a gorgeous bottle of wine, which the waiter clearly thought was a little OTT… "a bottle???" haha. Put simply, it was blimmin' lovely. I have to admit I felt very decadent and about as far from my normal day to day life as possible. Sipping a chilled Chenin Blanc and eating mussels on the Harvey Nicks roof terrace, getting a little tiddly, sharing stories about kiddies, motherhood, and of course our husbands 🙂 It was lovely to just really relax for a change and get to know each other a little better.

Then we heard the good news from our husbands, they won the award! So they came to join us for a little celebration with some yummy petit fours and some martinis to taste, which was great fun.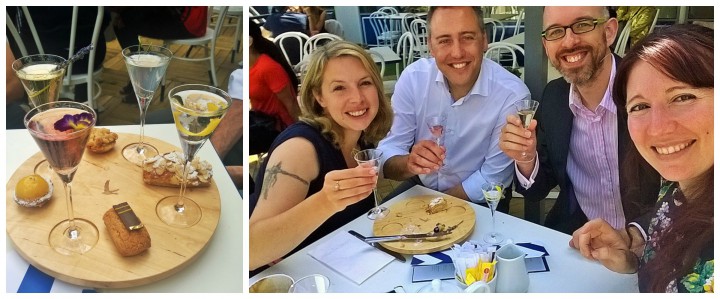 Much as we would have liked the afternoon to continue it was then time to head back across London to get the train home to see our lovely kiddies. We had a fab day in London, both spending a bit of time together and apart, and, much to our relief the kiddies had a wonderful day with their grandparents… and the grandparents loved it too and have said they would do it again! Hooray! Time to book in some more days off 😉
If you follow me on social media you may have seen that I was hugely excited last week to be given the opportunity by Three Mobile to review the brand new Samsung Galaxy S6 phone. In addition to letting me put the S6 through it's paces for a few days, Three Mobile also very kindly gave us a day out in London where we visited the Natural History Museum and their wonderful "Sensational Butterflies" exhibition.
The Samsung Galaxy S6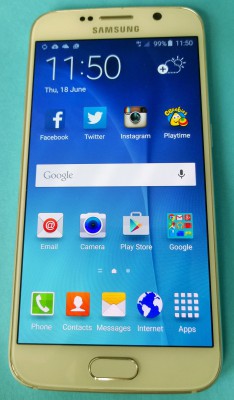 A little bit about the phone first. It is really slim and light though a bit longer than my current phone. I tend to carry my phone in my pocket and I was concerned it wouldn't fit, but actually, although taller than my current Nokia, it is slimmer so fit a little better if anything, result!
It runs on Android, and being a Windows Phone user this did take a bit of getting used to but is much more user-friendly than the last time I used Android (we are talking a few years ago now) and I soon got to grips with it. I also found the phone very fast which is nice as being nearly 2 years old my phone can be a bit sluggish!
The best thing about the S6 though has got to be the cameras. Yes, plural, because both front and back cameras are very impressive. The back camera is a whopping 16megapixel and the front is a lovely 5megapixel. I love a good family selfie so it nice to be able to take a quality shot with the front camera for a change. To show you the difference here is a couple of selfies taken with the front camera on my current phone compared with the front camera on the S6. I have no make up on so apologies but you can see the difference. The third shot has "beauty mode" switched on which kindly smooths your skin out for you – definite improvement I think! 🙂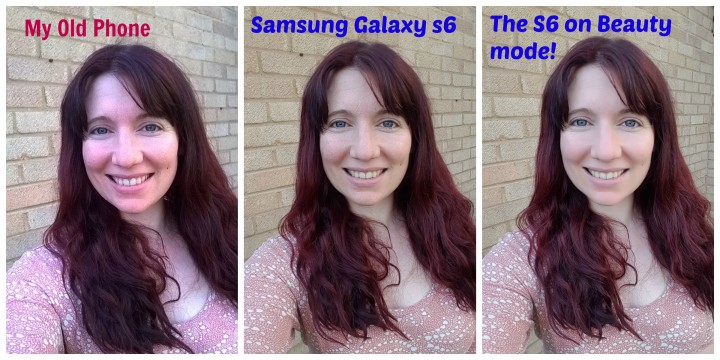 I also loved the speed of the cameras. It loads super fast even when the screen is timed out, and, best of all it takes the photo almost instantly when you press the shutter. Kids move around seriously fast and I often find with my current phone that by the time it has focussed and taken the shot, I have missed the moment. This happened a lot less with the S6 which is a HUGE plus in my books.
That's about as technical as I am going to get as I am not that technical! So that you can see for yourself how great the cameras are, here is our day at the Natural History Museum.
Our day at the Natural History Museum
We set off on the train to London first thing in the morning. Monkey was so excited to be on a really fast train and loved every second of the journey, especially the tunnels.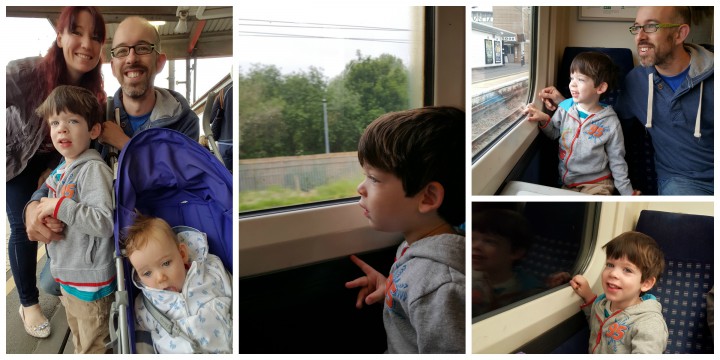 We had hoped LM may nap on the train but it would seem she was too excited too as was not remotely in the mood to nap. We had a lot of fun keeping her entertained instead.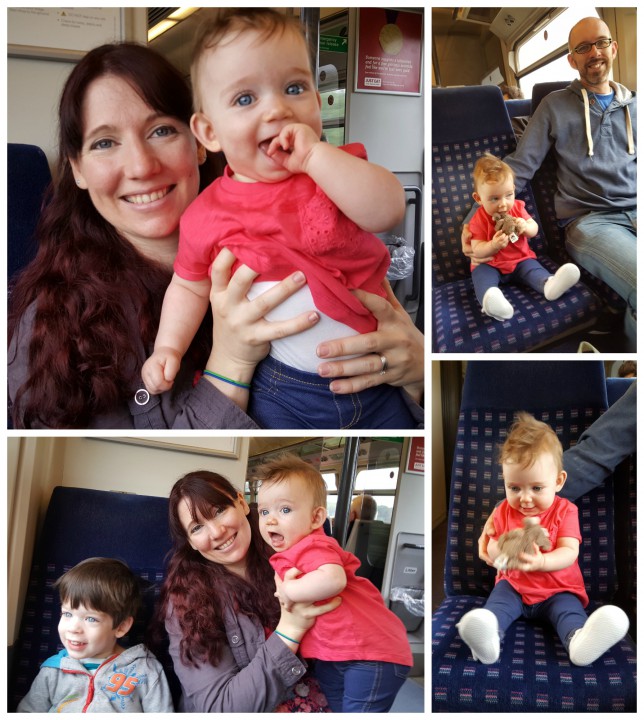 Getting around London on the tube with two tots, a buggy and our bags was interesting. The tube was absolutely packed, and we were squeezed in like sardines! Monkey was such a good boy but LM was not a fan…. though she was charming everyone by making sneaky grabs for people's jumpers and sunglasses etc! Thankfully everyone she chose to grab was friendly and in a good mood.
We finally arrived at the Natural History Museum which is such an impressive building, and after a cheeky selfie (though I really need to have a bit more practice with my selfie stick) we headed inside to see the huge Brontosaurus.

We were concerned Monkey may be a bit wary of the dinosaur but he loved it and decided it was smiling hehe. We just had time for a quick cup of tea and slice of cake before heading out to the Sensational Butterflies exhibition.
Sensational Butterflies
In the grounds of the Museum is a tropical tent housing lots of beautiful butterflies who are free to fly and roam as they please. As you go through you follow the trail which charts the life cycle of the butterfly, from caterpillar to cocoon to butterfly, while all the way you are surrounded by butterflies fluttering past.

Unfortunately Monkey had a full on freak out about the butterflies. He found them really scary flying so close to us and one landed on my back which really set him off. LM seemed to love watching them flutter past though! I managed to get some gorgeous shots but we did have to rush through a bit to get the screaming, clinging mess of a toddler out of the tent :/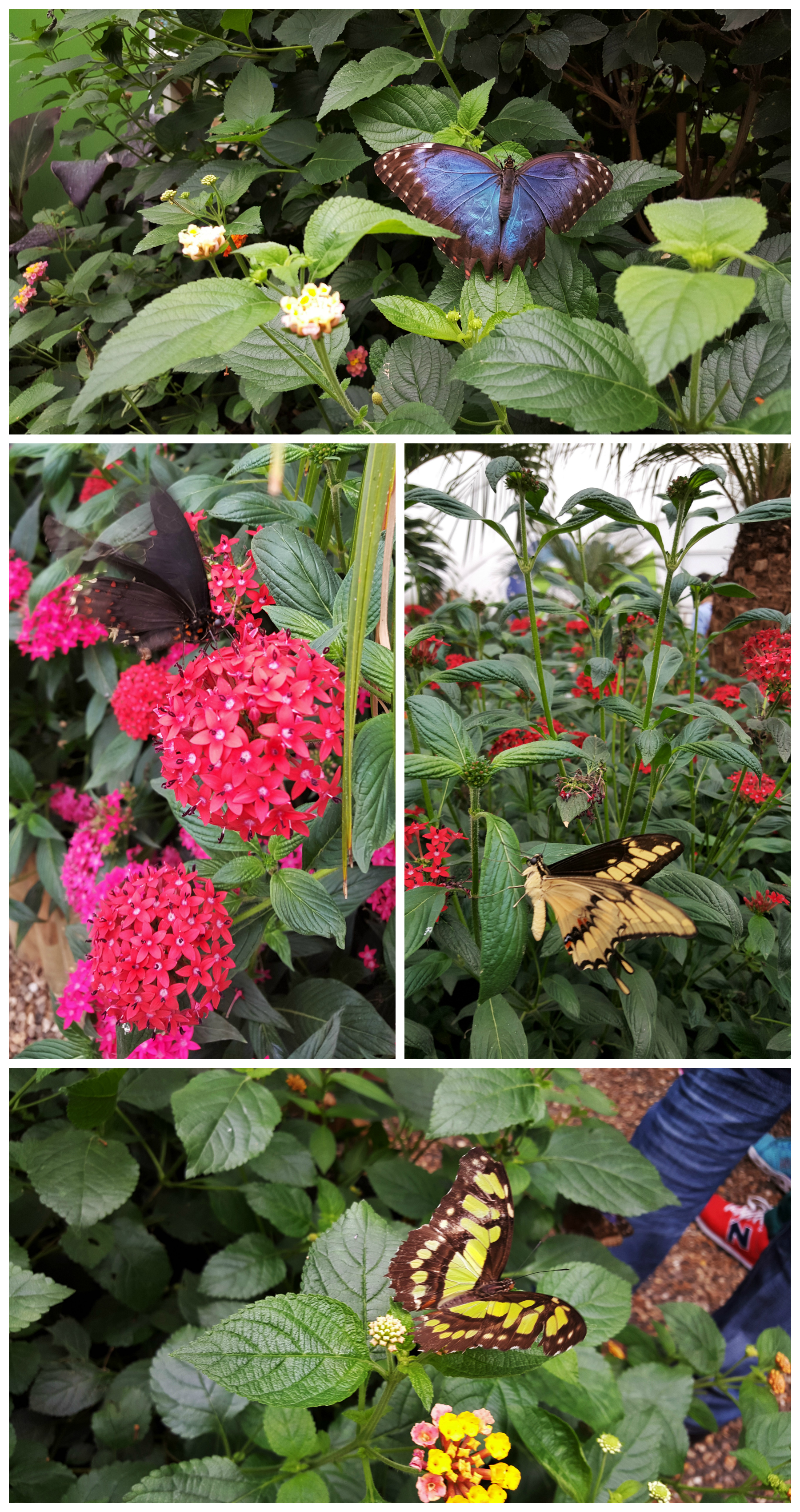 It was such a shame as it was a wonderful exhibition and lovely to see the butterflies up close and learn more about these gorgeous insects, but that's kids for you, always unpredictable. I was glad that the camera was so fast to load and at taking photos, I would have liked a bit more time in there to play with manual mode – but was dead impressed with the shots captured with the auto focus.
The Museum
After calming Monkey down we headed back into the museum for more of an explore.

Sadly the queue to see the dinosaur zone was massive so we went for a walk around the mammals instead. Monkey had a few initial jitters about the stuffed Lions and Bears but once he realised they wouldn't move he relaxed and he loved it – he even told the Polar Bear that he loved him… bless him, such a softy.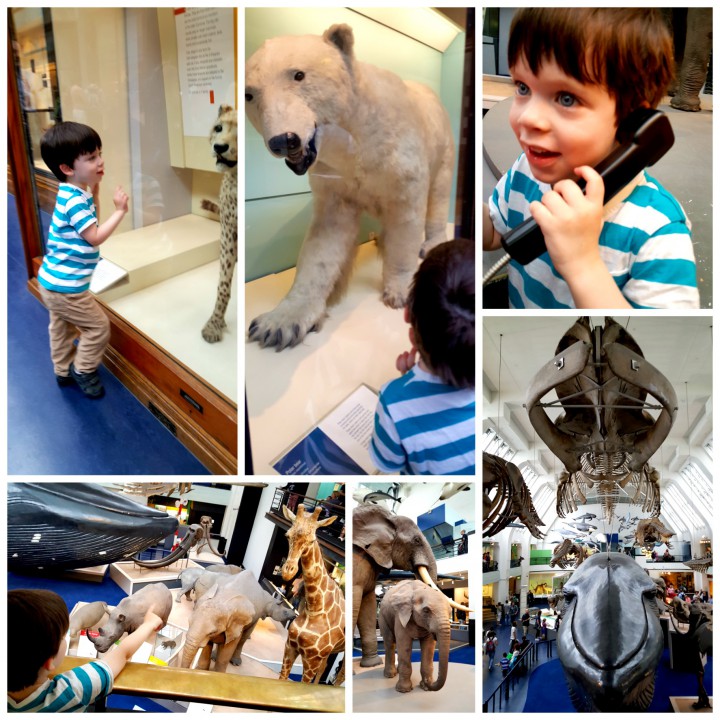 We had a great time wandering around and looking at all of the animals, skeletons and the other models. Monkey loved this big rotating earth and I love this picture of the two of us, again I am just so impressed with the photos we took on the S6.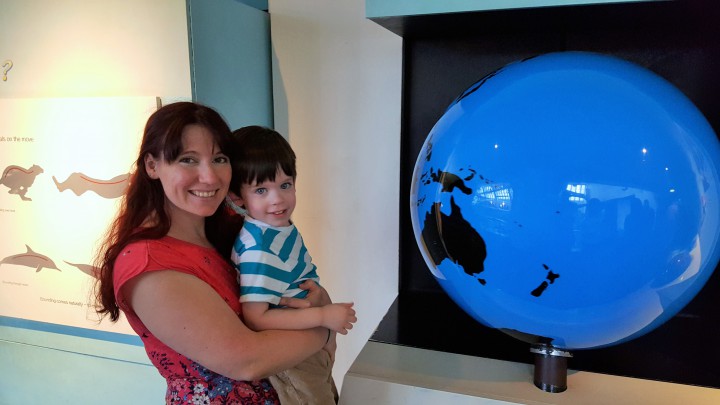 LM dozed off on our walk round (thank goodness) then we headed for some lunch. The service and speed in the restaurant were great considering it was a busy Saturday but it was pricey and the food wasn't very good quality. We were hungry though so scoffed it down. Hubs had fun taking photos of the four of us in the huge mirrors in the restaurant.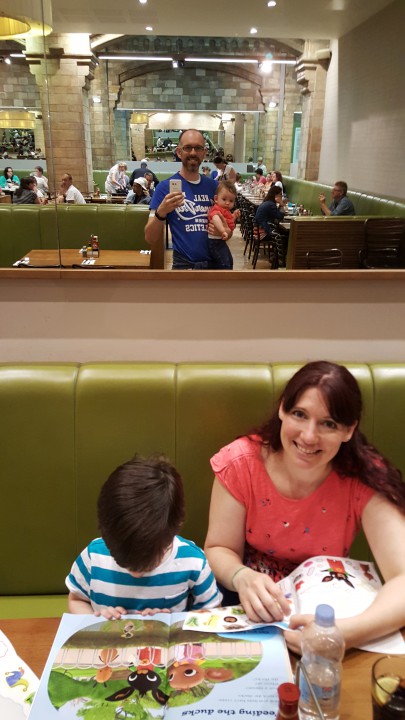 After lunch we checked on the queue for the dinosaurs again but it was even more massive so after a bit of a wander in the museum we headed outside to the ice cream van we had seen earlier – only to find that they had turned the ice cream machine off! We couldn't believe it! We had promised Monkey an ice cream by this point and as the afternoon was getting on we decided to make our way back to the station. We found an ice cream along the way then had another hot and busy journey on the tube back to Kings Cross where we got the train home.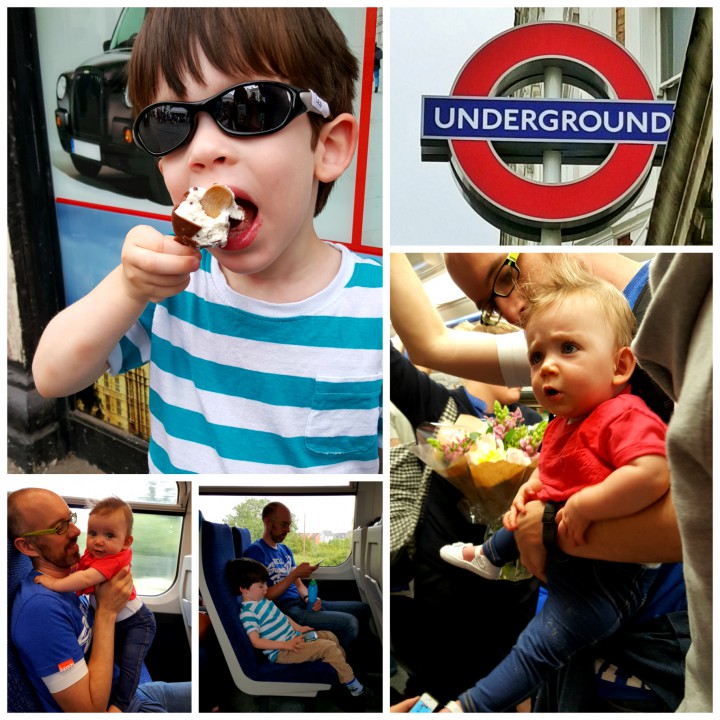 It was a long day and very tiring but so much fun too and I am proud of us for stepping out of our comfort zone and taking the kids on the train and tube on such a busy day. It proves we can do it, though I am not sure we will do it again in a hurry.
I loved giving the S6 a real test out and it has really got me thinking about what phone I am going to go for next. I've always loved the Windows Phone OS but I found Android to be really user-friendly and the cameras are just amazing on the S6. I use my phone largely as a camera since becoming a blogger so it really is important to have a good one. There are things about the Windows phone OS that I would miss on the move to Android…. but not as much as I thought, so I may have been converted as the camera is such a big temptation.
I really cannot fault the Samsung Galaxy S6 at all as it was so fast and just so easy to use and I think the pictures speak for themselves. I was using it all day, taking tonnes of photos and a few videos, and the battery lasted well until we got home which I did find impressive. I think I will be hard pressed to find a better option when it is time to upgrade my phone in a few months' time!
Is your phone your main camera? Are you a lover of Android, Windows, or Apple?
I was loaned the Samsung Galaxy S6 for a few days and Three Mobile gave us tickets to London and entry to the Sensational Butterflies exhibition for the purpose of this review. All opinions and images are entirely my own.