It's that time of the month again where I share some cutie pictures of m lovely little brother and sister having fun togther. I originally thought I would use a couple of pics from our recent holiday in Dorset but then I caught a moment of sibling loveliness I have to share. They were moving around so much that my even my lovely shiny new phone (after loving it when I reviewed it recently, I have got myself a Samsung Galaxy S6) couldn't keep them in focus as I snapped away, but you get the idea.
They were sat on the sofa together a few days ago and I was right there to make sure LM didn't fall off as she is a fidget pants. She adores her brother and just wants to clamber all over him, and play with whatever he has, but she is not gentle and ends up pulling his hair and squishing and scratching him. Monkey takes it pretty well really but does got annoyed with it too, so I moved her away.
Then immediately he starts shouting "can we do it again? can we do it again?" A little confused I asked what he wanted to do again and he replied with "climbing and pulling my hair."
A little baffled I confirmed that he wanted his sister to climb over him again and pull his hair again. "yup." So I left them to it and just loved watching the giggles and chuckles from both of them. Just a real moment of sibling love, one minute getting annoyed with each the next loving having a tonne of fun together.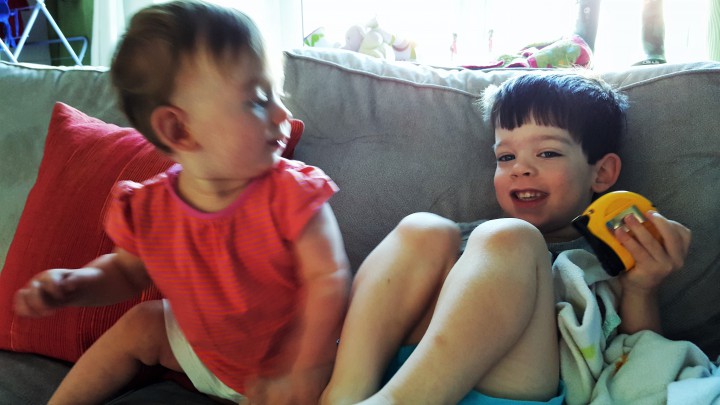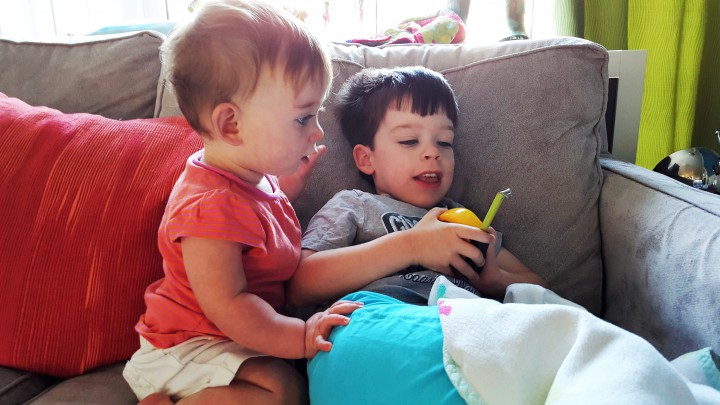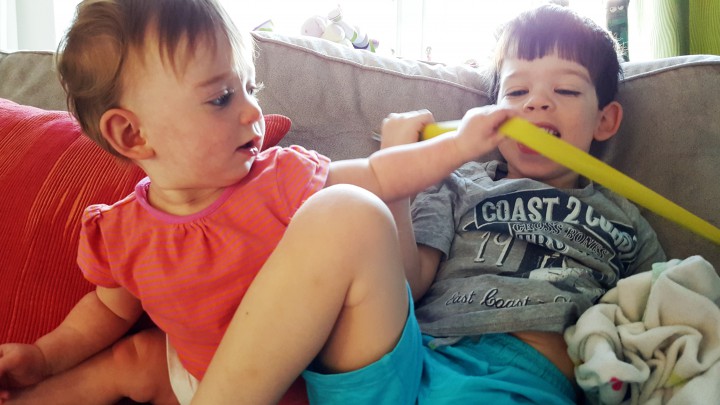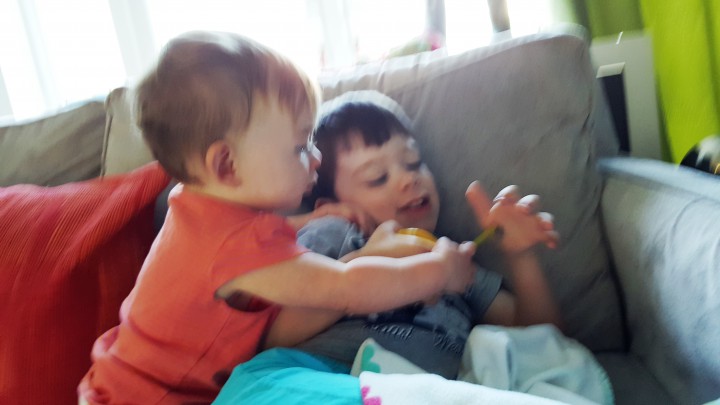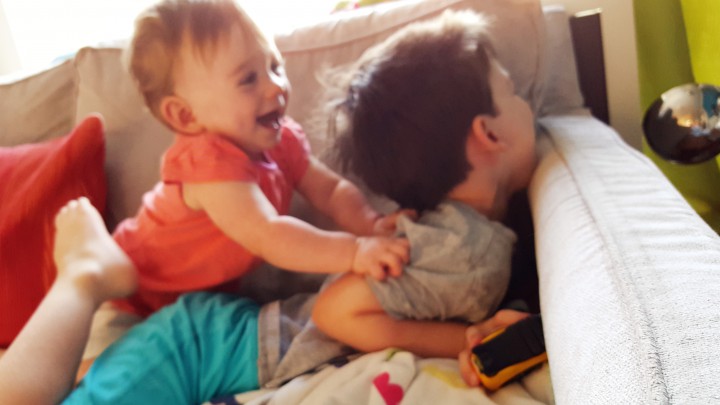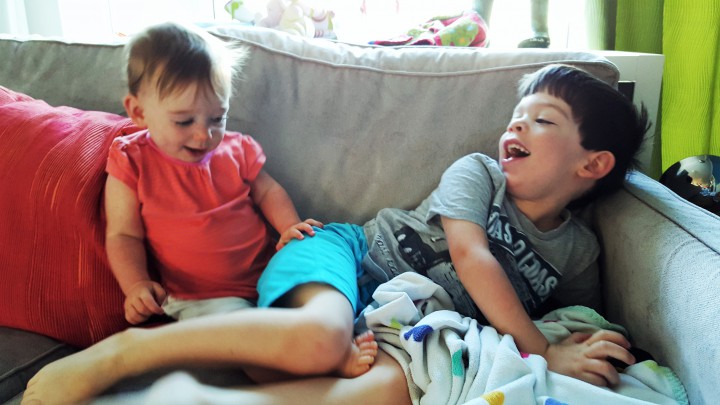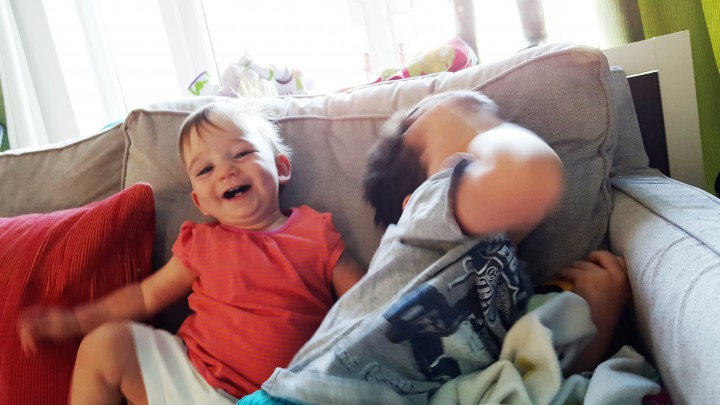 Love these two loonies 🙂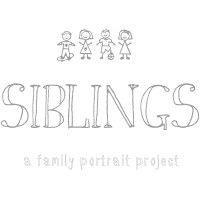 My word of the week this week is Anniversary, because we celebrate our wedding anniversary this week! We have been married for 4 years and in early September we will have been together for 5 years. It has certainly been a busy 5 years as we have got married, bought our lovely house, spent a lot of time doing it up, and of course have had 2 gorgeous children.
You can read more about our little whirlwind here but basically hubs and I got set up on a blind date by our mums, moved in together after 4 weeks and were engaged after 5 weeks. Married less than a year later and 1st baby was here less than a year after that. We certainly don't like to hang around!
It's been a wonderful 4 years of marriage and I know there will have been some very sceptical people around after we got engaged so quickly (I know I have always been sceptical of similar fast engagements) but I wouldn't change any of it for a second. Life with small children is hard and certainly tests a relationship… I have never understood why people think having a baby will 'fix' a relationship as quite the opposite – it tests even the strongest in my opinion! But we have never faltered or questioned that this is right.
We have a really good, strong partenrship based on mutual trust and respect and having a lot of fun together. We aren't perfect by a long shot and have to remember to make time for us as a couple. To have fun together rather than just sharing the parenting and housework and cohabiting!
I'm not the soppiest person at the best of times and romance definitely goes out of the window when small people enter our lives, but now that LM is getting a bit older hopefully we will get to remember that we are a couple, as well as parents. We had a lovely day in London last week and a meal out for our anniversary and look forward to more times together to come, as well as watching our gorgeous kiddies grow together of course.
In honour of our wedding anniversary I thought I would share a few pics of our wedding. It wasn't the most traditional wedding as we had a very late afternoon ceremony followed by a BBQ and disco, so no sit down dinner or speeches. It was a gorgeous day full of lots of colour and fun, we made our own cakes (and our mums made some too) and had lots of fun bits like fortune teller confetti holders and a wedding photo scrapbook rather then guest book. As our wedding was the same year as the Royal Wedding, we even mocked up our own joke wedding memorabilia titled the Real Wedding memorabila! Lots of daft bits but was so much fun putting it all together.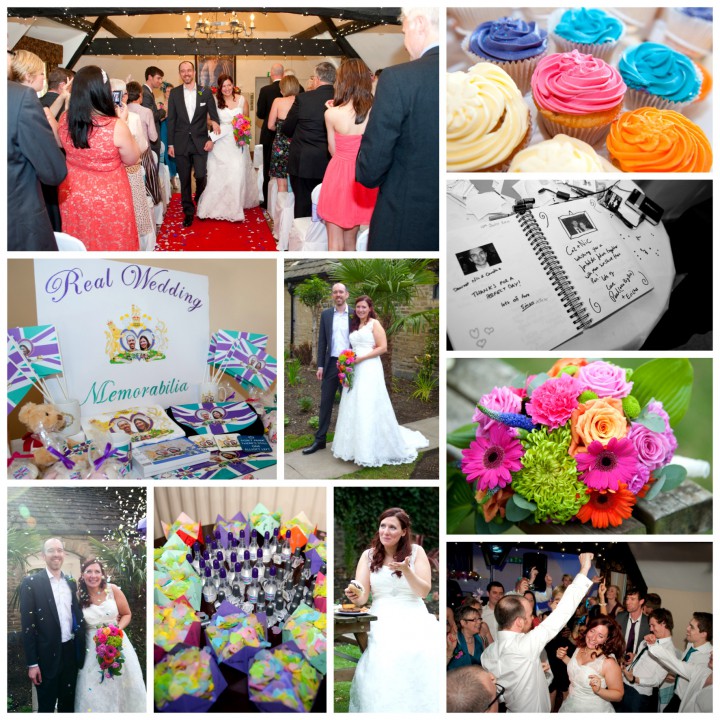 Can't believe it was 4 years ago, in some ways it has gone by in a flash, in others it feels like a whole other lifetime!
Anyway, Happy Anniversary hubs,  looking forward to many more years 🙂 xx
Photographs taken by Chris Boland of Distant Cloud Photography – he is amazing!