There is no getting away from the fact that death has featured heavily over the last week. Both in our personal lives with the recent death of hubs' Grandpa, and in the wider world with the hideous and terrifying acts of terrorism in Paris, Baghdad and Beirut. The consequence of this can be to make things seem rather grey and sad, let alone scary, but instead I am choosing to celebrate life.
I have seen some wonderful things from media across the world this week that remind me that we cannot let the terrorists win by living in fear, hiding away and mistrusting each other. This wonderful daddy had a fantastic lesson for his little boy, and I love this advice from an Australian reporter. Both remind me that focussing on the good is even more important at times like this, so my word of the week, is celebrate. Here is a snapshot of our week, celebrating the little things and the ordinary moments amongst the sadness and usual everyday challenges.
Saturday with the Paris atrocities looming large Hubs and I headed to Cambridge to do our Christmas shopping. We had prearranged for my parents to look after the kids for the day and we very much enjoyed a day spending time just the two of us and getting excited about celebrating Christmas in just over a month! I was also celebrating at the end of the day as apart from a few bits for each other we are basically finished wth Christmas shopping! Hooray, I have never been this prepared before!!
The big event of our week though was the funeral for Hubs' Grandpa on wednesday and the wake which we hosted at our house. Grandpa Bill was 93 and had a wonderful long life so the line with have given to Monkey is very much that we were celebrating his life, rather than focussing on the fact that he is no longer here. I am not sure how much he understands but I think Monkey just about gets that Grandpa isn't here anymore. He had been declining for the past year so Monkey hasn't seen him for a quite a while as we didn't want him to remember his great Grandpa like that but we know Grandpa was so so proud to have lived to see 2 of his Great Grandchildren.
All went as well as can be for a funeral, obviously with tears and sadness but there was smiles too remembering some of his adventures. Funerals are funny things as they are so sad but they do bring people together too and it was lovely to see some family friends we haven't seen since our wedding and relatives who live a bit far away to be seen very regularly. The wake was nice though filling the house with people can definitely make it feel a bit small!
I had spent much of the week prior to the wake cleaning and making the house probably cleaner and tidier than it has been in a long while, evidenced by the fact that my Mum almost fainted with shock at the sight of it, and my step-dad asked if we had got a JCB in to do the cleaning – cheek! hehe It was nice seeing it so clean and tidy but there is no way it will last as it took so much effort and I much prefer to spend my time having fun with the kiddies as much as possible!! (I may just be a bit lazy too but the kids are a much better reason not to be tidy all the time than admitting that!)
Other than that it has been a pretty normal week. I am having a bit of a saga with Ikea over the purchase of a new kitchen cupboard but I won't bore you with any of the details here. The kids and I have had some truly lovely moments and I would like to share some of those with you just to celebrate the happy ordinariness of our week.
Monkey snuggling up in his bed under just about every soft and cuddly toy or blanket he could find!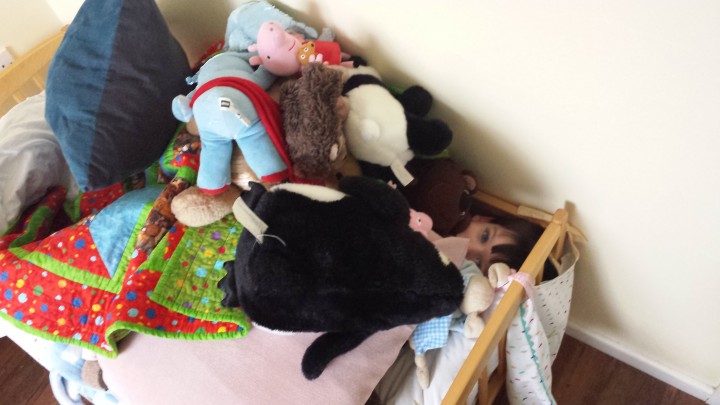 LM enjoying playing in the tunnel for the first time. She has shied away from going in any tunnel before but had a whale of a time with her big brother this week.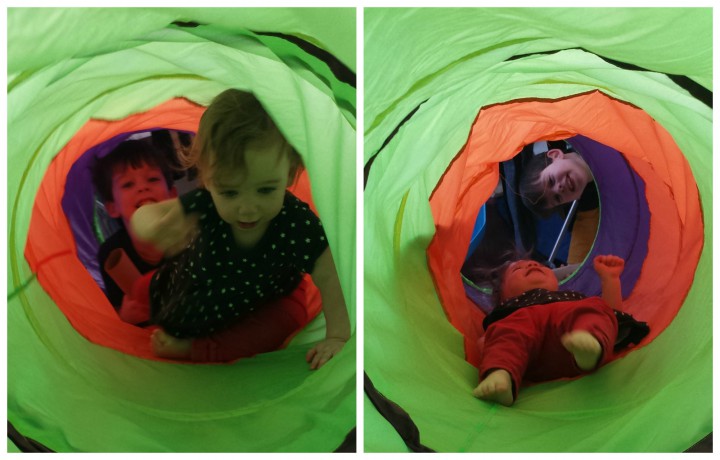 Mummy and Monkey time while LM was out with my parents fro rhyme time on Tuesday. Lots of painting and chatting and laughter, especially when he decided he must paint my nose! Cheeky thing 🙂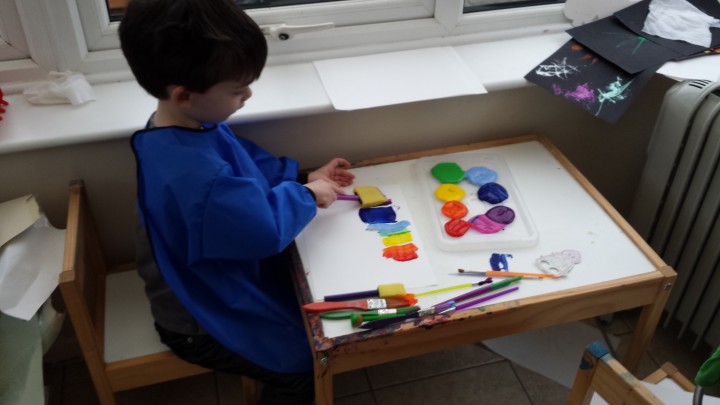 Monkey copying his sister. She randomly enjoys lying on the floor kicking her legs and this week Monkey decided to join her. It was so cute watching them play together chuckling away doing such a daft thing!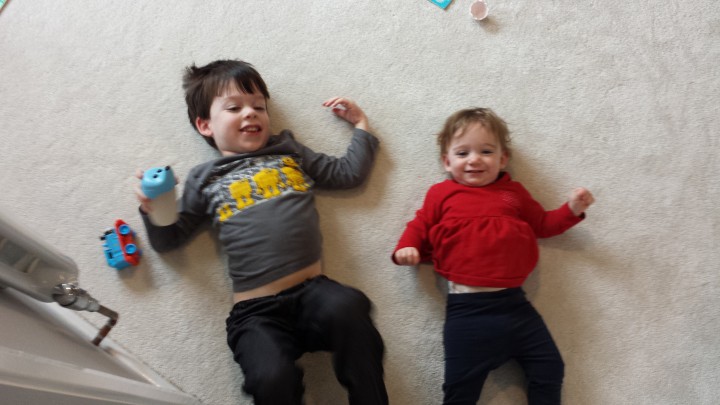 Monkey beng a superhero…. I have adored this, what a cutie.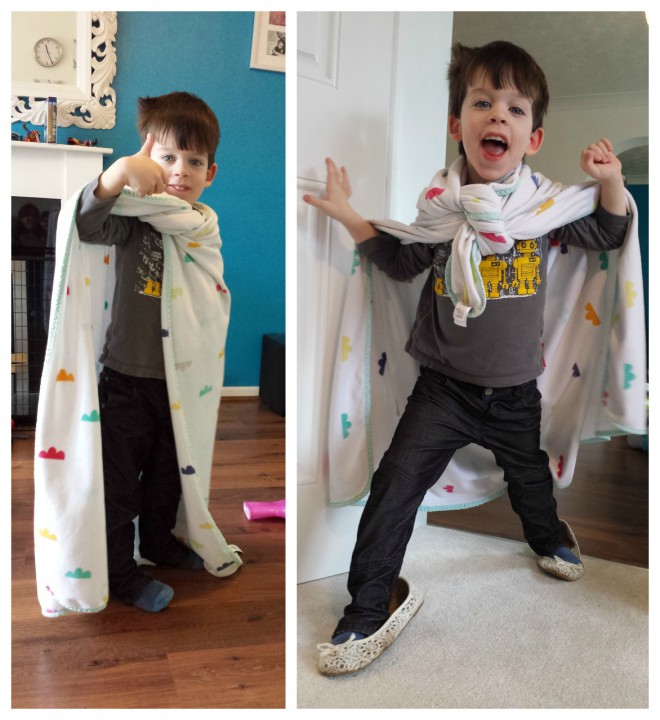 Monkey taking a break from being a superhero to have snuggles with his Mummy and sister… though LM was less cooperative!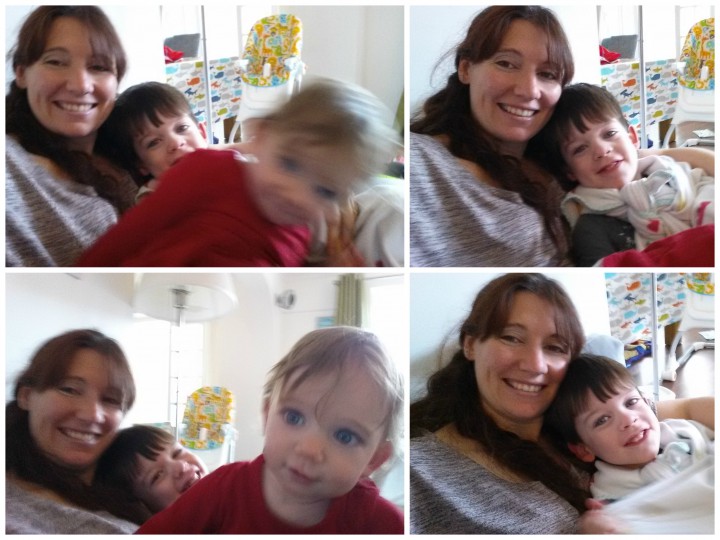 LM looking adorable in her dressing gown after bathy. Rubbish quality photos as I have been using an old phone but you get the idea.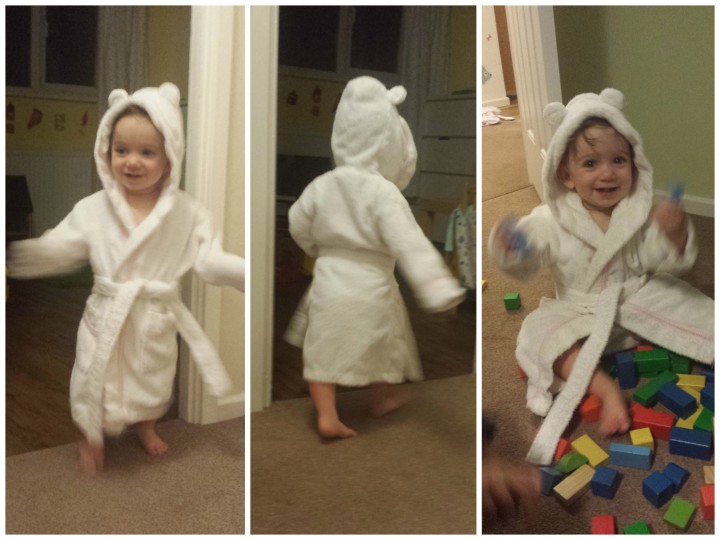 Other celebrations this week are that my phone is back from being repaired and has a new screen, hurrah, so nice to have good camera back again, and we have a new car. A new second hand car at any rate. Hubs' car cost us £1500 2 1/2 yrs ago and has done really well for an old banger but lately is more reminiscent of a tractor than a car, making the house shake whenever the engine is on. The radio is falling off and basically it is a heap so it was time to get hubs an upgraded car. His new car is not much newer but an updated model with lots of boys toys and gadgets and we haven't spet a lot again but it is a nice car and hasn't done too many miles, so hopefully it will last as well as the previous one.
So there we have it, despite the sadness that threatened to overwhelm the week, there has been lots of things to celebrate too.
What have you celebrated this week?