Our little miss has started playgroup. Playgroup/preschool /nursery whatever you prefer to call it, 2 mornings a week LM is now in the care of some lovely childcare professionals.
I've known the day was coming for a while as our local playgroup take them from age 2 1/2, but then it has suddenly snuck up on me. With being away on holiday last week we have been away from a normal routine, then on his first day back at school today, Monkey has gone on a farm trip (his first proper school trip which is a big enough deal in itself), then he got a bad cough on Sunday and was quite poorly so I wasn't 100% sure he was going.
So last night lying in bed I was suddenly thinking about the fact that my little girl, my baby, was starting preschool the following morning. It's not like we were completely unprepared for it. She had her trial before the Easter holidays and loved it. We've been reading "lulu starts nursery" at bedtime and talking about how she would be going soon and she has been excited. I just don't think I fully processed it until last night. So I had all sorts of dreams, dreams where we were late, dreams where she was upset, honestly all sorts.
But of course this morning dawned and all was fine. We weren't late and she was excited to wear her playgroup t-shirt. She adored wearing her backpack too!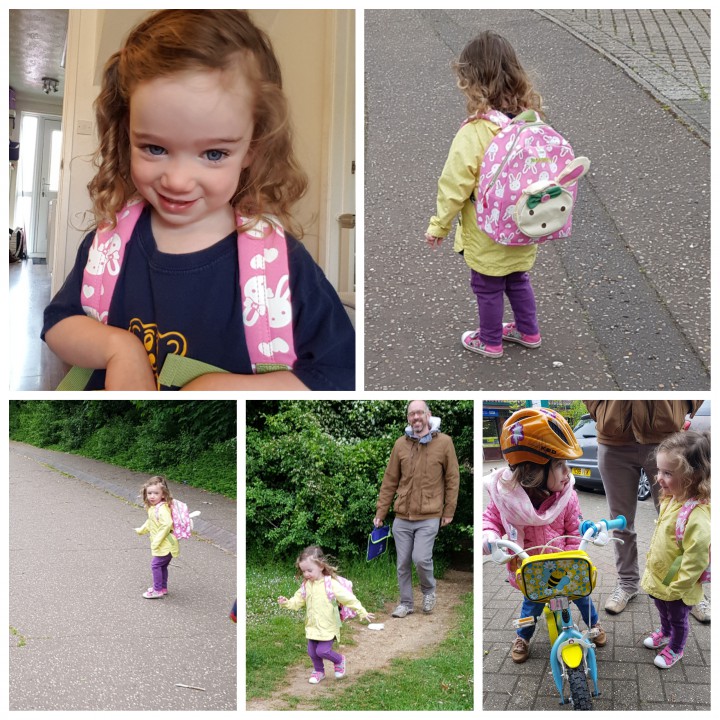 We took (a much less poorly) Monkey to school for his trip then walked over to the playgroup. The ease of the location in relation to the school is one of the reasons for choosing this playgroup. It makes pick up and drop off so easy but also means a lot of the friends she makes here will go on up to school with her. One of her friends (who is actually about a year older) already goes here and I think that helped this morning.
We arrived and LM went straight in with no fuss. She sat down to play puzzles with her friend then we said we were going. We gave her a kiss and she waved us off quite happily with a "bye mama. "
It did feel odd walking away without her but I have known for some time we were both ready for this. I got home and did some exercise and some cleaning and pottered about. There are always tonnes of things I can keep myself occupied with for a couple of hours. It was lovely though, too, actually. To have the house to myself. Some time to myself. It's not like I've never had that, since Monkey was born, but it certainly hasn't been a regular thing. Now it is. Now I get to have 2 mornings a week to myself, and still have the rest of the time with my girl.
I picked her up and they said she had been a star. She hadn't been upset at all! Yippee! She played with her friend a lot of the time, but not all and took herself off to play with others and on her own too so that's nice. It's lovely she has her friend to play with but also that she isn't dependent on her, if that makes any sense.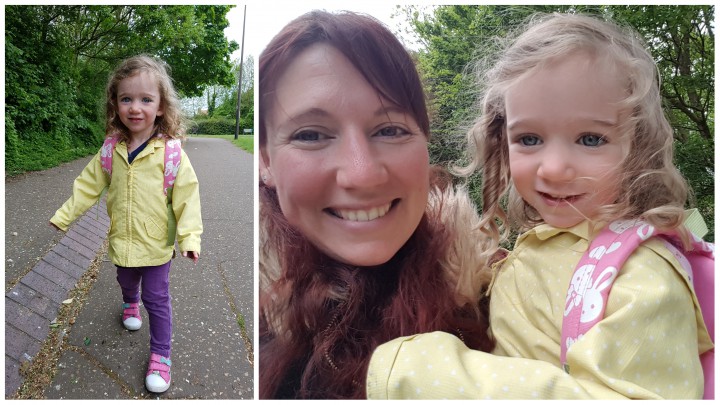 It's the first day so I know there could be upset to come but I'm so pleased of how well she did and so proud of her. Love my fierce and independent little lady so much.