Since learning to ride his bike without stabilisers our Monkey just can't get enough of it. He wants to go on a bike ride everyday, and often multiple times. We love it and thankfully LM loves sitting in her "chair" on the back of my bike too so we get out quite a lot.
On a very sunny Saturday last week we had no plans for the afternoon, so I came up with the idea of a slightly longer bike ride than we'd done previously. We are so lucky that we live close to a country park so most of our rides end up there or at a local playpark. I fancied a change though so we headed off to another lovely spot, a lock over the river.
It really is a longer cycle for Monkey so we thought we'd try it and see how we went, and he did brilliantly! Much of the journey is on a path next to the Nene Valley Railway line and at one point we were chasing a diesel train on the tracks. His little legs couldn't quite keep up but Monkey certainly gave it a good try.
I originally thought we would just get to the lock over the river and turn back, but we got there in no time and Monkey was keen to continue, so onwards we went.
Down near the rowing lake are some sculptures that have been there since 1987 and that Hubs and I remember from when we were kids. This was getting quite far now, but Monkey was adamant he wasn't ready to head back so we continued on and both kids loved seeing the sculptures… Especially the ones hubs has nicknamed "dinosaur poos" hehe can't think why that would appeal?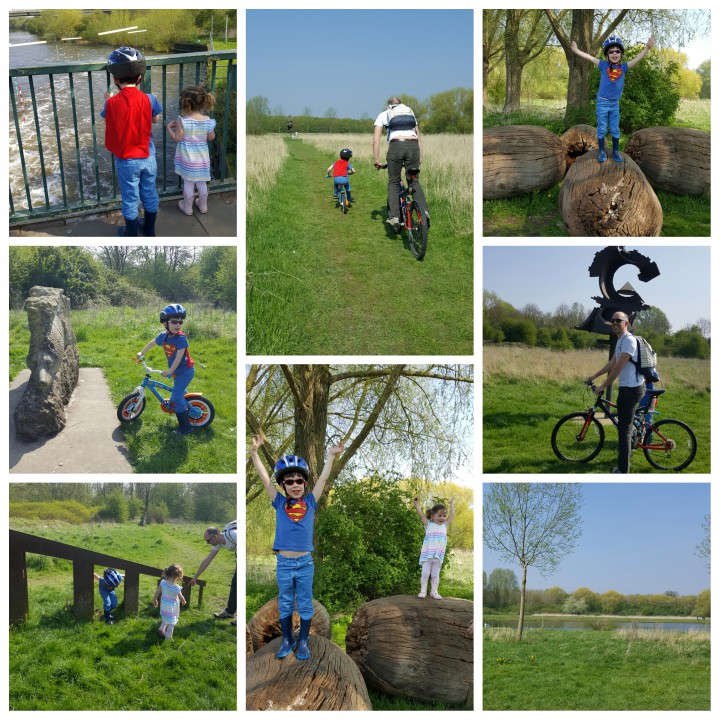 I loved the one that looked like lots of open doorways, and miraculously managed to get a family snap of us all standing in a different doorway!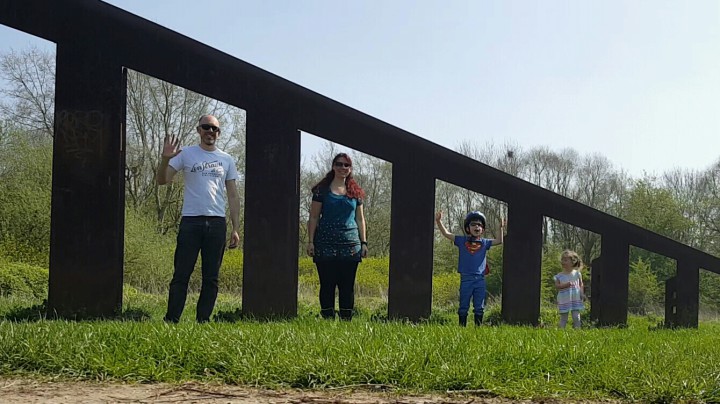 It was such a glorious day to be out, and lovely to see Monkey enjoying his bike so much. At times he was tired and needed a breather but on the whole he was fine. It was funny cycling behind him as he was having little conversations with himself, making up scenarios and vouching and whizzing and kept bending down low when he wanted to go fast to "get the baddy" or something haha.
It was just lovely and both hubs and I feel this is such a huge step as a family, to go on proper bike rides at more than a walking pace. I can see us doing this a lot this summer I really can. Well done Monkey!