The Easter holidays are over and I honestly can't believe how quickly they have flown by. We've had lots of ups and down but mainly ups, thankfully, and lots of fun as a family while Monkey was being off school, so I thought I'd share a little run down of our adventures over the past couple of weeks rather than trying to write separate posts about what we got up and what is going on.
I'm going to start with the negative first as there has been a bit of a shadow cast over the last couple of weeks that I've hinted at but not really talked about. Deep breath, here we go. My amazing aunt was, very sadly, and shockingly diagnosed with cancer just before the start of the holidays. My aunt, who is the fittest 70 yr old I can imagine, who treks all over the world. She came back from a trip to Sri Lanka in February and got a cough. The cough got worse so she saw the Dr, they did an x ray and referred her to a chest specialist. It got worse and they got her in for a scan. The scan revealed an aggressive tumour in her lungs, another on her spine and cancer in her liver and kidneys. This all happened incredibly, incredibly fast and it was hard to catch our breath. They started radiotherapy, then she lost the use of her legs and was admitted to hospital. The speed this has happened has been mind-blowing and there's obviously been a lot of sadness and coming to terms with things. We don't know what the future holds exactly but we so know that she probably won't be with us into her nineties as we had hoped previously.
I'm not going to go into it more than that, and it may sound like I'm being cold and matter of fact but that's the way I have to handle it. My aunt is an amazing lady and she is positive and upbeat and we have to be the same on her behalf. And I have to live my life. Below the surface I am obviously incredibly sad but I can't let that overwhelm me as I have the kids to focus on and to think about. We've explained to Monkey that she's poorly and the Doctors are trying to help and that they may not be able to. And that is how it stands at the moment. I'm sure you can imagine that this has dominated the last few weeks for us so I couldn't talk about our Easter hols without mentioning it. Well I suppose I could, but I didn't want to.
Moving on to the lovely things we have been up to during the holidays. It got off to a brilliant start with some tree climbing for our Monkey, a lovely family bike ride and some gruffalo spotting while enjoying the gorgeous sunshine. Sadly that Sunday night our Little Miss had croup. It was nowhere near as bad as she has had previously, she didn't have the wheeze (that they call stridor) just the horrible bark like cough. She even slept ok, while Hubs and I were awake and worrying for half the night! So we had a quiet day on the Monday as her cough thankfully became more normal. Hubs took Monkey to work with him which he loved.
On the Tuesday, hubs had some time off work so he came on a bike ride to our local country park with us which was really lovely. The kids had a whale of a time in the sand and water play area there and we had lunch together in the café. That evening my stepdad popped over for tea that evening as my Mum was down in London with my aunt.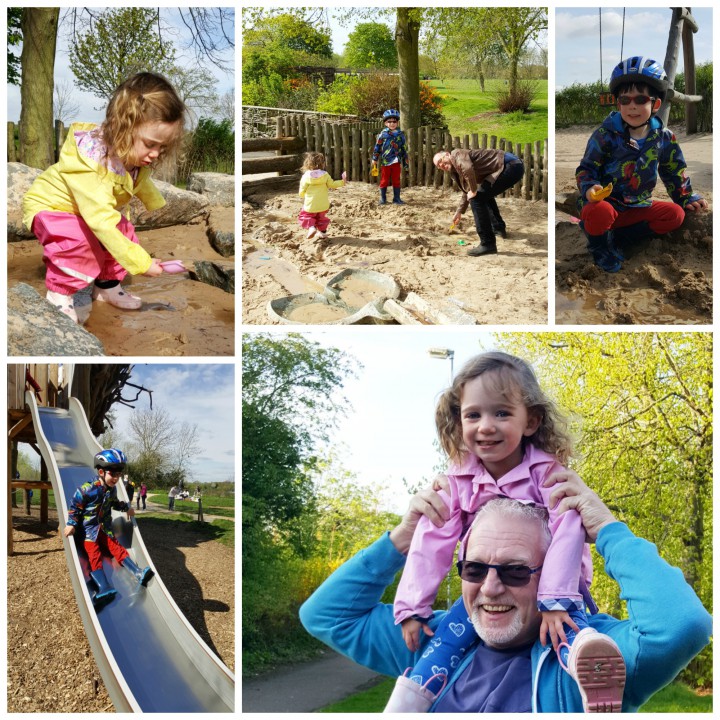 That night I drove down to London to see my aunt and my mum. Hubs and the kids had lots of fun together the next day with another cycle ride and café trip 🙂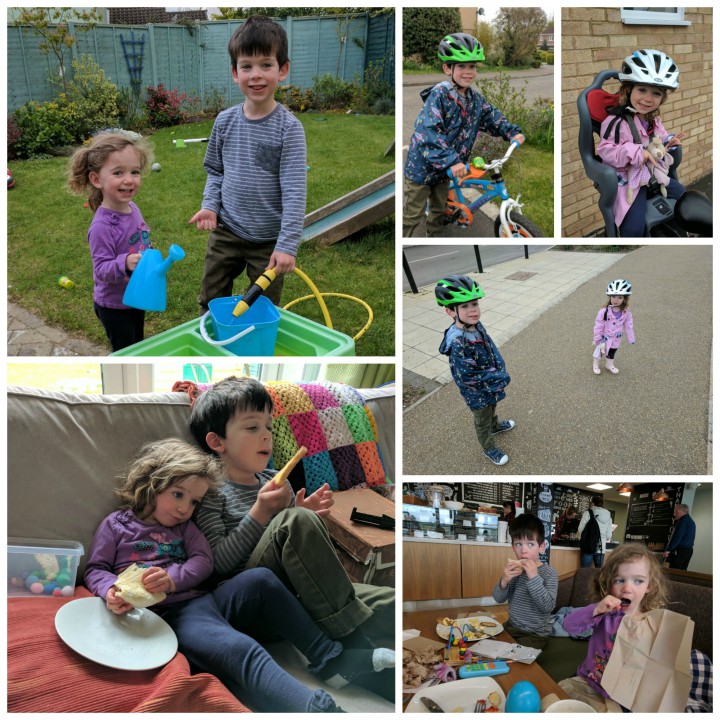 I was feeling pretty drained on the Thursday after the trip to London but we had previously arranged for a day out, going on a bear hunt, at our local country park. The kids loved it, though Madam did have a major tantrum (as she wanted to go to feed the ducks while we were on the trail so couldn't) which I struggled to deal with with everything that was going on, though thankfully I had a very good friend there who supported me through it. She did get over it and once I explained that the bear was just a man in a suit, she liked him, and she loved the journey back on the little train, so all ended very happily.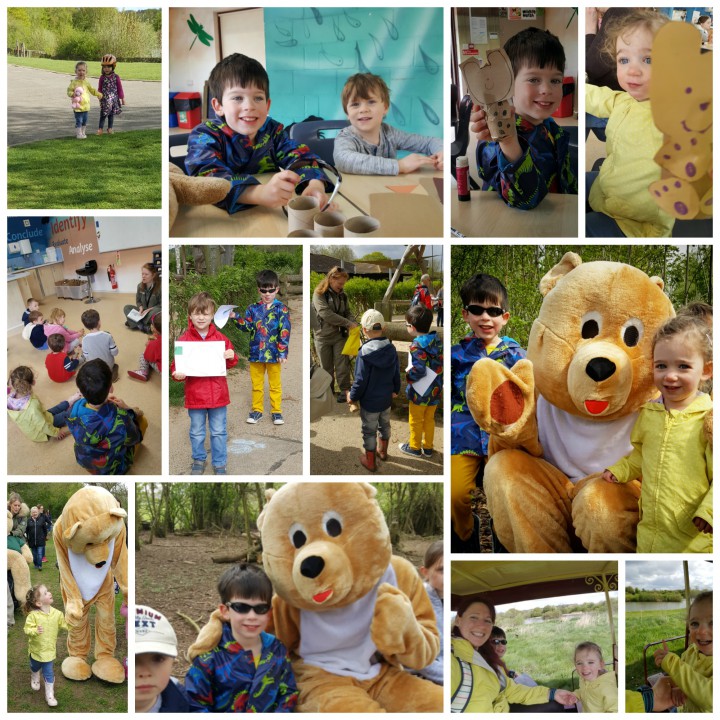 On Good Friday we did a couple of errands, one of which was looking at bikes for Monkey's birthday next month. We were planning on just looking but there was a fantastic one, which was on offer over the holidays, and because only the display model was left available we got an even better price for it, so we couldn't resist. It's bigger than we thought we would get, with 20″ wheels, but Monkey is so tall and the smaller ones just felt like he would grow out of them so fast. It is much bigger and heavier than his previous bike and while he is fine when he is riding it, he did start off with lots of wobbles when he was standing up, starting or stopping bless him. My older brother came over that afternoon so Monkey loved showing him his new bike and we all went out to help and encourage him. We also did a bit of Easter baking on the Friday, with Easter nests and some Creme egg brownies, yum!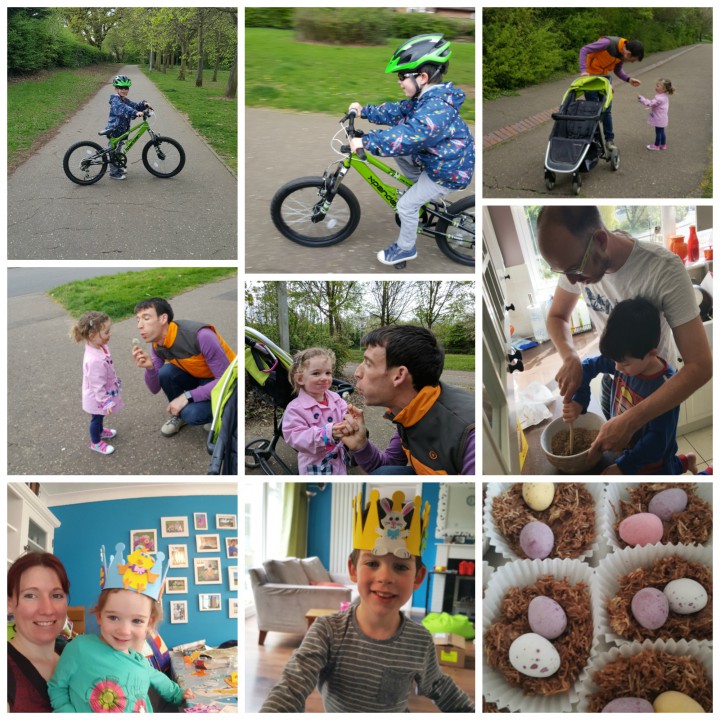 The Saturday of the Easter weekend was a beautiful day and with rain forecast on Easter Sunday we did our little easter hunt then instead. Monkey loves a good map so I made a little map for the kids to follow. We tend to just give the little eggs, and this year we gave them some little troll toys too (they aodre trolls atm). They get so much choc from all their relatives so they don't need much from us! That afternoon my little brother and his fiance came over too.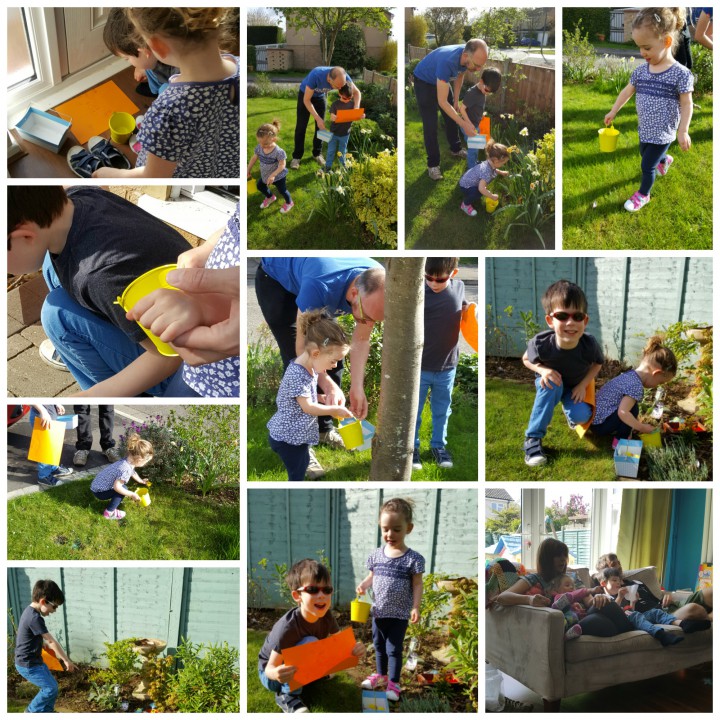 Sunday was a roast dinner for lunch at my Mum's which was lovely and another little Easter egg hunt there. Monday we had Hubs' family over, including his aunt and uncle from Yorkshire for a lovely bbq. I didn't take many photos but that afternoon we went back to Hubs' brother's house and the kids loved playing with their cats and tortoise including giving the tortoise a bath!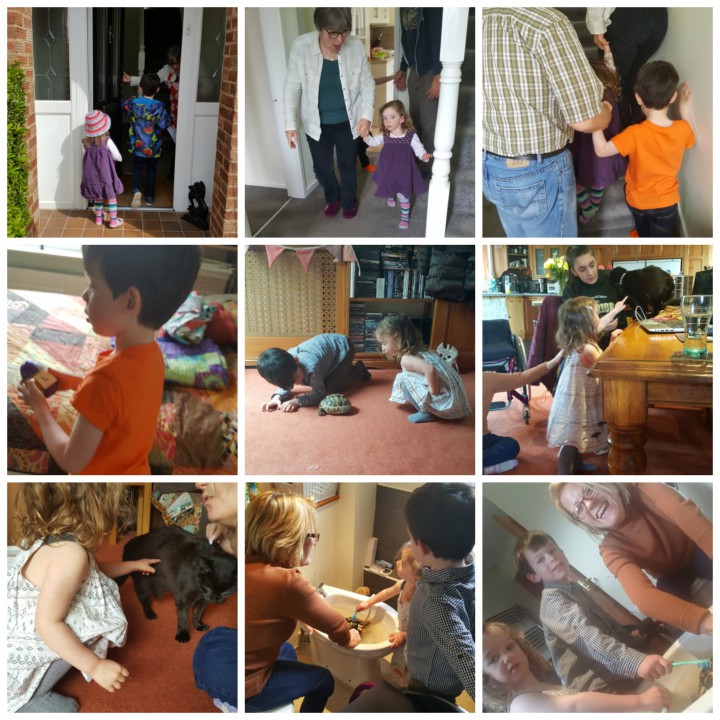 Tuesday was a quiet day for the kids and I as hubs took my parents down to London to visit my aunt in the hospital. This kids and I pottered at home and went on a bike ride to play on the play area. We also had a bit of a princess party which you may have seen! The kids were so good and it was nice to have bathtime fun with them as that is normally hubs' time with them.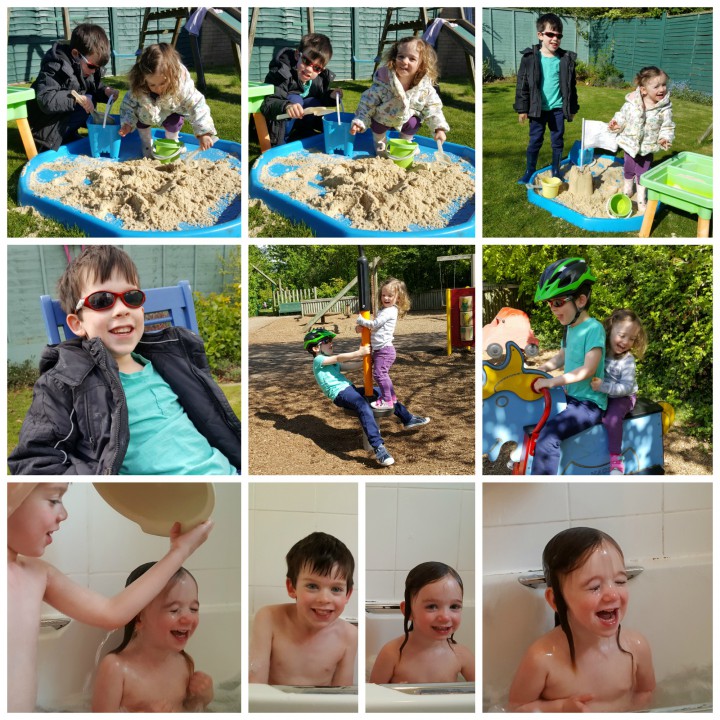 Wednesday we visited one of our favourite farms with friends and had such a lovely day. Just so full of fun and probably the fullest day I've ever spent at the farm so there was a tired Mummy and children that night!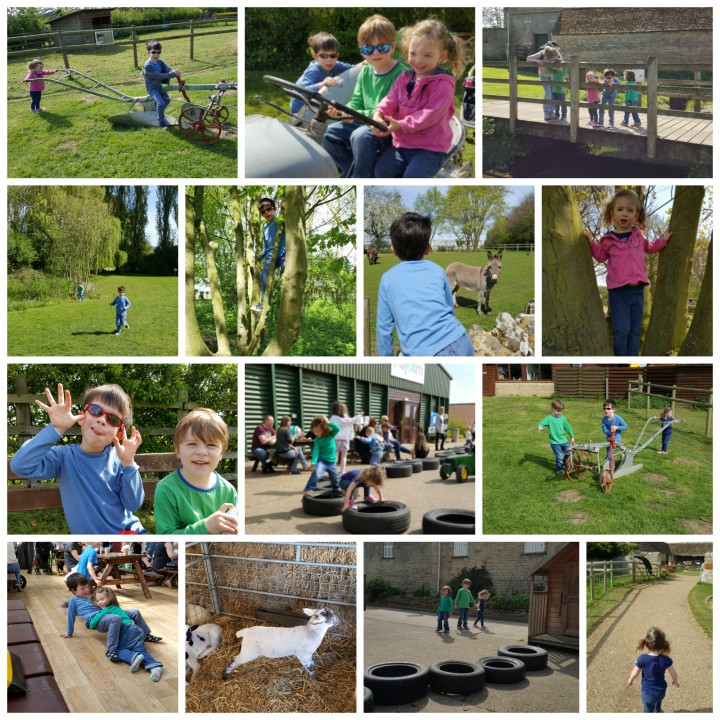 Thursday was nice and chilled and we saw hubs' parents for a play in the morning and just had a little play on another local play area in the afternoon. My phone also broke on Thursday which was just a pain, then when I took it into be repaired I was persuaded to upgrade as I only had 1 month left on the contract instead. So apologies for the pants pictures at the play park here, they were taken on a temporary phone.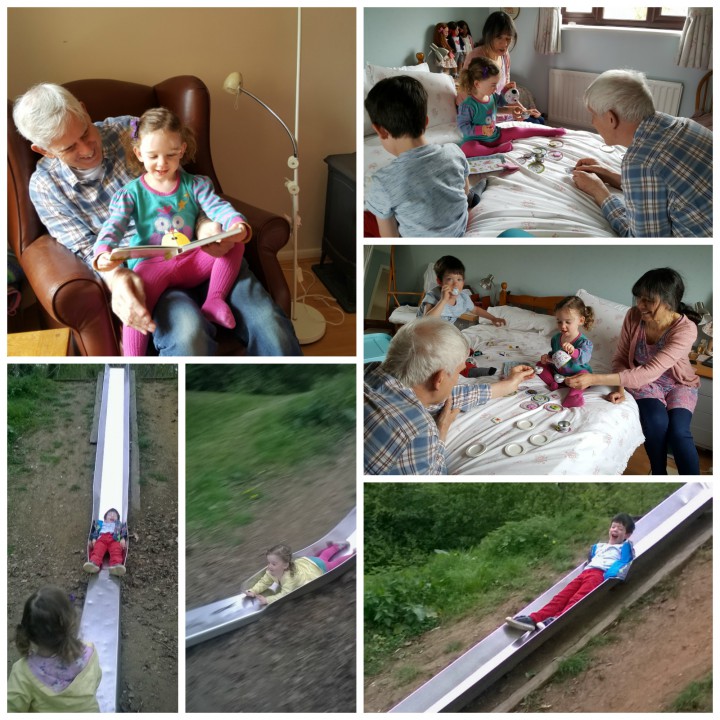 Friday was at the park with friends in the morning, testing out my new phone. (more to come on that in a separate post) and we had a fab time with friends we hadn't seen in a while. That afternoon was at my Mum's house for the afternoon for some snuggles and hot wheels fun.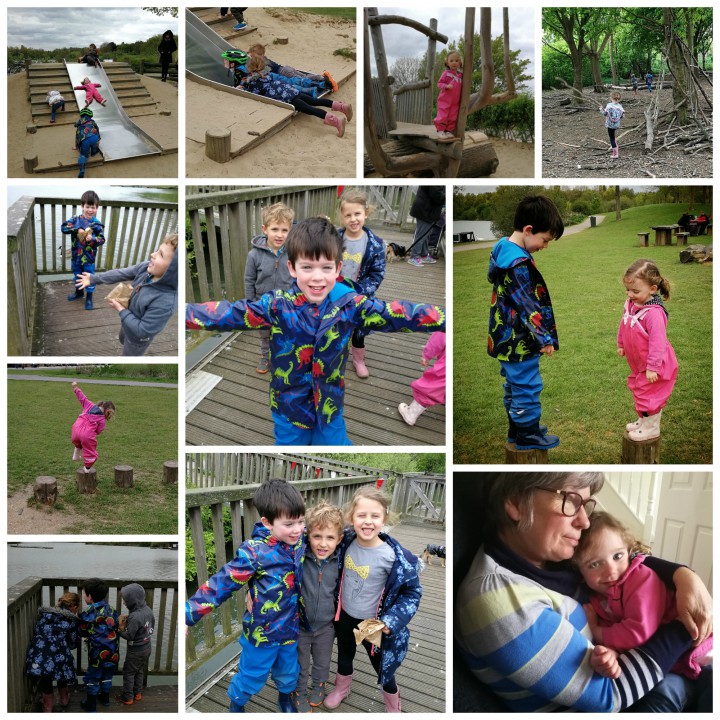 So there we have it, 2 weeks went by in a flash! As mentioned there were definitely ups and downs but on the whole it was really lovely. My house is a tip though so I'm ready for Monkey to be back at school, no matter how much fun we had!!