I have been fortunate enough in the past to review some gorgeous children's clothes from House of Fraser. When they got in touch recently and asked if we would like to reveiw something from their wonderful selection of children's toys, well I couldnt say no could I?
I really enjoyed browsing checking out the huge variety of toys and games they have to offer but couldn't resist when I came across this awesome remote control Fireman Sam fire engine. I just knew Monkey would love it, and I wasn't wrong.

As soon as he saw it he was so so excited and couldn't wait to try it out. Watching the absolute glee on his face as he chased it round and round the room turning the steering wheel was absolutely priceless. As you can tell I struggled to get a non blurry photo as both he and the fire engine were moving so fast at all times but it was so fun to see him so happy!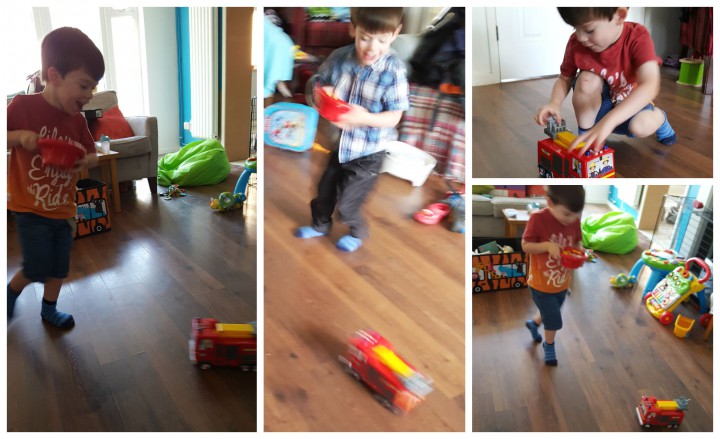 I have to admit it is probably the noisiest toy we own, and even on its "mute" mode it has the ability to shout "Great Fires of London" at the touch of a button! But it is worth it to see him so happy. He tells everyone he meets about his new fire engine toy and every time he sees it I swear it is like the first time again"oh wow my fire engine!!" So cute.
It really is such a great fun toy, definitely one to bear in mind for Christmas, and just one of so many available from House of Fraser