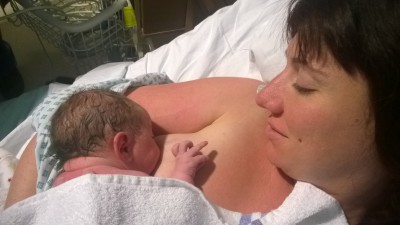 So far all is going pretty well with breastfeeding Little Miss. A complete contrast to how difficult I found breastfeeding Monkey in the early days but that doesn't mean that it is entirely plain sailing. This isn't going to be a post slating breastfeeding, or promoting it particularly either. There are many positives to breastfeeding but I've always had problems with the portrayal of it as being 'perfect'. As with anything, setting it up to be perfect experience only leads to problems (as perfection is unattainable) and feelings of failure or not being good enough when you can't achieve it. Some of the things you read or are told about breastfeeding feel a bit like propaganda and heaven forbid you have a different opinion or suggest there may be any negatives to breastfeeding.

So, while being pro breastfeeding (I fed Monkey for 6 months and hope to feed Little Miss for a similar jamount of time) I am also pro being honest about it and the potential problems and pitfalls you may experience, especially in the early days! It is different for everyone, and I'm sure everyone will have different experiences, both good and bad, but I can only really talk about my experience.
Before Monkey was born we went to a breastfeeding workshop where I had a slight disagreement with the expert over the use of the word 'convenient' to describe breastfeeding. Now I am sure in many ways it is more convenient than having to make up a bottle of formula every time they are hungry, but for more convenient just isn't the most appropriate word, and, well here is why.
(There are some affiliate links throughout this post, purely for convenience should you wish to buy any item. Any item purchased by clicking in these links would generate a tiny commission which would go towards the upkeep of this blog. I only link to products I buy myself and  would recommend to others).
It Hurts 
Now I know lots of people will tell you that if you are doing it right then breastfeeding won't hurt. It will be painless. Well I'm afraid I beg to differ. Once breastfeeding is established yes it is totally pain-free, but in the early days, at least for me it is not pain-free. With Monkey this pain led to all sorts of worries about whether he was latching on ok. With Little Miss she has been latching on perfectly from the first feed and you know what, it still hurt.
For me there is a searing pain when she first latches on. This also led to cracked and bleeding nipples. I never had that with Monkey but let me tell you Lansinoh is a miracle cream and has definitely helped with the cracks and bleeds. The pain itself has gradually reduced as days have gone by and a 30s pain at each feed is more like a 2s ouch at the moment.
There is also let down pain. When you're milk first comes in and you get engorged (um, ouch) and then actually at every feed, and at random intervals throughout the day before you are in a breastfeeding routine. Hubs laughs sometimes when I just go "oh Ouch!" and stand clutching my boobs to my chest (great image eh?) but it really hurts! No fun when you are in a conversation with someone either and suddenly start grimacing and trying to surreptitiously clutch at your chest by folding your arms.
Like I say, in a few weeks or couple of months time when we are in more of a routine and totally established these pains will be a thing of the past (until it comes time to stop breastfeeding and the engorgement of weaning baby off feeds…. but that's another story ;)) but in the early days there is definitely ouch moments and this is perfectly normal.
Leaks
My boobs leak. There are random times when my milk comes in (see the it hurts section above) when they start leaking, and there is also just the leaks that come at feeding time. While baby is feeding from one side, the other boob leaks profusely. When baby comes off the boob for a breather or a burp, the milk does not stop flowing from that boob (at least for me, there is no off switch) and will keep pouring out.
Cue a whole host of solutions. Disposable breast pads, I like Johnson's ones the best as they make my boobs sweat less than other brands with more plastic in them. I have also heard of washable pads, but haven't tried them and sometimes I like to stick to what I know.
I also use some milk collection shells, generally attached to the boob that is not being used at that feed. Honestly one feed and I fill one of these cups with milk that would otherwise have gone into a breast pad… or all over me.
Then with the boob I am feeding with I just kind of tuck a muslin in to my bra to try to collect the excess milk, otherwise Little Miss and I both end up drenched. It's not exactly foolproof though anyway so I invariably end up with wet patches, definitely on my bra.
Smells
Because of all the leaking mentioned above I often feel like I stink. There just seems to be an air of sour milk just constantly around me, no matter how often I change bras, breast pads, muslins. the muslins end up dotted about the house too so to me the whole house just has a slightly off smell. Hubs says he doesn't really notice it but I have a bit of a sensitive nose at the moment and the smell is just yuk!
Clothing Complications
I have to admit I struggle slightly with suitable clothes for breastfeeding. First of all are the nursing bras and having to be measured and trying to buy some that will still fit as your body adapts and changes… I hate being measured to buy bras at the best of times as I find measuring guides online to be confusing and they often vary greatly from website to website. One website said I needed a 40D whereas another one said my measurements were for a 36F. Same measurements, completely different bra size. I hate the fact that my boobs get so massive in the first place but that's another story. So this time I dragged myself out of the house and got measured at M&S and in their bras at least I am currently a 36DD and at least I have comfy bras now.
Then there are the nursing tops that expose the whole of the top of your boob, or have a flimsy top bit which may as well not be there. Or the ones where only a teeny amount of boob is allowed to escape meaning baby ends up sucking on clothing as well as boobs. You could wear more normal tops but then you expose your post baby tum to the world (and cold).
So I feel limited by clothing choices and want to wear things that  or make me feel more like myself than just a feeding machine. This time I have discovered an invention which helps with that, which is the Breastvest. Worn underneath your normal clothes the idea is then you lift your normal top and your tummy is not completely exposed and your top keeps your boob covered. So far I am loving them as I can wear lots of pre-pregnancy tops and don't need to change my entire wardrobe to enable me to breastfeed discreetly. Yay for the Breastvest. There are other brands and ones without straps, but I haven't tried these so can't say whether one is better than another.
Feeding 'on demand' 
Feeding 'on demand' is the recommend way to breastfeed a baby. You follow their feeding cues and don't worry about a schedule in the early days. There are many reasons that this is recommended, including mummy maintaining a good supply of milk, and also being the best way of ensuring baby gets enough milk. unfortunately though because this is a fairly recent piece of advice, you will always find well-meaning friends and relatives who disagree and therefore try to persuade you that you really shouldn't be feeding baby so often and should be getting them on a something like a 4 hour schedule from the off.
It's easy to understand why, that is what they know and what they probably did with their babies who all turned out fine, so how can it be wrong? It is difficult in the face of that to have to justify why you are doing it differently. It is easy for the doubt to creep in that you are doing the wrong thing. You start worrying whether you are misreading the signals, are over-feeding them, are making life harder for yourself than it needs to be. Should you be trying to get them into more of a routine… all I can say is No! I have googled and read books and done all the worrying and no, every recommendation I have found is to feed on demand. Be mindful and don;t just feed them every time they cry, try other things too as they don;t only cry because they are hungry, but if they are, then feed them. It is best for both of you. When they are cluster feeding or going through a growth spurt it can be pretty exhausting, but there is a reason for it.
Being the only one who can feed them
Definitely a bit of a drawback as when they are hungry and feeding all the time, the onus is on you to be the one who feeds them. Not so great when you have other things you want to get on with, a toddler to also look after etc. Last time I pumped one feed a day and then went to bed while hubby fed Monkey. This was nice for Hubby as he got the bonding experience of feeding Monkey, but honestly I found pumping itself to be pretty exhausting and while it was good for him to be able to drink out of bottles on occasion, eventually we stopped because that the positives and negatives evened out and it felt unnecessary. We may do the same for Little Miss for the odd occasions when I need to be away from her, but I don't know about it becoming a regular thing as yet.
Worrying about what you eat
Unlike when you are pregnant there is nowhere near the amount of limitations in terms of what you can and can't eat when breastfeeding. But, you can't help but worry. Every time baby seems to be in pain and has wind or a bad tummy, you can't help but feel responsible. Have I eaten something that disagrees with her? Is she allergic to milk? Is it because I ate something spicy? How long does it take for something to get into my milk and then affect her tummy. Honestly I drive myself round the bend.
And that's not all…
In addition there is all the loveliness associated with the first weeks post-birth. The sleep deprivation that comes with a newborn baby. The crazy hormones that have you crying over literally nothing. The combination of hormones and lack of sleep that give you the bags under your eyes and in my case the huge spots that take over my face. I have one at the moment that as hubby delightfully says "You could see it from space!"
But..
I wouldn't change a thing. I love that she is feeding, and feeding so well! I love the quiet bonding time we get. I love the 3 am feeds and cuddles when it is just me and her. No matter how tired they make me those moments are so special. I love the feeling that I am what she needs. I love that the human body is clever enough to provide all the sustenance she needs.
So yes it is not a perfect experience for me, and there are downsides to breastfeeding, but I still think it is worth it and I will carry on for as long as I can.