Thanks to our lovely friend who lets us housesit for a couple of weeks in the summer while they are out of the country, we are getting to know Dorset pretty well and have had some wonderful days out with the kiddies. So I thought rather than loads of posts about each place, I would compile a list of where to go on holiday in Dorset with toddlers, based on our experience. Now of course this list isn't exhaustive and there are probably lots of other wonderful places to visit too.. But these are our favourites so far.
Places to see Animals
Weymouth Sealife Centre
We do love a good aquarium or sea life centre, and the one in Weymouth is a particularly good one as there is so much to see and do. Animals wise, there are so many fish, sharks, rays, jelly fish and all sorts of different habitats to have a look at. There are rock pools where you can stroke starfish and try not to get nipped by some lovely big crabs. There are also some other wonderful animals there too, with seals, penguins, frogs, turtles and otters in addition to the more traditional aquarium animals. The kids adored looking at them all.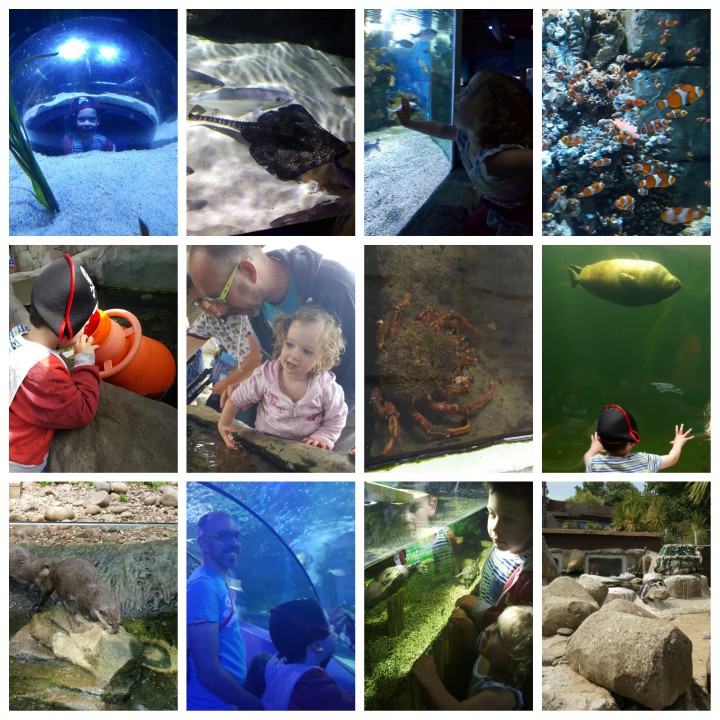 It's not just about the animals though as there also some great fun rides to go on, including a log flume, and they have a fantastic splash zone. I recommend taking swimwear for the kiddies as the paddling pool with slide and water fountains are really great fun. There is also a normal play area which the kids loved too.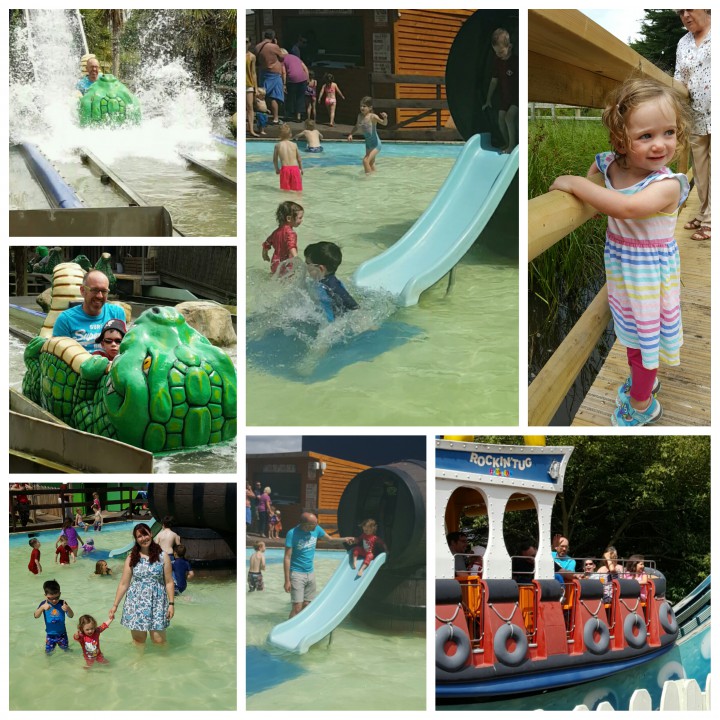 Before you go: It is definitely worth booking tickets online before you go as they are much cheaper than on the day. Everywhere is very accessible for pushchairs for little ones and there are loads of places to sit and enjoy a picnic. We ate from the cafe there and the kids enjoyed it but it was  bit pricey and there wasn't a huge amount of choice so if we went again i would definitely take food with us.
Monkey World, Wareham
Monkey world near Wareham is a really lovely place housing primates which have been rescued from less savoury zoos or from the pet trade. It is a lovely site, with nice big enclosures for the monkeys and lots of viewing points s you can see them swinging around happily or having a rest. There are all sorts there, with Lemurs, Orangutans, Chimps, Capuchin Monkeys and Spider Monkeys to name but a few and the kids loved looking around.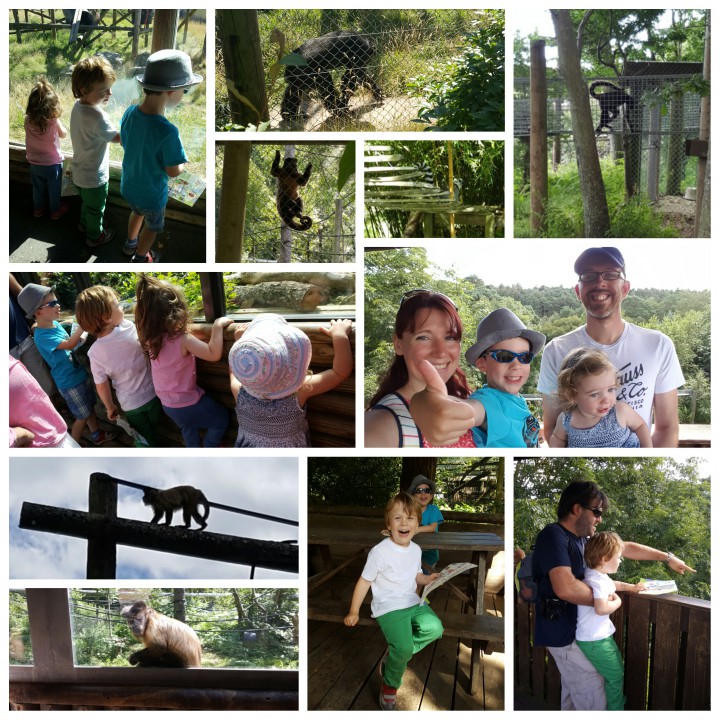 There are also some really great playparks for your little Monkeys to clamber about on, with some dotted around the park and a particularly brilliant big one at the end which the kids adored.
Before you go: Monkey World is really accessible with paths suitable for pushchairs or wheelchairs, they even have swings which can be used with wheelchairs. We ate there and while there wasn't a huge amount of choice in the cafe we chose, the food was simple sandwiches and was all we really wanted anyway. There are a few cafes throughout the park, as well as snack stops and lots of places to sit if you would prefer to take a picnic. Toilets are also dotted about and easy to find and on the whole we were impressed, places were clean and food wasn't too expensive.
Abbotsbury swannery
Abbotsury is a small village to the west of Weymouth which houses a few great tourist attractions. A childs farm, tropical gardens and a swannery. You can buy access to all 3 for £17  for an adult which makes it very reasonable, however we have only seen the swannery so far. The swannery is such a beautiful place, very peaceful and we found it really lovely to go somewhere a bit different. The swans are all so well cared for and the kids adored seeing the signets. Monkey was also thrilled to be able to take part in the feeding of the hundreds of swans. They are well practiced at this to make sure that everyone who wants a go can have a go and it was great fun.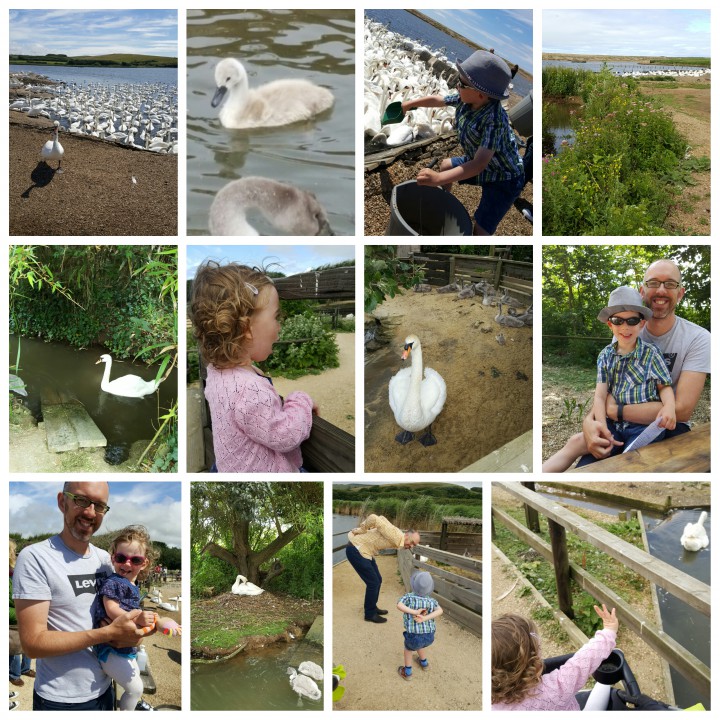 The kids loved exploring across the site and they particularly loved the giant maze in the shape of a swan. Monkey loves a maze and the great thing about this one was all the percussion instruments dotted about. There is also a quiz you can complete if you find all of the points throughout the maze which Monkey really enjoyed. I was glad to have the map they gave us at the entrance as it helped us get out quickly when LM got tired and hungry for her lunch!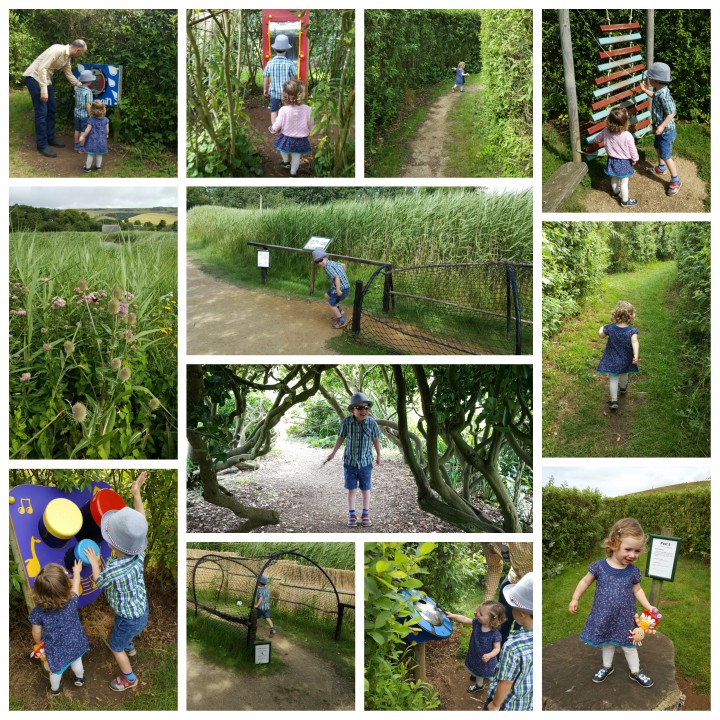 Before you go: Everywhere is accessible for pushchairs or wheelchairs, and I would recommend taking a pushchair for little legs as it is quite a walk from the entrance to the swans. There is a playpark by the entrance and a lovely cafe  with a great menu, but this is also by the entrance so we decided to take a picnic to avoid having to walk back at lunchtime. There are plenty of lovely spots for a picnic including a nice shady area for sunny days, or benches to sit and watch the swans. Feeding the swans is at 12:00 everyday and well worth joining in with.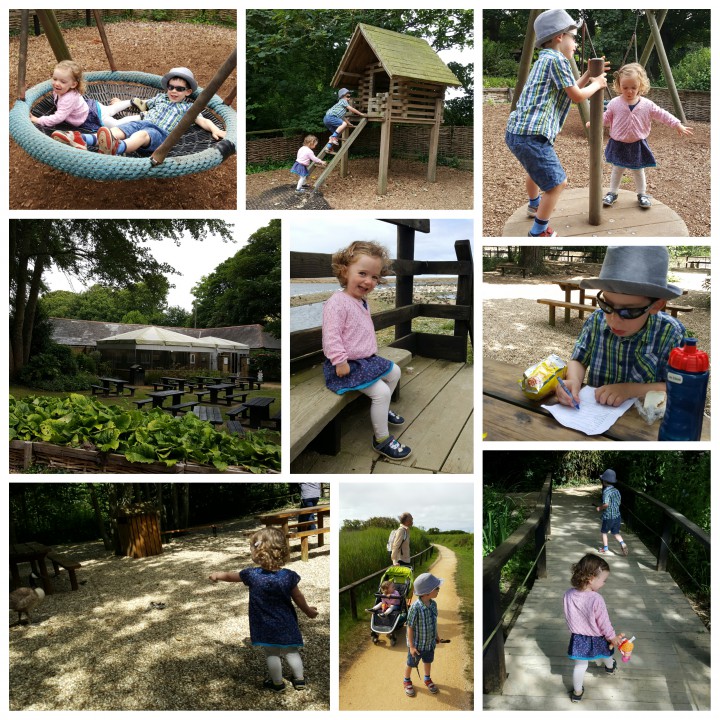 Beaches
Many of the beaches around the South and West of Dorset are shale, or stony, beaches, which can be lovely but lets face it, the best beach days out with toddlers are sandy ones where lots of sandcastles can be built. To that end, here are favourite sandy beaches in Dorset.
Weymouth beach
The area to the east of Weymouth, near the sea life centre, has a long and stony beach, however the beach at the centre of Weymouth itself is a very lovely sandy beach, perfect for taking the kids to.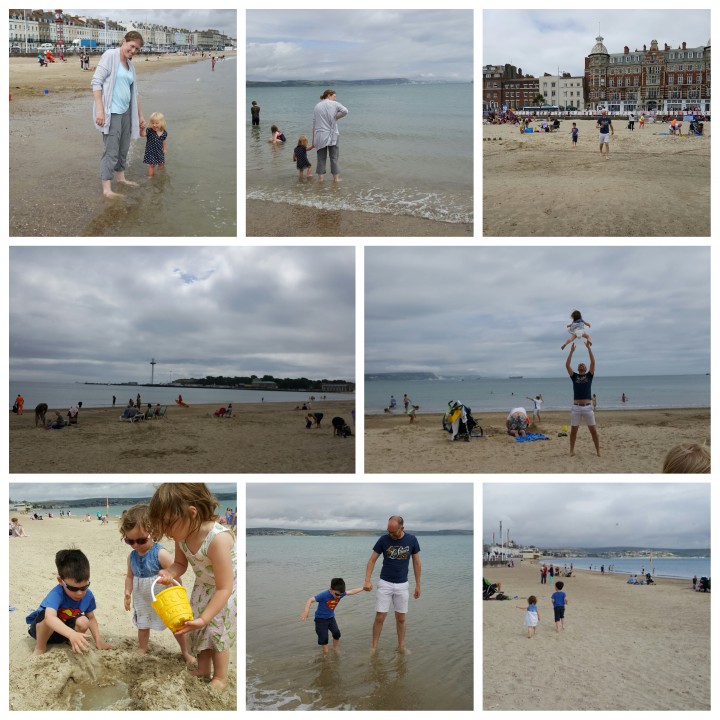 Before you go: The beach was clean and the sea wasn't too cold, even though we were there on an overcast day. There are public toilets, lots of places to buy ice creams and buckets and spades, and to hire deck chairs from. There are a couple of options for parking within easy walking distance, you could park near the pavilion and Jurassic Skyline, which is quite close to the beach, or as we did, park at the Swannery car park, which is very easy to get to and also only a short walk to the sea front.
Middle Beach, Studland
In East Dorset, in an area known as the Isle of Purbeck, we found a truly lovely, lovely beach at Studland bay. It's just one of those lovely lovely places you don't want to leave and can't wait to get back to! The bay is huge so there is plenty of space and we opted for Middle Beach, so I'm not sure what the other areas are like. There is supposedly a naturist area on the beach but this is apparently well signposted and we didn't come across it.
We loved this beach because the sand was clean and perfect for  digging and building castles. We arrived when the tide was fairly high and it went out throughout the day. This is the perfect beach for paddling as the water is very shallow and you can walk out really far without it ever going over your knees. This also means the water is a lovely temperature and gets steadily warmer throughout the day, it is also incredibly clear so no nasty surprises. Our littlest lady isn't a fan of the noise of waves but she loves exploring the pools created by the receding tide, and we even found som nature to explore in them.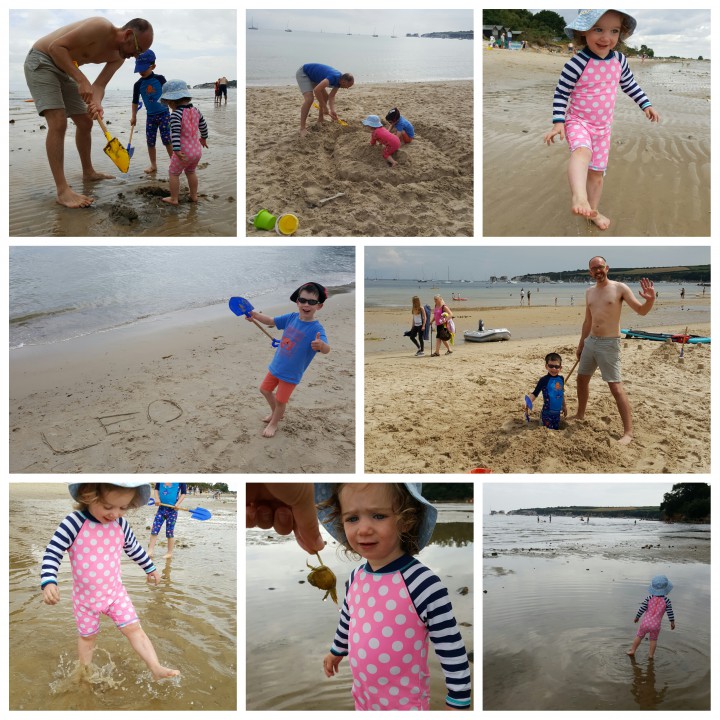 There are gorgeous views from the beach, you can see over to Poole and Bournemouth to the north, or looking straight ahead you can even make out the Isle of Wight! To the south of the bay are Old Harry's Rocks.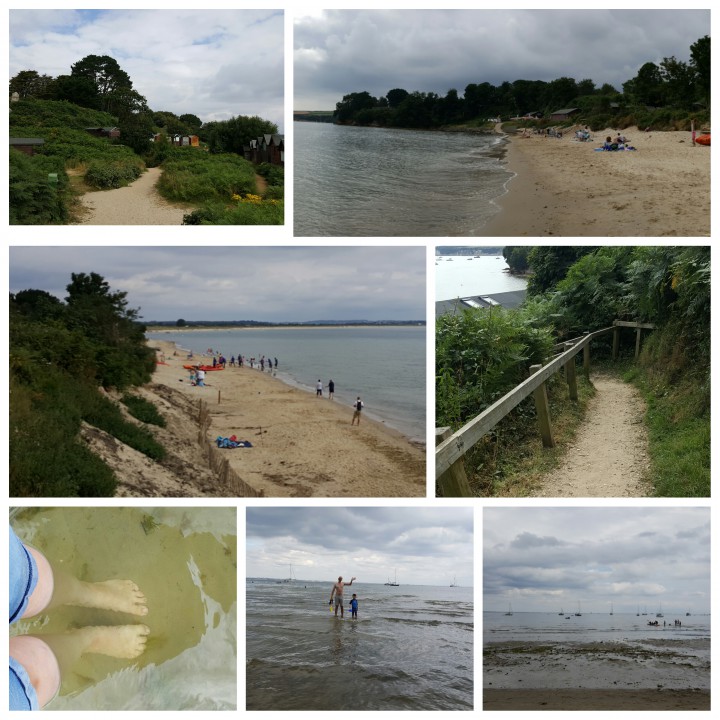 Before you go: Maintained by the National Trust, parking is free for NT members. Access from the car park to the beach isn't too far but it is down a fairly steep and uneven path through and behind a lot of beach huts, so I wouldn't recommend taking a pushchair down, though I did see someone manage it. There are toilet facilities and a cafe which were very nice though we took a picnic with us. The beach is dog friendly so be aware of that, dogs are supposed to be kept on the lead however many owners flouted this rule, though we only had one instance of dogs running through our things, as most were well behaved and looked after.
The Durdle Door
The Durdle Door tops many a "must see" list for places to visit while in Dorset, but it is not the most accessible place, especially if you have small children. You can read more information about how not to do it from my post last year, which includes a map of the route to get to the beach itself.
The Durdle Door is a stunning rock formation of an archway in a simply stunning spot on the south Dorset coastline, honestly you would think you were in the mediterranean or something with the clear blue waters and it is definitely worth a visit, though it is not without it's challenges. It is the one beach I am mentioning here which is a stony beach, because the views are worth it but no sandcastles are being built here.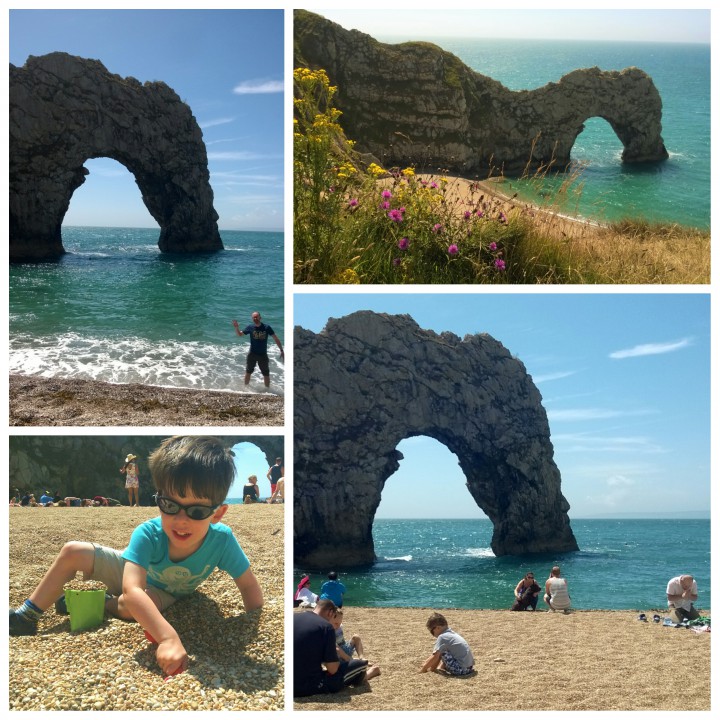 Before you go: The access from the car park to the Durdle Door and beach is incredibly long, steep and includes a lot of incredibly steep steps. I would definitely not recommend taking a pushchair and advise you to travel light. It is stoney beach so no point taking buckets and spades, and when we were there the waves were pretty rough so the kids would not go near the sea. There are no toilets and the only facilities are an ice cream van about halfway down so take plenty of drink and some snacks if not a picnic. For more information, read this post.
The beach at Swanage is also said to be very lovely and sandy however we are yet to visit so I can't say more than that really!
Portland
South of Weymouth is the island of Portland which has places to visit too. We found out too late about a pirate graveyard which Monkey would have enjoyed, but we did manage to visit a couple of places on the island.
Portland Bill Lighthouse.
At the southern tip of the island there is a lovely lighthouse called portland bill. It is a stunning place to visit with the ocean all around and the remains of a quarry of Portland stone perfect for scrambling over. There is a visitors centre you can pay to look around and older children and adults can pay to go up the lighthouse however as we wouldn't all have been able to go, we were content just exploring the outside.
Before you go: there is a great big car park there and a lovely little restaurant nearby, which was child friendly although the child meals were quite pricey in my opinion.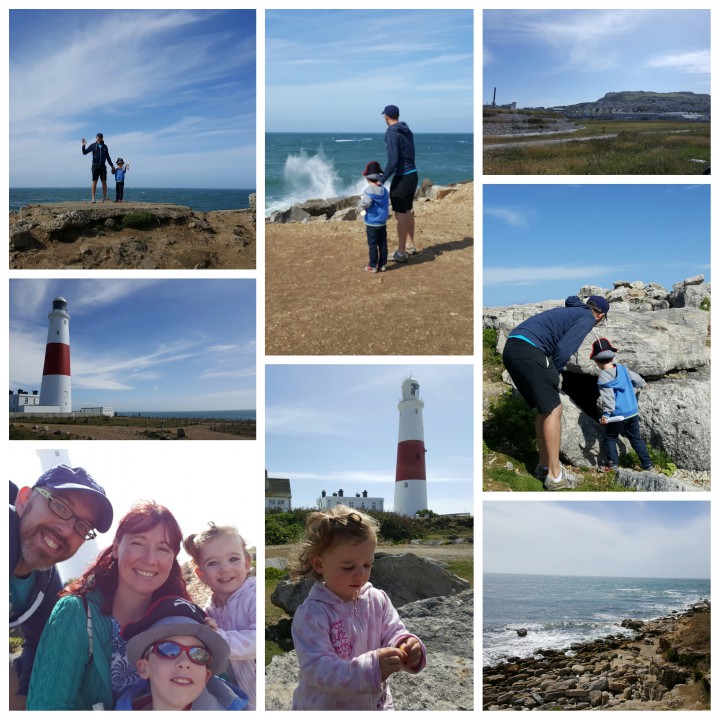 For the lighthouse itself it is approx. £3 to go in the visitor centre or £7 to also climb the lighthouse. But, be aware that babies and small children cannot be carried up. Children must be over I think 1.1m tall and able to get up under their own steam.
Portland Castle
Portland Castle is run by English heritage and we found it to be a great little Fort, actually about the perfect size for a short trip with our little ones. Under 5s are free and it is just under £6 per adult to get in. The kids loved exploring the ramparts and seeing the cannons. They also really really enjoyed the dressing up area, as you can see below!
Before you go: we did take the buggy but had to abandon it a couple of times as it isn't really accessible as tou would expect from such an old Castle. There is facilities and a nice cafe on site though sadly they didn't seem to serve ice creams when we were there.
Other places to visit
Swanage railway and Corfe castle
One of our highlights from our holiday last year was our trip on the Swanage Steam Railway to visit Corfe Castle. The railway runs between Swanage and Norden, just to the north of Corfe Castle. You don't have to visit the castle on your trip, and you can visit the castle without riding the railway but it does make for a nice day out to combine the two. We chose to drive to Swanage and take the train to the castle where we loved having a good explore (we do love a good castle) then return to Swanage to drive home. You could however park at the castle and take the train to swanage too.
Kids love trains so our two definitely enjoyed a ride on the train and the staff were great with stamping tickets etc. The Castle itself is simply stunning with the ruins perched atop a hill with amazing views of the surrounding countryside.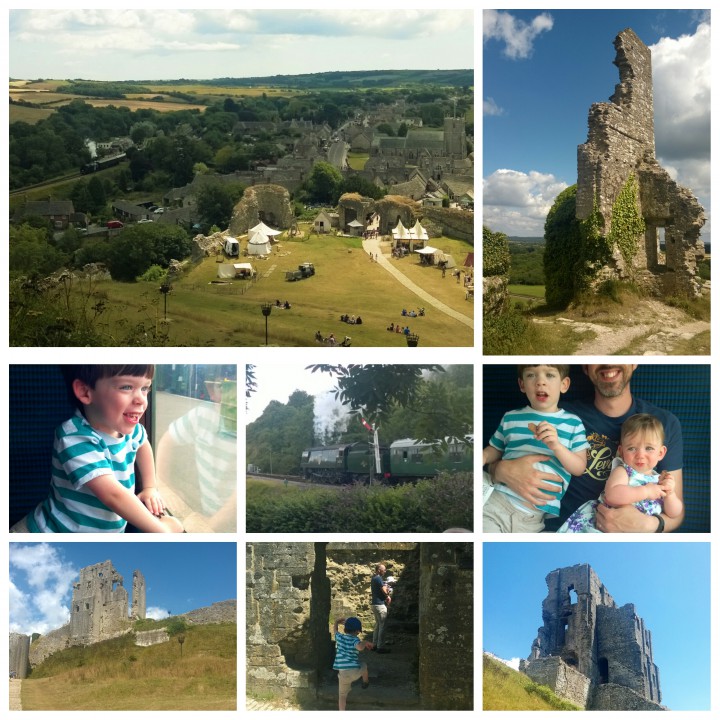 Before you go:  There is no car park at the station in Swanage, just a co-op with a short stay, however there is a large car park just 5-10 minutes walk away. The journey between Swanage and the castle is about 20 minutes so we had a picnic on the train, however there are some cafes at Corfe Castle which are lovely too.
On arrival at the castle we were advised not to take our pushchair up as the ground was very uneven, however we did see others pushing buggies around so I think that is up to you really. the National Trust do have some baby carriers you can borrow. It is very hilly and steep so may be tricky to navigate for some little legs. LM wasn't walking when we went last year so she was carried around by us.
Dorchester Dinosaur Museum
There are a few museums in Dorchester but we have only visited the Dinosaur Museum so far. We went on a particular wet and rainy day on our holiday last year. It is a lovely little museum with lots of Dinosaur information and some great model Dinosaurs.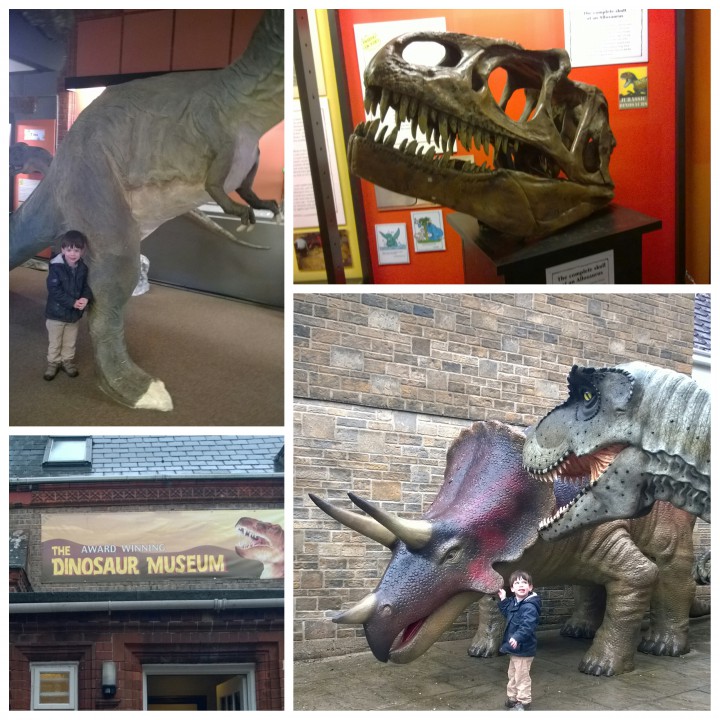 It isn't very big however so on a wet day it can get incredibly busy and quite warm as a result. There are stairs inside so we were asked to park our buggy near the entrance.
Before you go: Don't plan to stay too long and be aware that you may not be able to take a pushchair with you and if you do it will make getting around quite tricky.
Munchkins Cafe Dorchester
A really great find for a rainy day is this stay and play cafe, possibly the best of its kind I have seen. With over half of the cafe, and much of the garden, dedicated to toys and play areas, the kids absolutely adored it. there is a slide which goes down the set of stairs in the cafe and just so much for the kids to play with. Outside is a sand pit and some water toys for hot days too.
Add to that the food we had was delicious and there is free wifi, perfect for blogging or surfing while the kids play.
Before you go: There is a charge for playing at the cafe, however this is discounted for siblings and one charge lasts for 7 days which makes it incredibly good value. They have fantastic facilities for baby changing, even providing nappy bags and hand sanitiser free of charge. There is a breastfeeding room should you wish for some privacy and just about anything you can think of that your little ones would like. Because  it is great, weekends and rainy days can get busy, however on a dreary week day when the kids needed a quiet day we found it to be perfect and it wasn't too busy. The nearest parking is on Trinity Street and is £1 for a couple of hours.
So there we have it. Some of our favourite places in this neck of the woods. No doubt there are lots of other wonderful places but hopefully I will have given you some ideas for where to go on holiday in Dorset with toddlers.