Hard to believe but I have been a parent for 4 whole years, to this beautiful little boy of mine.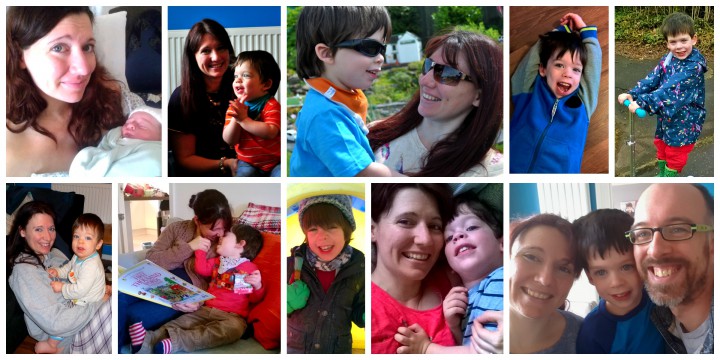 This little Monkey is now not so little but he is definitely still a Monkey! He seems more and more grown up all the time and I honestly have to remind myself sometimes that he is still such a little boy really, especially as he is so tall (3'6 1/2″), as it makes it easy to forget he isn't older. Sometimes with him it feels as if he is two different boys, he can be the sweetest soul imaginable, or can be a defiant and aggravating little terror. I think that is pretty normal though and at least the second boy isn't around all the time.
So what do I mean? Well he is such a sweet and caring boy. He can be so so good with his sister and so kind and caring to everyone. On our recent holiday he shared his ice cream with his sister, and was trying to help her put her shoes on and off. We recently overheard him saying to her "it's a broken one darling" and I can't help but melt at him calling his sister darling, even when I know he is just copying us really. He tells us he loves us all the time and has recently told his sister and I that "we will be friends forever". I do hope that is true! He adores all his friends and family and loves being around people.
He drives us crazy frequently, as I will explain later, and one day recently after a particulalry frustrtaing mealtime, hubs and I were bickering about what was best to do about it. We were both so frustrated and tired of the mealtime battles with him and were so grumpy with each other. Monkey, with all the wisdom of an almost 4 year old, came over and said "So we've got a problem. We need to stop arguing." To which hubs and I responded that we were arguing because he refused to eat his dinner again and that that was the problem. He walked away for a think and hubs and I sat seething slightly in silence (noone wants their child to tell them to stop arguing). He then came back in, walked over to Daddy, gave him a cuddle and said "This is how we look after each other. We give each other cuddles." Then he came over and cuddled up to me. We were still so cross but it was hard not to melt slightly about our little boy trying to console us, even though it was because of him in the first place!!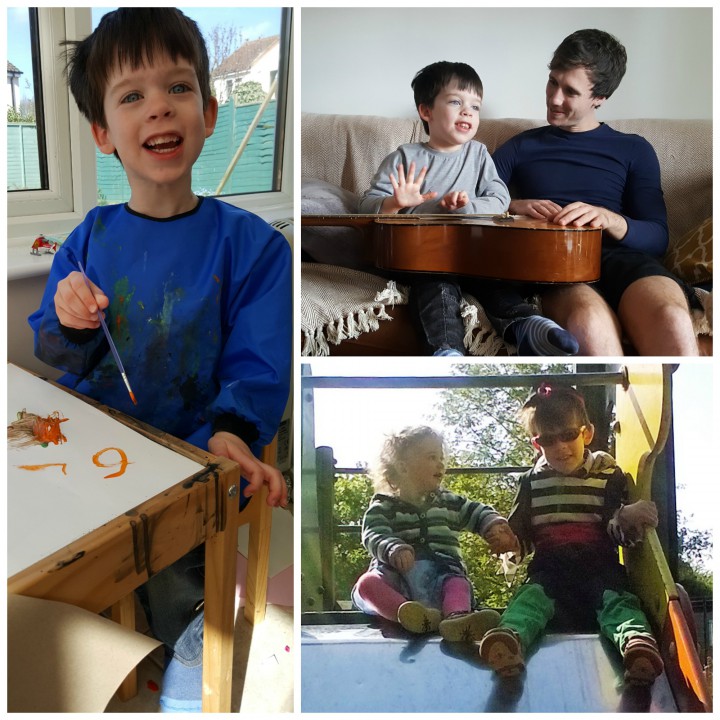 He is so clever and is learning so much all the time at this age. The things he comes out with at times though are hilarious! Some are accurate and some are so randomly timed, for example randomly telling an uncle that we see all the time "We've got a new room and it's got a white carpet and white walls" one day, despite said uncle having been in our "new" room many times since the garage conversion last year haha. Others are funny as they show the way he is trying to make sense of the world around him.
A few examples.
One day in the bath he was pretending he was LM, Daddy was Mummy and vice versa and it was very cute, then he announces  "But I can still speak boy language" haha I wish I spoke boy language my darling.
"There's another great idea coming on"
"I forgot to tell the hairdresser that I have a hurty knee! Silly me I forgot"
When walking to/from his grandparents' house and announcing "This is the quickest way" while heading down a route that is most certainly not the quickest way. Sometimes I indulge him and he does concede that it was a long way, other times I don't have the time and ooh tantrums.
Giving me a science lesson "These are buds and then they will grow like this"
"My pink skin is gone again" (when he has painted his hands.)
"Excuse me, I have some really important news…  This pot is broken"
"Excuse me but you hurt me a bit" (the sofa)
He says "excuse me" a lot actually and it can be very sweet as it sounds so polite!
When we were talking about St George and St George's Day, I explained that he fought a dragon, and Monkey announced  "He tickled the dragon and made it good." clearly learned from "how to train your dragon" and one of many examples of how impressionable he is at the moment. He has been enjoying watching Peppa Pig a lot lately and has picked up some great, and some less great phrases from that programme! He loves repeating "That was a stroke of luck" but he also loves saying "why" as a result of an episode where George says "why" all the time, and has also decided that some things are boys things and some things are girls things after an episode where they do something similar. For the most part I actually like Peppa Pig but I have slightly cursed it a few times for the things he has chosen to learn from it!
He's also really impressionable when it comes to other children. A new family recently moved nearby and their son is a few years older than Monkey. Unfortnately he is also quite badly behaved though and not a great unfluence for Monkey at the age he is at. He is really overexuberant screaming and being crazy which Monkey copies, but also says things about boobies and poo poo and if Monkey doesn't do what he wants then he says "we're not friends anymore", calls Monkey a baby and storms off. Monkey then repeats these things at home and it is difficult, because I know he will learn these things in time anyway, but I am not particularly a believer in the "boys are just boisterous" mentality and he also needs to learn that it isn't ok to behave like that, in my opinion.
Because as sweet as Monkey can be, remember I said that there is another side to him, ooh well his behaviour can be awful at times. Most of it, I know is just testing his boundaries and to be honest, attention seeking. As much as I know he loves his sister he can get terribly jealous of her. I do feel sorry for him at times as he has this little sister who is cute as a button and who charms everyone she meets. A sister who is very attention seeking and a complete diva of a madam when she doesn't get what she wants. Plus she is still so young and needs more of our attention at times. So it is no wonder our boy plays up to get our attention too. He always wants whatever she has and can be terrible at times when I know he really just wants our attention.
Mealtimes are the worst and honestly they can be variable, with him eating really well some days, to taking hours to eat anything other days. With him screaming no and refusing point blank to even try something that I know he likes, or just sitting playing with his fingers and singing instead of eating anything so that we get wound up and he is sat there for over an hour by which time we have lost our rag with him. We try ignoring him but that doesn't seem to work as how long can you ignore your child for? We try threats but then he just says ok and trots off to bed or wherever and is happy to take the punishment as it means he gets his own way and doesn't have to eat.
Most of the rest of the time the naughty spot does still work and often even the threat of it, though I hate having to get that far. The arguments we have over everything are just exhausting some days. Arguing about needing the toilet, about wearing a coat about wearing shoes or wellies, about tidying his toys, about having a drink. Honestly that is just so far today and there will certianly be arguments about mealtime, bathtime, bedtime, etc, etc, etc to come today! Again though I have to remind myself that until now, he wasn't even 4. Sometimes because his sister can be such hard work, I can often expect a lot of our little Monkey. I expect him to be so grown up when really his behavious is perfectly normal for his age.
So, back to good things. and our little Monkey is learning so much all of the time now. He is so good on his scooter (finally) and starting to get to grips with his bicycle too, whough I think we have a way to go with that one yet. He loves drawing and writing and writes his full name (including surname) with ease and has even written some of his friends names. He so wants to be able to write everything, and the same goes for reading. There are lots of words that he can recognise and tries to read many others on signs when we are out and about too. His drawing is brilliant his imaginative play has come on so much.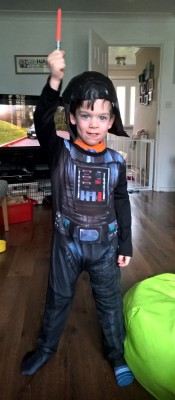 He adores playing with lego, especially his Daddy's old Star Wars Lego. In fact he loves anything Star Wars, particularly Darth Vader (though he is a good darth vader apparently) and loves watching the films and playing lego on afternoons when he is at home and LM is asleep. He has also recently discovered Transformers in the form of one of Daddy's old toys and he adores playing with Optimus Prime.
He loves playing games with us all too and actually one of his favourite toys is a baby dolly, who is his baby and who goes to bed with him at night. Along with his fave comforter Doggy Bear, and Dr Wilber, one of his Daddy's old teddies who is also now a dr apparently who is the only one who can comfort Monkey when he has a cut or splinter or something. Even if he "says" exactly the same things Mummy or Daddy have been saying…
He is such a character and is so full of fun, and is sometimes a complete little loony. In fact one of his favourite games is "running round like loonies" and "running round like loonies then cuddling" bless him. He has a great sense of humour and loves to laugh, he is also such a good boy on the whole. He is so polite and tries his best (when he wants to) and is growing up so much all the time.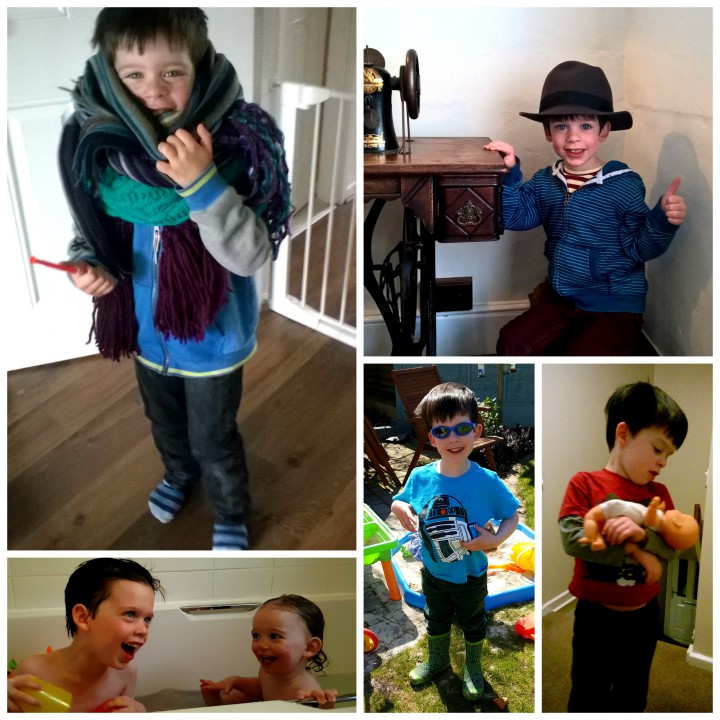 Looking back at photos for this post has been interesting actually. I sometimes feel like I neglect him these days because of his sister being around and I also think I don't give him enough special attention, or enough credit for how well behaved he is. So my promise to my darling boy is that Mummy will try and do better. I love him so much, he changed my world the day he made me a Mummy and I wouldn't be without him for a second.