I love Baking and like to try something new. Sometimes I bake to beat boredom, other times there seems to be so much going on that I have to find time to bake! This was one of those times.
I saw this recipe on Bake Off last year and have wanted to make one ever since but I haven't have the right tin. For Christmas, my lovely mother in law bought me the tin! Wahoo! So I have been dying to make it ever since. Here is how it went!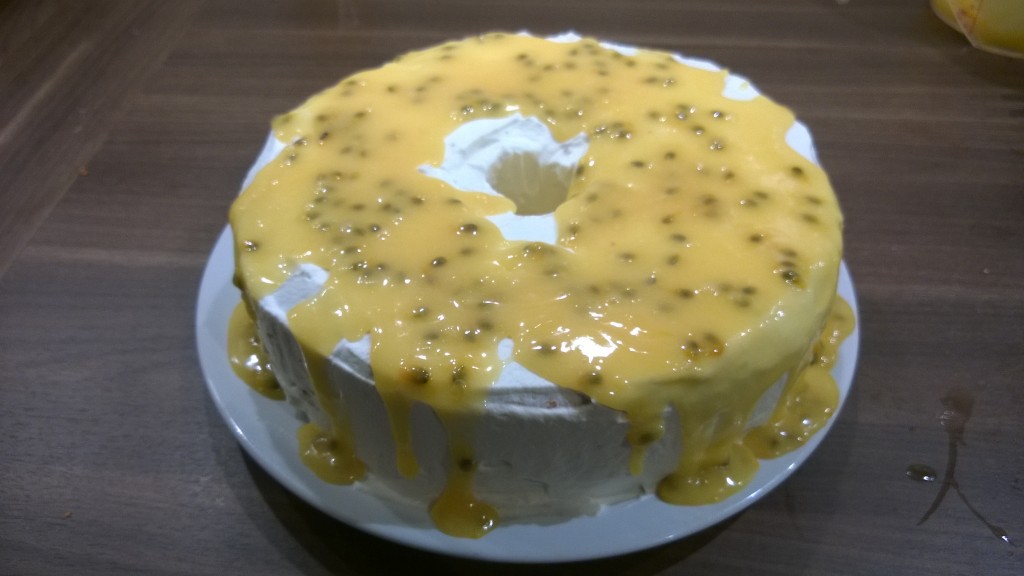 Recipe
Cake Ingredients
125g Plain Flour
300g Caster Sugar
10 Large Egg Whites, at room temperature
Finely grated zest of 2 large unwaxed lemons
1 tbsp Lemon Juice
1 tsp Cream of Tartar
1/2 tsp salt
Method
1 – Heat the oven to 170C/Gas 3 and put the oven shelf in the bottom third of the oven
2 – Sift the flour and 100g of the caster sugar into a bowl and set aside. 4
3- Separate the eggs, put the whites into a very large bowl (keep the yolks in a smaller bowl for later) and whisk with an electric mixer on high speed for 1 minute until frothy.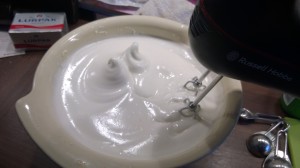 4- Add the lemon zest (careful not to zest your thumb too like I did, ouch!) and juice, cream of tarter and salt and continue whisking for 2-3 minutes until soft peaks will form when the whisk is lifted. I think this is how they should look:
5 – Whisking on high speed, add the remaining 200g caster sugar a tbsp at a time and whisk until the whites form firm but not stiff peaks.
6 – Sprinkle a 1/3 of the flour mixture over the whites and gently fold in with a large metal or plastic spoon until combined (I can't remember why but you shouldn't use a wooden spoon to fold egg whites, I think it takes the air out). Repeat with the remaining flour mixture, in 2-3 batches, folding gently to keep as much air in as possible.
7 – Transfer the mixture to an un-greased 25cm Angel Food cake Pan with Legs, then gently run a knife through the centre of the mix to dislodge any large pockets of air.
8 – Bake in the oven for 45 -50 mins, I baked mine for 45 minutes and it was definitely done, maybe even a couple of minutes over. It is done when a skewer inserted into the cake comes out clean.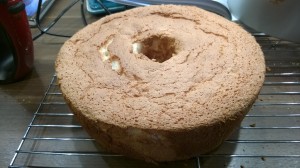 9 – Remove the pan from the oven and immediately turn upside down (hence the    legs), Leave to cool for at least 1 hour.
10- Run a palette knife around the inner and outer edges of the pan to loosen it from the pan, then invert the pan onto a plate and use the palette knife to loosen the cake from the base of                                                                                 the tin. Leave to cool completely on a wire rack.
10 large egg yolks
400g Caster Sugar
Finely grated zest of 2 large unwaxed lemons
Juice of 4 large lemons – about 200ml (I don't have a posh juicer and the juice I squeezed out of my 4 lemons was about 150ml, so I used a bit of Jif lemon to top it up)
175g unsalted butter, cubed
Method
1 – Mix together the egg yolks, sugar, lemon zest and juice in a large pan.
2 – Cook gently over a low heat, stirring with a wooden spoon (make sure to stir the sides and base thoroughly) for 5-7 minutes until the mixture thickens enough to coat the back of the spoon.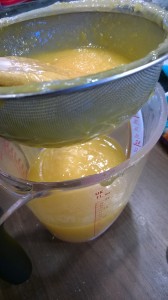 3 – Remove from the heat and stir in the butter until melted and smooth.
4 – Strain the lemon curd through a sieve into a large jug (it suddenly starts to resemble lemon curd at this point!)
5- Mary Berry's recipe says that you should fill two 350g sterilised Jars with curd and seal with a lid. Then use the rest of the curd for the topping. I only seemed to have enough for one 300g jar and there was nearly 200g left which I used for the topping. I'm not sure if we heated it for too long or if I didn't have enough lemon juice, but there was nowhere near enough for two 350g jars plus some for the topping!
6 – So fill jars with as much lemon curd as you have and then leave some (the recipe is very vague but I kept about 200g and it seemed to work well and taste yummy) in the jug for the topping. Cover this with clingfilm and leave to cool.
Topping Ingredients
300ml whipping cream, well chilled
1/2 teaspoon vanilla extract
2 passionfruits
Method
1 – Whip the cream with vanilla extract until it will form soft peaks.
2 – Spoon the cream over the cold cake and smooth down with a palette knife.
3 – Cut the passionfruits in half and scoop out the seeds and pulp. Stir into the reserved cooled lemon curd and drizzle over the angel food cake before serving.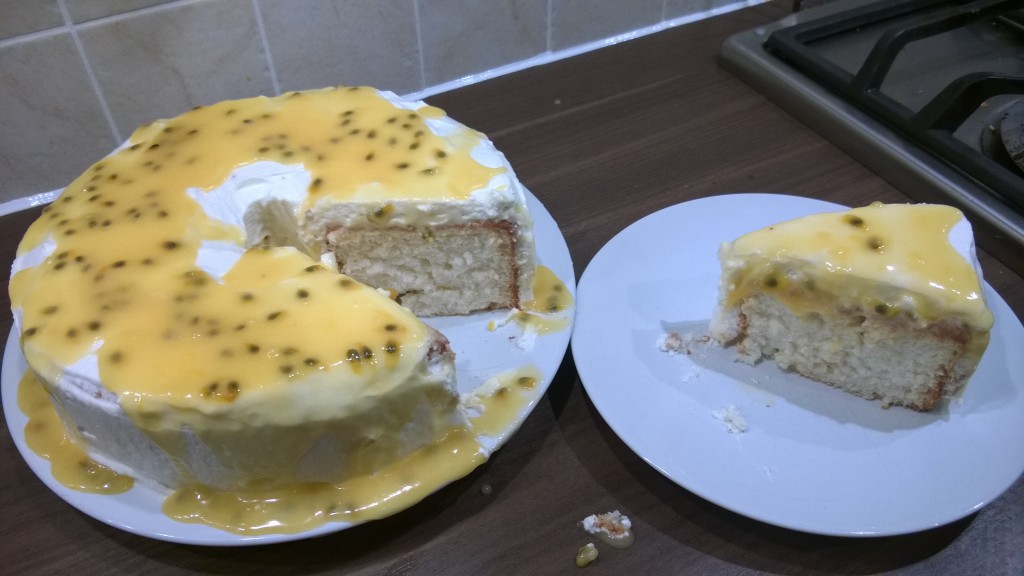 It's not exactly the simplest bake in the world and I certainly didn't do it perfectly (when I was tipping the mixture into the tin I kept finding pockets of flour and sugar – not quite as well folded as I thought!) but it turned out pretty well actually! It tastes yummy and very light though it's an interesting texture because of the egg whites.
The sauce is a lovely combination of sharp and sweet and it goes very nicely with the delicate flavour of the cake but I actually think the cake would be nice without such a strong topping too.
I am particularly surprised with how well the lemon curd turned out – it has now set and is exactly how I think of Lemon Curd! Feels really nice to have made it – makes me want to make jams and all sorts now haha – maybe one day!
Happy Baking!