I haven't written a baking  blog for a while as I have been on a bit of a diet. I have done pretty well with the diet, but I have really missed the baking. I just find it really therapeutic. Even on days when I am shattered and can't be bothers, following the recipe is so soothing and then taking it out of the oven, decorating, ah the feeling of satisfaction is amazing.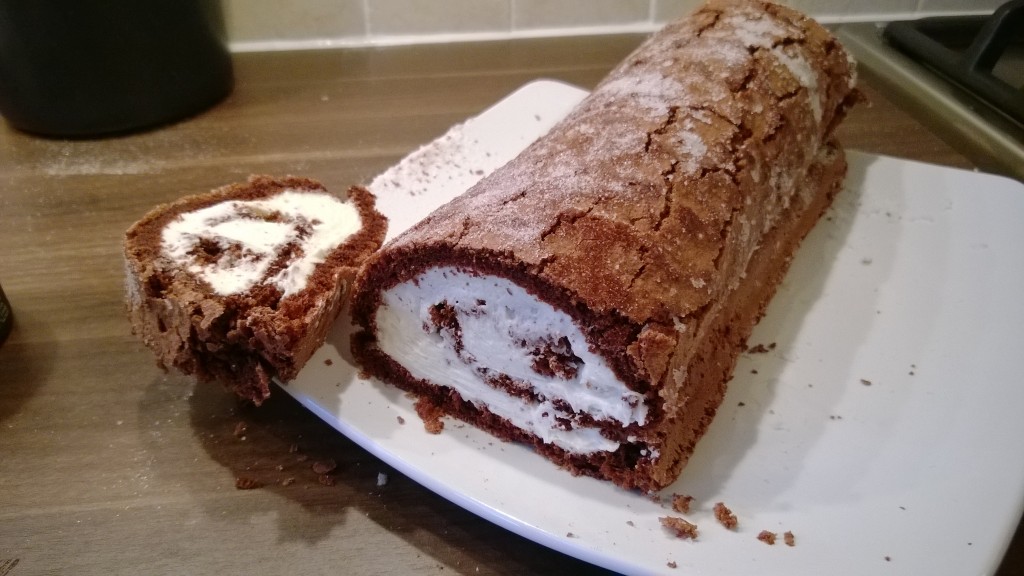 A few weeks ago I caught an episode of Paul Hollywood's Pies and Puds during Monkey's nap and just thought that this Roulade sounded delish, so here is the recipe:
Ingredients
125g/4½oz dark chocolate ( I Used Bourneville – 39% Cocoa Solids :))
4 free-range eggs, separated
125g/4½oz caster sugar, plus extra for dusting
2 tbsp cocoa powder, sifted (I use Green and Blacks)
For the filling
325g/11½oz icing sugar, sifted ( I didn't sift and it seemed fine :))
100g/3½oz butter, softened
2 tbsp milk
3-4 drops peppermint flavour oil (I used about 4 drops of just peppermint flavouring as I couldn't get oil, and it was very yummy)
2 tbsp dark chocolate chips
Preparation method
Line a 24x35cm/9½x14in Swiss roll tin with greaseproof paper and preheat the oven to 180C/350F/Gas 4.
Melt the chocolate in a heat-proof bowl set over a pan of simmering water.
Whisk the egg yolks with the sugar in a bowl. Add the cocoa powder, stir to combine until the mixture has thickened, is pale and increased in volume.
Whisk the egg whites in a separate bowl until stiff.
Pour the melted chocolate into the egg yolk and sugar mixture. Stir until the chocolate is fully incorporated.
Gently fold in the egg whites.
Pour the mixture into the prepared tin. Tilt the tin so that the mixture spreads into the corners.
Bake for 18-20 minutes, or until firm and springy to touch.
Once cooked, turn the roulade out onto a piece of greaseproof paper dusted with caster sugar.
Gently remove the lining paper and cover with a damp tea towel. Leave to cool completely.
For the filling, gradually add the icing sugar to the softened butter. Beat until all the icing sugar is incorporated. Add the edible peppermint oil to the milk, and then stir into the buttercream.
Spread the filling onto the cooled roulade, leaving a 1.5cm/¾in gap at each edge. Sprinkle over the chocolate chips.
Using the greaseproof paper to help you, roll up the roulade from one of the short ends. Don't worry if it cracks a little. Transfer onto a serving plate Tip – From watching Paul on the telly, at the top end, fold the edge down completely about 2 cm in, so that it breaks. This makes rolling the rest much easier apparently!
I have never whisked egg whites before, never made meringues or anything so was a bit wary of how this would go, but actually it went pretty well! I'd watched enough of  the Great British Bake Off this year and had seen them whisking eggs, and gently folding it into cake mixtures to know roughly what to do and what not to do. I.e. Be gentle with the folding so you don't lose any of the air you have just whisked in!
We don't have a Swiss Roll tin either but I measured one our big baking trays and it was nearly the right depth for a swiss roll tin (2cm) so decided to try it and see if it worked, and it seemed just the right depth actually, which is good as it means we don't have to buy a new tin.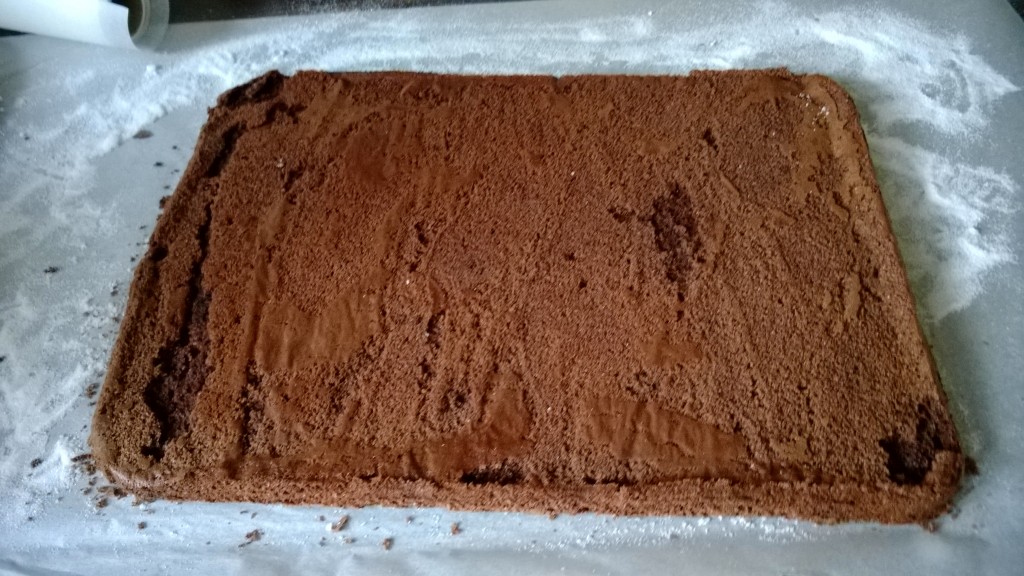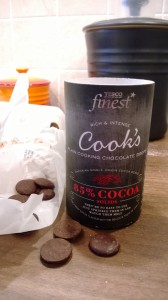 I had one big fail, which was that I stupidly bought chocolate drops instead of chocolate chips. Chocolate drops are basically chocolate buttons so are far too big and intense hits of chocolate.
But on the whole it went really well! Hubby and Monkey love it, and my lovely Mother In Law, who is a brilliant baker said that it was possibly the nicest thing she had ever tasted – really high praise! My good friend and neighbour also said it was yummy and looked like a bought one :).  When I first saw it on TV I thought it would make a lovely Yule Log and after the success of this one I will definitely make it for Christmas! Though next time I will try it with chocolate chips or small shards of chocolate, though honestly I think it tastes lovely even without the addition of the dark chocolate in the cream!