Our little miss is a feisty one. Always has been and being completely honest I actually think for girls, and children in general, a bit of feistiness is a good thing. I want my children to grow into strong adults and not be doormats. It makes it hard work as a parent but still I am glad my kids are a bit feisty.
Lately though LM's feistiness has stepped up and ooh she is being a real little madam. In truth I am finding her quite hard to deal with at times right now. She's in a funny transitionary phase. She doesn't have many words but understands everything and knows what she wants. She just can't communicate that to us so there are LOTS of tantrums rooted in frustration. I know this is the root cause but that still doesn't make it easy to cope with the screaming.
She has always been an incredibly loud child and the volume and pitch of her screaming and whining when she can't get a toy to do what she wants it to, or if she doesn't get her way in general is just insane. And I am finding that it well and truly grates on my nerves!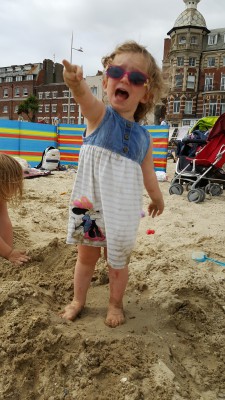 She's always being so so wilful. She is a really bossy britches and constantly demands things. She comes and takes my hand and pulls me where she wants to go. She stands waving at me to follow her, shouting her "err-ow" sound at the top of her lungs until I acquiesce. And when I don't acquiesce, oh my goodness the volume of the tantrum. There are times I do what she wants simply so I avoid the aftermath… But other times I just don't. Sometimes she presents me with shoes and tries to drag me out of the house. At 6.30 am I'm sorry darling but it's just not happening.
I don't generally take pictures of tantrums a) because I'm usually stressed b) because I don't want to somehow encourage it by taking a picture and c) because I don't like my picture taken when I'm upset so it feels a bit mean. But, this tantrum amused me because of her sticking her legs in the air, so I did take a picture on this occasion!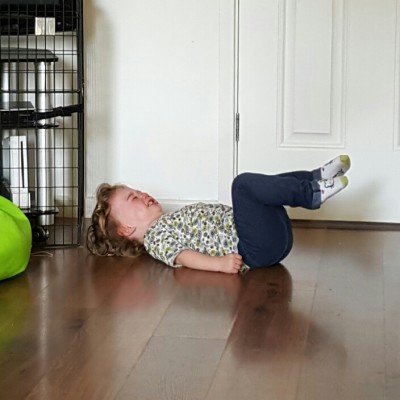 She is pushing my buttons all the time. She throws things and hits things when she is frustrated and when I tell her not to do something she deliberately ignores me and does it again and again until I remove her from the situation. And then tries to return kicking and screaming.
Food is a huge sticking point at the moment too as she is beyond fussy and just refuses to eat almost anything, even things we know she likes. I try not to worry, to make sure she doesn't have snacks too late before mealtimes and trying to do what I can but I just feel I can't win. The result is that she is even grumpier and screams more than normal because she is hungry… But she still refuses to eat. We worry that it is her teeth or something so offer her something else to eat but then she eats so it is more like fussiness than anything else. In which case we don't want to keep giving her what she wants as that will limit her diet and set a precedent she will expect. It is so frustrating and I feel at my wits end at times when she refuses food I know she likes. It even got to a point where I take photos of happy mealtimes as they feel so rare. How daft is that?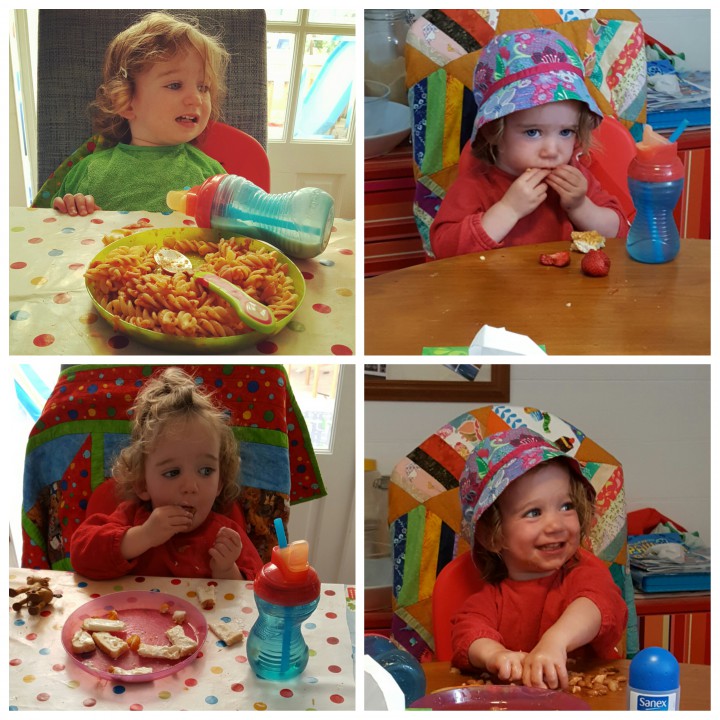 For her life until now distraction has been pretty good at moving her on from any tantrums and upsets.. But now that very often just won't wash with her. It is time for some stronger discipline.
I know it is just her age and I also know she needs some firmer boundaries to help her make sense of the world. I know it isn't for everyone but we found the naughty spot technique from Jo frost, aka Supernanny, worked really well with Monkey. I don't agree with everything she says but that definitely worked with him. I wanted to wait until LM had more words before starting more discipline with her but the truth is that it is time now. I hope it works with her as it did with her brother but they are such different characters so we will have to see.
The trouble is that her behaviour is just so draining and feels almost impossible to deal with! She can also be the loveliest happiest, sweet, kind little thing too… So I really hope this phase doesn't last too long!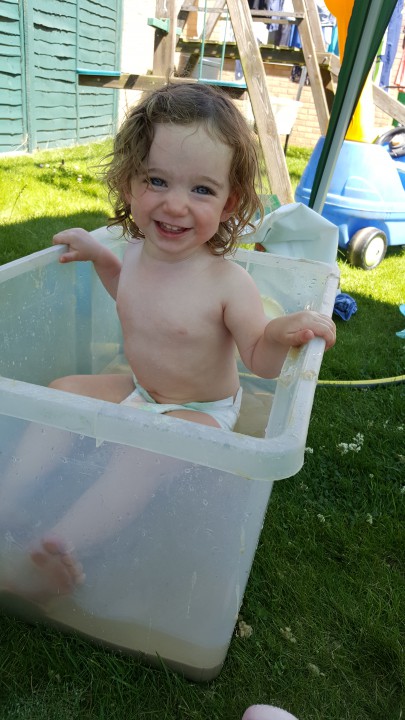 Are your children feisty? How do you deal with discipline?