Monkey seems to be growing into such a sweet little soul. He is in a really cuddly phase at the moment and is cuddling everything, toys, books, statues, fish tanks, crisp packets, receipts, crisps. Literally everything he likes gets a cuddle! He is also really generous and often gives out food to his friends and family, and even gave his favourite bus toy to his friend to play with (though she was less happy to share her toys with him!).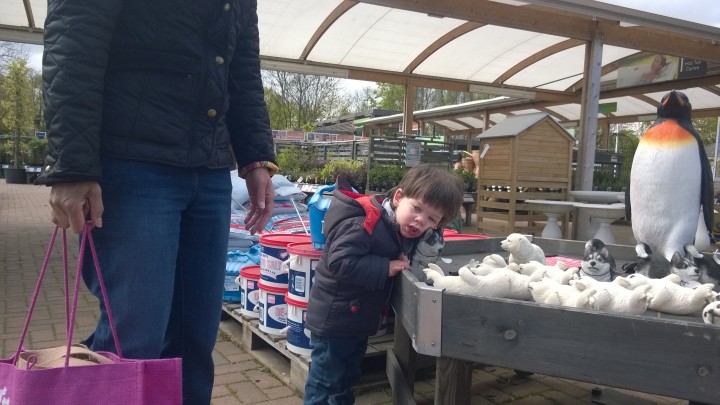 He's also just a pretty good boy. I mean, he's a toddler so he has his moments and obviously isn't perfect but on the whole he does listen to us and does as we ask. I wish I could take credit for this, and say it must be down to my amazing parenting (lol) but I think we are just lucky and he has a sweet nature. Hubby says that even his nature comes from us, through his genes, but I don't think it is that straightforward! And yes, I know this could all change as soon as hits the terrible 2/3s but, well, we will just have to wait and see with that one!
Anyway, I was chatting to a friend a few days ago about one of his cute recent habits, and she said something that surprised me a little, and really made me stop and think. I can't remember word for word but she basically suggested that we should teach him to be less generous, and one bit I do remember clearly, was that she said "sometimes you have to teach them things that aren't right" so they don't get trampled on, or taken advantage of.
It reminded me of a conversation with another friend a while ago who was teaching her little one that if someone pushes him, then he should push them back. Her reasoning being that she was picked on a lot as a kid, and she didn't want her kids to be picked on.
I was always taught from the old adage of "do unto others as you would have done unto you" (In plainer English, "Treat people how you would like to be treated")  and that two wrongs don't make a right. I have to say that is always the way I thought I wanted to raise my children. Yes I want them to be strong and confident, but overall I want to raise them to be good people.
The comments from different friends, at very different times, have made me stop and wonder. Am I doing Monkey a disservice. Am I raising a child to be bullied or picked on or walked all over? Instead of encouraging what I perceive to be his gorgeous, gentle nature, should I be encouraging him to be tougher? Am I raising him to be gentle in a world which is tough?
I was pondering this as Monkey and I were wandering out of the supermarket the other day. He had been a really good boy (again he's a toddler so he had a couple of meltdowns, but nothing too major) and was walking along holding on to the trolley. We were walking at his pace and it was taking a while. We were parked quite far away from the doors, and as we walked through the main trolley area near the entrance, I was thinking to myself whether to walk Monkey all the way back with the trolley after loading the car, or to pop him in the car, and rush the trolley back. I can't carry him anymore because of my pelvis, and I also can't rush very easily.
Just then I was pleasantly surprised by a very kind man. One of the trolley collectors saw Monkey and I, smiled, and came over. He then said to me, "I'll follow you up to your car in a minute, and I'll bring your trolley back for you." It took us a few mins to wander to the car so he wasn't far behind us, and actually helped me load the car, then used his key device to give me my pound back and took the trolley. For no reason other than to be a nice person.
It reignited my faith in people and reminded me of the good samaritan last year who found my purse in a car park, found my address inside, and brought it round to our house, rather than stealing anything. There are good people in the world. There are nice people. There is nothing wrong with encouraging Monkey to be a nice person.
I'm not saying my friends are wrong and I am right, and I'm not saying their children won't grow up to be good people either. We're all just doing the best we can and all just want the best for our children. Maybe I will regret my decisions and maybe I will change my mind over time. But, right now, I do feel more confident in letting Monkey be Monkey and encouraging his naturally kind, generous nature. I will stick to my guns and teach him to be a good person above all. I hope that over time I will be able to teach him to be confident enough in himself to not allow himself to be walked all over.
He isn't quite 2 yet after all so who knows how his personality will develop in the years to come! What are your thoughts? Again, no judgement here as I could well be wrong, but I am just doing the best I can!