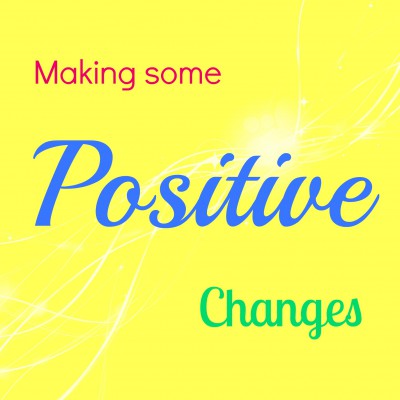 Regular readers will know that I didn't have the best week last week… by a long shot. I was feeling lower than I have felt in a long time and couldn't see what my next step should be I felt I was sinking fast but a bit of a breakdown including much crying, and a very cathartic blog post… and I feel much better.
Friday was a pivotal moment. I got so angry with Monkey about not eating his lunch and really flew off the handle, which just isn't like me at all. Hubs came home in the midst of this and took Monkey to playgroup, at which point I sat and sobbed as I felt awful. I didn't like my behaviour at all and I think I knew I couldn't allow myself to be like that all of the time.
I think it was a bit of a shock for hubs too seeing just how upset and angry I was and he really realised how much I have been struggling recently. Since then my mood has gradually improved and all I can say is that I don't feel the same. I feel lighter and much more positive.
I have to give a huge thank you at this point to all of you wonderfully supportive readers out there. You have to take a lot of credit for helping me put things in perspective. I am so so grateful for the support of the blogging community and I don't know where I would be without my blog. The tips, advice and just moral support I received from everyone has buoyed my confidence and helped me move on from the hole I was in.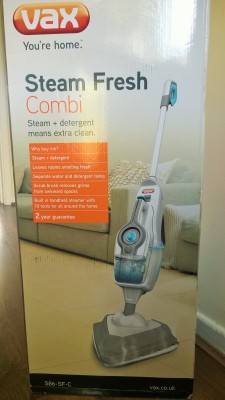 So this weekend has been all about making some positive changes. Hubs has really helped and because I am feeling more positive I felt more able to just get on and do some jobs, rather than just sinking under the amount of them. We got a new steam cleaner which I love and it definitely made the clean up operation fun as I got to give it a really good go (yep I am that sad!) I will be writing a bit more of a review of that at some point over the next few weeks.
We are now making sure we do any cleaning and tidying that need doing that evening rather than leaving them to the next day, and we are implementing a Saturday date night. Basically meaning that on Saturdays we will feed the kids at a normal time, but rather than eating with them like we do every other day, we will have our meal once they are in bed. So that we can take our time (rather than woofing it down or trying to deal with them at the same time) and have a nice conversation face to face. Saturday night was lovely and we got to talk about some bits and bobs and make some plans, which was lovely.
With no real plans for the weekend we also made sure we made some time for fun. We spent some time in the garden with Monkey and Sunday morning I spent five minutes making the most basic rocket ship ever and then watched with glee while he ran around the garden playing with it. Five minutes meant he was happy and hubs and I were able to carry on with some jobs. I need to remember sometimes that I don't have to come up with grand activities with Monkey, I just need to spend a little bit of time with him and sometimes set him up with something and then sit back and watch the fun!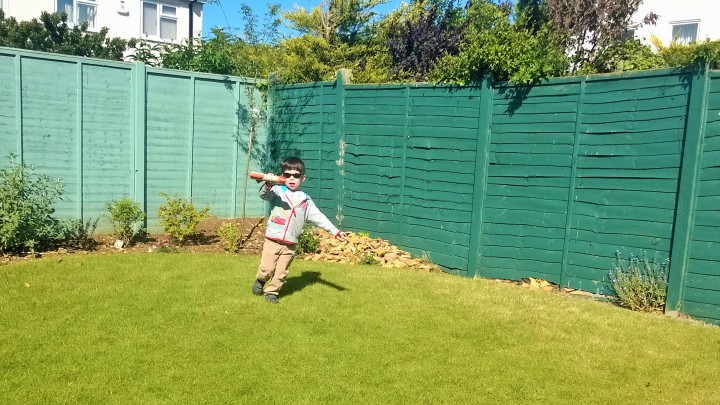 LM has been a lot better too, for a variety of reasons. She has medicine for her reflux which is definitely helping her, we have been doing a bit better with the baby-led style weaning (I will write more on that in a separate post but HUGE thanks to everyone who commented on my last post with tips and advice on that score too!), and, the biggy, she is suddenly a lot more stable when sitting up. Which means she is quite content to sit playing at times, so I don't have to give her quite so much attention, but can give Monkey a bit more. Like this morning, she was happily playing sat on the sofa while Monkey and I made a train track and played trains together :).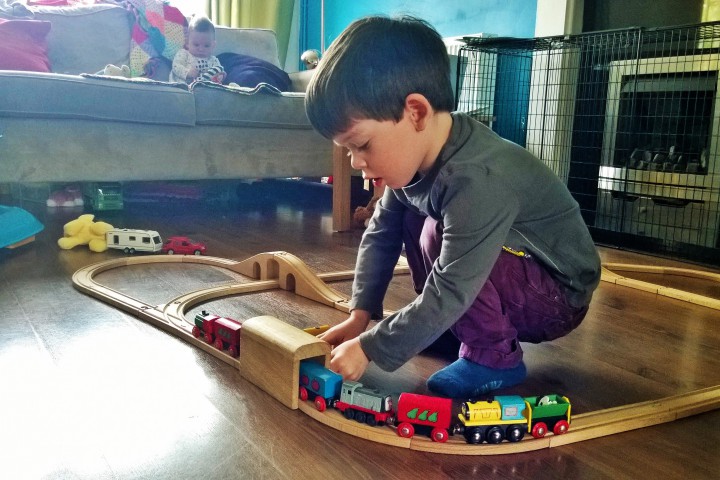 I am sure there will be more difficult days to come but I do feel like we have taken some steps in the right direction. Plus I am a very lucky lady as I have been invited to a PR launch of some new changing bags in London. It's mid-week so normally wouldn't be able to make it, but hubs has offered to have the kids for the day so that I can have a bit of a day off and have some me-time, which is very exciting! I will of course be letting ou know how I get on with that 🙂