With 2 children under 5 I have frequented most of the soft play places around our local area on more than one occasion. Love them or loathe them there's no denying that kids like them and they can be a lifesaver on rainy days. So I thought I would share a little bit of info about the soft play in our local area to help other mums finding their way in the world of soft play.
We love sacrewell farm and the play barn is brilliant. It is cleaner than many a soft play I've seen and the kids adore it. There are different areas for different ages and it really is great. The entry cost is high because you get entrance to the farm too. We were given membership as a Christmas present last year and have definitely made the most of it in th play barn alone, let alone visiting the rest of the farm, so it is worth considering if you have little ones.
Food:
There is a kiosk in the soft play that is open at weekends or holidays and a café in the main farm entrance building. Food is reasonably priced but you can also bring your own food. There are a lot of picnic tables in the play barn and no problem whatsoever having a picnic inside or out.
Parking:
Loads of free parking outside the farm.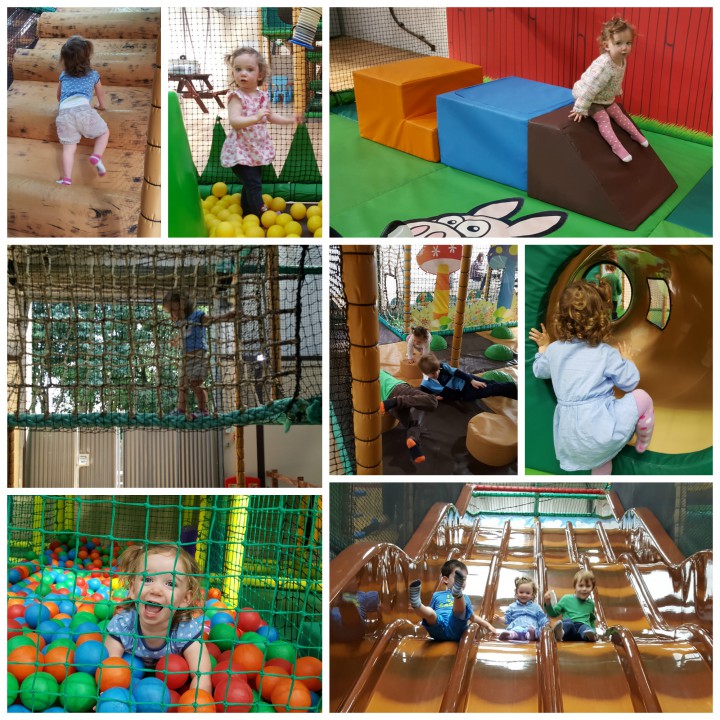 Big Sky, Orton Longueville
A classic soft play this, a huge building with all sorts inside, big guns that shoot soft balls, a race track, tunnel slides, ball pits and a bouncy castle. They have recently redone the younger kids area which is now fantastic. The rest of the centre could do with some attention though as some of the aforementioned guns don't work and the carpets are pretty filthy. Fairly expensive and I'm not a fan of having to pay for adults to come in when obviously adults are only there to accompany and supervise children. It's not like a theme park after all.
Food:
There is a canteen serving some pretty basic but acceptable food and I've also never had any problem taking my own food for the kids.
Parking:
A fair bit of parking round the back however I would imagine it would be completely full at half terms and weekends (I've only been during term time). It is on the number 1 bus route though.

Similar to Big Sky in that is a purpose built soft play. Could definitely do with some attention though as some areas really are filthy. It is fairly pricy and also charges for adults like Big Sky does. They do however give you a discounted reentry if you return after 7 days with your receipt. It is also huge and the kids love it.
Food:
There is a canteen which serves a limited amount of food. You cannot take your own food in and I have a friend who was even charged for tap water for her child.
Parking:
There is a good amount of parking, I've never had trouble getting space even during half term though it does get extremely busy.

Much smaller than the likes of the above but still a decent sized soft play with a smaller area for babies. Only charges for children which is a plus and is in better condition than Big Sky or Activity World.
Food:
You aren't allowed to take your own for food in. The food they serve is yummy though and not too expensive.
Parking:
The parking here is limited unfortunately and I have had to park on adjacent streets a few times as there are only a few spaces in the adjacent car park.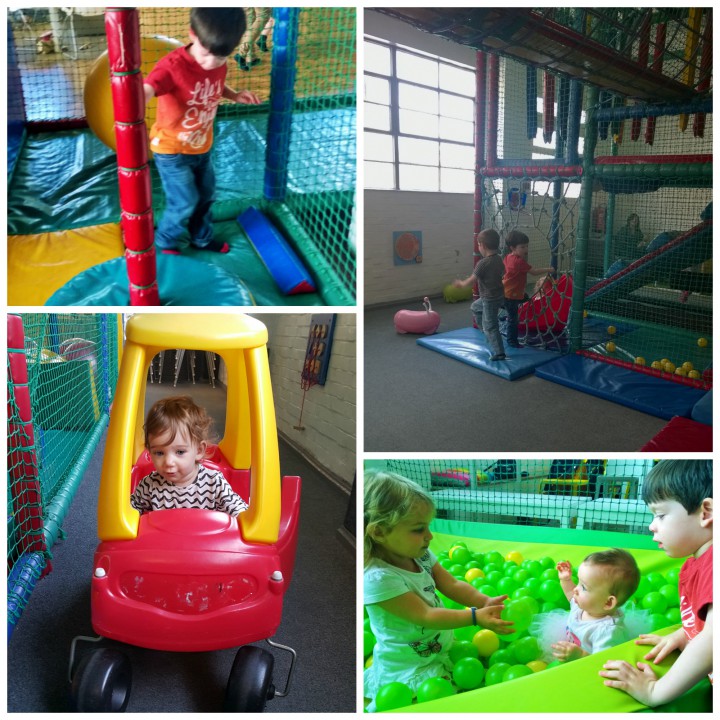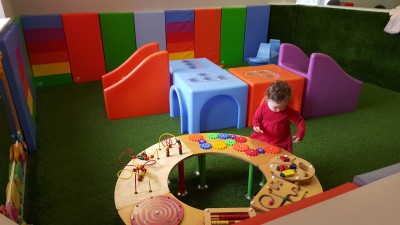 Much smaller than any of the above and not soft play in terms of slides or ball pits but this is a very lovely cafe with a large indoor play area attached to Calmababy. There is also an outdoor play area for in the summer but quite a lot to entertain little ones in the playarea indoors while you have some cake and a natter. No entry charge.
Food:
Lovely food and reasonably priced. It's primarily a café so you can't take your own food in.
Parking:
Quite a lot of parking in the car park, it can get busy at peak times as it is for Calmababy swimming pool too.
As with the above, a bit of a lose link to soft play. It is a play area in the cafe of Kiddicare. It has a soft floor and loads of toys for little ones to play with while you have a cuppa. Some weekday mornings childminders pay a visit so it can get a bit full. Free to use and not bad when your kids are little but not much good for older kids. Sort of a pre-soft play play area I guess!
Food:
Being free to use and attached to the cafe it is frowned upon to bring your own food and the food there isn't too bad.
Parking:
Plenty of free parking
Slightly odd one but there is a soft play attached to the Brewers Fayre in Hampton. There is a fee to use but it is not very much. It's a bit dingy and tired but the kids enjoy it and there is an area for little ones as well as older ones. The opening times are linked with the restaurant so are a bit unusual but I believe it opens earlier one morning a week for a coffee morning. Call them for more information.
Food:
It is attached to the restaurant so I think that generally the assumption is that you will have eaten there first or will be eating there. But I have fed the kids snacks at the tables near the soft play without a problem.
Parking:
Shared with the restaurant and Premier Inn so it can get quite full. Don't park in the McDonald's opposite as you could be fined if you haven't bought anything in McDonald's.

Quite a nice sized soft play that both my kids have always enjoyed. An area for younger ones with big soft bricks to stack, a ball pool and a decent slide. There's also an outdoor play area and entry to the soft play is not at all expensive
Food:
You can't take your own food as it is part of the cafe. Some of the food is a bit pricy in my opinion, though if you order early (before 11.30) and can get breakfast beans on toast is quite reasonable.
Parking:
Ample parking at the garden centre.
There is a fairly small soft play area in the garden centre cafe, in a families area that has its own counter. It is small and quite dark but the kids had fun in there. Ok for while you are waiting for food but not great for a long visit I wouldn't say.
Food:
You can't take your own food as it is part of the cafe. They serve a few things from the counter in the family area or you can get things from the main cafe too.
Parking:
Loads
So there you have it, a bit of a run down of I think most of the soft play and stay and play cafes in the area. Please let me know if  you know of any I have missed, there is one in Whittlesey but I was unable to go in the one time I tried as it was busy and I haven't gotten round to returning but it is supposed to be pretty good.
All of the above information is correct to the best of my knowledge and based on my most recent visit. I haven't included entry prices as these are obviously subject to change. This is all based on my own personal experiences and I haven't received any payment for sharing this post.