Messy play. For many of us parents it's a love/hate thing. Either you enjoy doing it with your kids or you point blank refuse to deal with the mess. I do like doing messy play but it doesn't always (or even very often) go the way I hope. I have in fact had some disastrous messy play experiences over the last week or so, so I feel suitably qualified to share with you a guide to ensuring that messy play goes very badly indeed and stresses you out enormously.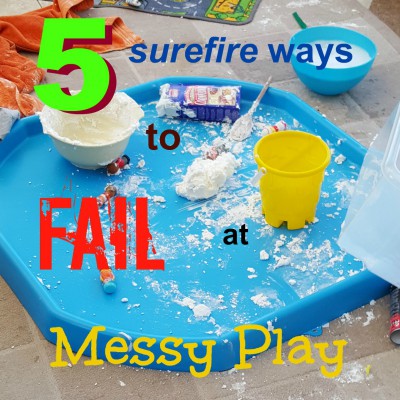 1. Do zero preparation.
Tell your kids about a fantastic idea before you have even thought about how possible it is, whether you even have the right ingredients or considered how long it takes to prepare. Cue kids whining and clinging while you try and gather ingredients and get it all ready. This does not get messy play off to a good start and you are stressed before you even begin. Brilliant.
2. Don't think about your child and whether it is right for them.
Even if you know your child doesn't like getting sticky or wet, set then up with some jelly messy play and see how it goes. Why not eh? Of course there's no chance they will act true to form and refuse to participate because "I don't like it" or will try their best before yelling "my hands are all yucky" while screaming and throwing themselves at you with said yucky hands.
3. Believe what you see on pinterest and social media.
Of course there is no chance that those smily faces you see are merely a snapshot and the one happy moment of messy play before the whining started. As for those picture perfect results and amazing creations as a result… Yup zip chance a parent has contributed at all and of course your children will also create similar masterpieces. No doubt about that whatsoever…a picture tells a thousand words? Or a thousand LIES!?
4. Expect it to last more than 5 minutes.
Because of course they will enjoy it so much that they will still be engrossed in half an hour or an hour allowing you to have a cup of tea or write a blog post. There's no chance that they will prod it for a few mins then announce "I've had enough now. " Or if they are too little to talk then of course they won't suddenly make a break for freedom trailing spaghetti/jelly/paint throughout the house the second you have turned away because you think they are happily playing. If they have previously enjoyed an activity then you can guarantee that they will like it again…  Yup absolutely zero chance they will be a contrary little so and so and refuse to join in…. ahem.
5. Underestimate the clean up operation.
Got a pack of wipes. Yeah that'll do. Until you see both you and child are up to your arms in black goo which is dripping all over the floor which you haven't put any protective covering down on… Cue holding a child at arms length as you run through the house to the nearest sink, screaming "don't touch anything" while you hope nothing drops anywhere that it can't be removed by vanish or bleach!
See, failing at Messy Play is very very easy!
If for some reason you don't want to fail at Messy Play, perhaps take care to avoid all of the above faux pas… And yes I have done all of them more than once…
Because it is worth it. Sometimes, just sometimes, you are rewarded with scenes like these and that makes it all worthwhile 🙂 even if the smiles are very shortlived. Even when there is a ginormous clean up operation to come. As long as you don't expect too much from them or yourself it will be fine.