My daughter likes pink (Or Kink, as she calls it). Big surprise in our culture eh? So why does it irk me? I don't want her to ever feel limited by the fact she's a girl (and nor do I want Monkey to ever feel limited by being a boy) or that it means she is unable to do something. I want her to have and do whatever she wants, and she wants pink. So why am I uncomfortable about that? Is it just because it is so stereotypical?
I have to admit that I have tried to stay away from the predominantly pink clothes that are available for girls. Yes she wears pink (mainly because we have a lot of hand me downs from friends but also because I like pink and don't want to avoid anything completely) but actually she wears all the colours of the rainbow. Her choice, though, is always pink. She prefers her pink coat, her pink shoes etc. So she does wear pink quite a lot at the moment.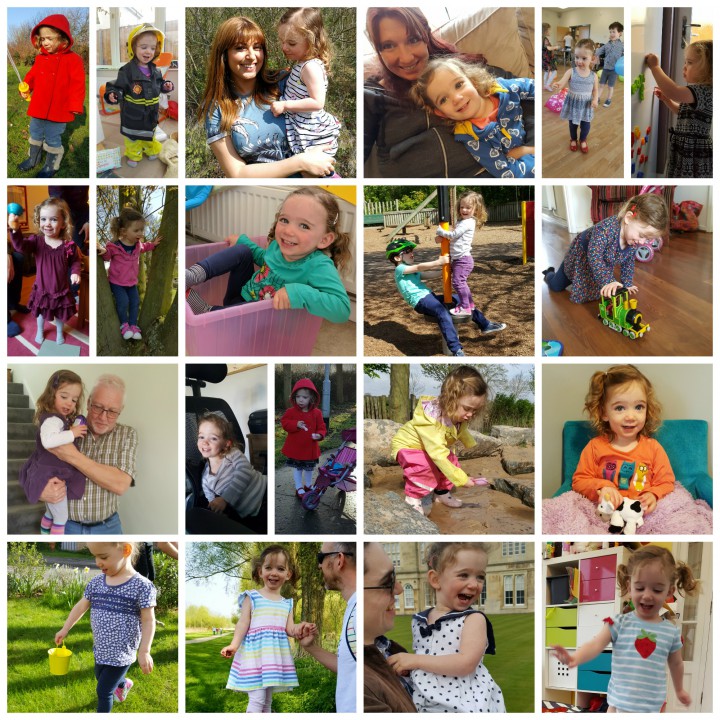 The same goes for toys, she has pink toys but she also has a lot of more multicoloured things and a lot of boys toys thanks to her older brother. I got her a red balance bike rather than a pink one… But she won't go on it and I have to admit I am wondering whether she would be more inclined to use it if it were pink?
She shows such a preference for all things pink that it drives me crazy at times. With Monkey he was always about red and yellow when he was little, though he has moved over to blue and yellow as his main faves recently. With LM it is pink and purple. Anything pink or purple and she coos over it. I've just bought her a pink drinks bottle to stop the tantrums she had whenever she saw a friend with a pink cup and I tried to get her to use a blue or clear one.
It's not that I want either of my kids to be brought up 'gender neutral' as I don't really agree with that. We are born a gender and I don't see any problem with identifying as that gender, to a point anyway. I also disagree with the boys will be boys mentality or that girls have to wear dresses and be graceful and dainty. As with most things I tend to like the middle ground. I'm a girl and I do like some pretty things and to look nice. But I also like to not bother with looking nice sometimes. I enjoy mental arithmetic, and I like cars. I want my son to know its ok to cry sometimes and for my kids to know that there aren't different jobs for men and women.
So what does it matter what my little girl's favourite colour is? Really? I'm a big fan of the "let toys be toys" campaign and I dislike the pink aisles for girls toys. But with a girl who loves pink so much without any prompting… I wonder if there is something about pink that girls love and that's why the toys are pink and they know the will appeal to them? But then I am reminded of the fact that in the 19th century pink was more associated with boys than girls so it must be cultural, right? That even though I haven't encouraged her to like pink, so much that she sees associates pink with girls.
I like Skye in the paw patrol as she is as much a part of the team as the boys, but again why is she pink to show she's a girl? Dora wears pink, Millie in Umizoomi wears pink. Again is this because girls like pink or do girls like pink because of this constant reinforcement that pink is for girls?
Does it even matter? I have no idea. I'm going to continue to do what feels right with my kids. To play with the same things with both of them. Because girls can build and play cars and boys can play with babies and cook. To let them be who they want to be, and play with what they want to (within reason obviously, not kitchen knives lol) even if that means swallowing my own opinion or ideas. To guide them to be adults who know that men aren't better than women and women aren't better than men. That we have our differences, but that they don't make either one less than the other.
And I imagine that while I am doing that, my daughter will be wearing pink.