So our little lady is 20 months old. How do I describe her? She is feisty, demanding, bossy, caring, fun, loving, cheeky, and seriously cute as well as infuriating haha. She is also learning so so much all of the time and it is wonderful to watch her growing from a baby into a little girl.
She really has made a sudden leap in the last couple of months, and though we still don't have many words, her communication has really stepped up. She pays so much attention when we talk to her and understands so much of what we say, often following directions. Her babbling is almost constant and she makes some seriously lovely noises.
She also does have more noises approximating words, sentences and phrases. "i wan dat" is one, though it often comes out as i-on-da with arms thrust at whatever it is she wants haha. I'm also sure that one day when I asked where her ball was she said something resembling "oer dare" and then "igetit" but it is difficult to be sure. We aren't worried by the lack of actual words. Her brother didn't speak at all beyond babbling until he was 2, and now he never shuts up haha. And like I say she understands so much and communicates her needs very well. In fact she is so so bossy. And because she is pretty darn adorable she gets her own way from people a lot… Hmm.
The downside to the lack of words is the frustration that we don't understand her. And frustration when we don't do what she wants. Ooh she does get frustrated and very much makes her feelings known. Screaming her head off and holding her breath til she is blue in the face. Lying on the floor screaming, sitting on the floor screaming. Oh the tantrums are really really starting, especially when I don't give in to her bossyness, and we never had it as bad with Monkey. It is so embarrassing at times but I also try not to worry too much.
She can also be the loveliest loveliest girl. She always wants to be helpful and always brings us all our shoes when we want to go out (and when we don't want to…), she loves washing her big brother in the bath and is so proud of herself when we ask her to give someone something and she does it. She loves feeding her dolls and toys and us haha and is always trying to give people food and drink! She strokes pictures of animals and says aaah and adores her teddies and cuddly things. She loved seeing our friends' Guinea pig recently and gave them some carrot to eat! She also hates when people are upset and if we can hear a child crying she will get really concerned and say "oh no!" she really hates when her brother is upset too. She loves a good cuddle too and there's nothing I like more than having her snuggle on my lap.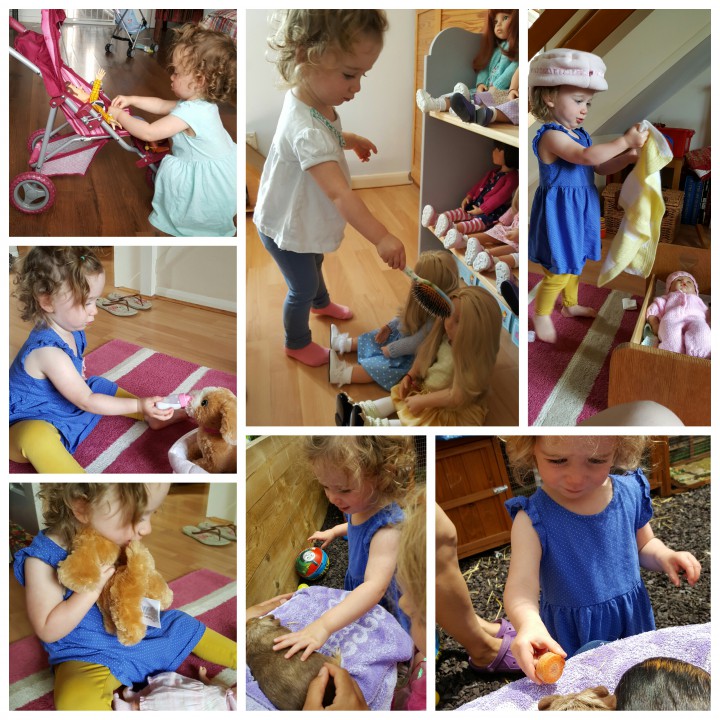 She runs just about everywhere and has the cutest bouncy run. As much energy must go into bouncing up and down as moving forward but she looks so adorable when she runs off. She is seriously fast when she wants to be though!

She is intrigued by everything in the world and routinely stops to explore a blade of grass, leaves and was so excited to watch and follow a bumble bee a few days ago, giggling away everytime it flew from one flower to another. In general she just loves being outdoors and if you follow my instagram feed you will know how much she loves puddles and bubbles and climbing.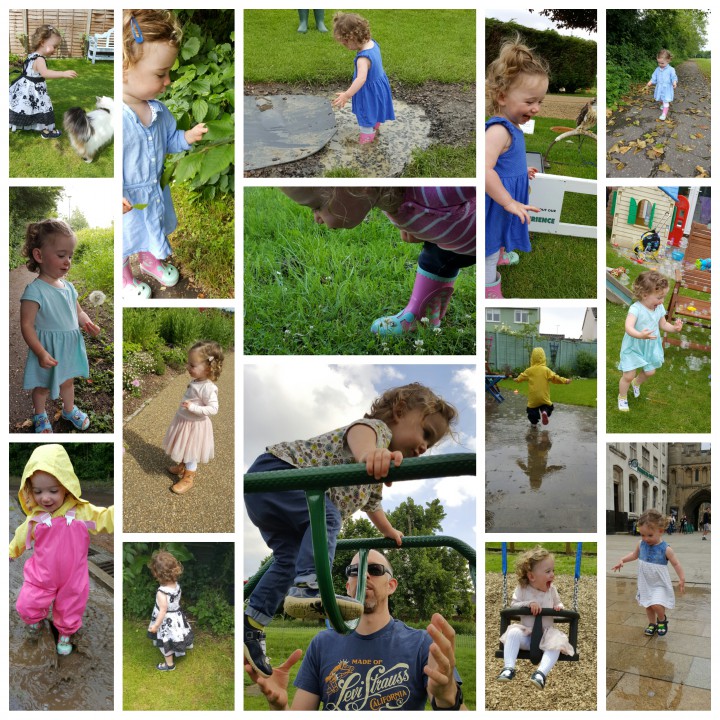 She adores being in the bath and is such a water baby. She loves playing and splashing about with her brother but also adores lying down and having a swim. Sometimes in a bubbly bath we can only see her head which is a bit bizarre but she seriously adores it and it's just lovely seeing her happy in there.
She is learning so much all the time and getting more dextrous. We have been working on fine motor controls and generally having a lot more involved play she loves sorting things and just exploring in general. Her latest loves are painting, and play doh! She would play playdoh all day long if she had her way. Thank goodness she also enjoys watching peppa pig and paw patrol as that usually distracts her when I am at the end of my play doh tether haha.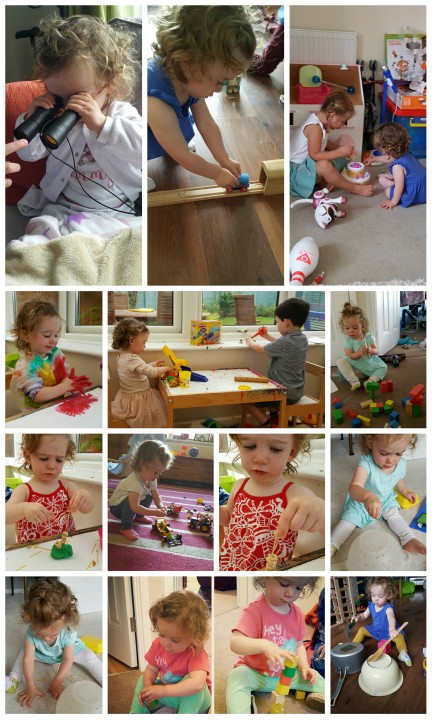 She is desperate to be a big girl and loves drinking from an open cup and using her fork and spoon which is lovely to see. Though she still uses her hands most of the time!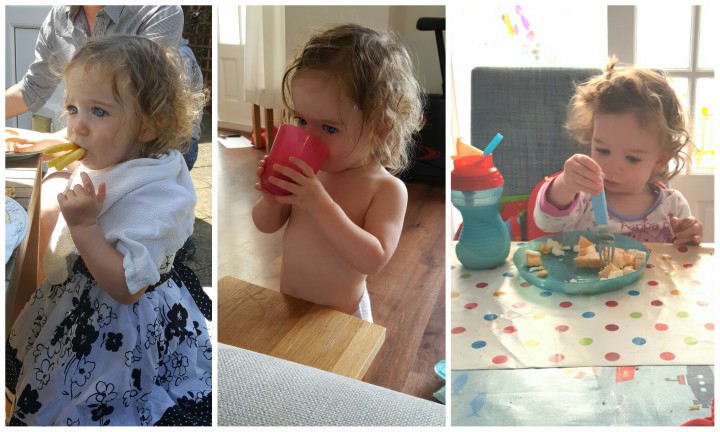 She still loves her food and though she can be fussy at times with new things on the whole she is great. Favourites include curries, especially with chickpeas in, baked beans, tortelloni in tomato sauce, my homemade soups and strawberries!
She loves books and stories and is constantly bringing books for me to read her, or sitting flicking through pages and lifting flaps on her own. She is getting interested in some more grown up books too and currently loves "What the ladybird heard" and enjoyed her brother's current favourite "the pirate who lived next door. "
She is a complete and utter loon at times. She loves spinning around and throwing herself on the floor. It baffles me but is another sign of how full of fun she is. She so loves to laugh and to make others laugh too. We adore our girl so much and it is a privilege to be her mummy, even if she does drive me crazy at times. She is cute as a button and I love, love, love watching her grow and learn.