As I have written before, being a stay at home mum is the right decision for me at the moment, because I am lucky enough that we can afford it, and because I like being the one to teach Monkey and to watch him grow. Even though I am confident that it is the right decision for me, it isn't always easy and some days are definitely more difficult than others. Boredom is one of weirdly hard things about it. We live by a routine as it is the best way for Monkey to be happy and healthy and therefore the best thing for me. But  as with any routine, this can lead to monotony. Particularly as Monkey gets older and needs my constant attention a lot less.
I've known for a while that one of the key things to do as a stay at home mum is to get out of the house every day. To get some adult company where possible, to help Monkey burn off some energy, to get a change of scene, you get the idea. This helps with boredom somewhat as it keeps us busy. We go with friends and other kiddies to parks when the weather is good, and indoor soft play places/cafes with play areas etc, when the weather is not so good. We visit relatives and have relatives round. We go to the shops, shopping centres, garden centres (he particularly likes fish and pet areas) or sometimes just for a walk round the block.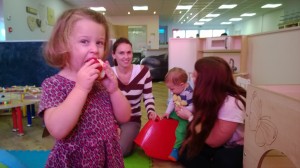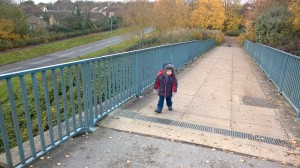 This does help a lot but doesn't really solve anything, and on days where we have nothing planned and the weather isn't great for getting out…. I can get quite moody and irritable. I just don't always know what to do with him to burn off some energy and keep him going. We could obviously always go to a garden centre or shopping centre, but I am also not a huge fan of wandering aimlessly with no purpose so if I don't need (or can't afford) to buy anything then I don't like going. So that is when I come up with all sorts of playtime ideas, but even those don't keep him occupied for that long.
Even when we do keep busy  together, it's not usually very mentally stimulating. I can absolutely understand why some mums want to go back to work, because they need something else for themselves. I understand that completely and because of this I do question my decision at times, though for me all of the reasons I chose to stay at home, outweigh this one thing. But I do also recognise that I need some mental stimulation. This is why I crochet and do other crafty bits. It's why I bake and cook to challenge myself (when I am not on a diet at least haha). I think a lot about home improvements and do all the household budgets, manage hubby's business account. I also read a lot and I do most of the housework too but that doesn't stimulate my mind! haha
If we didn't know we wanted baby number 2 within the next year or so, I think I would be looking to go back to work now, but as it is there isn't any point trying to find a job at the moment so I will just have to keep busy and find new ways of battling boredom until number 2 comes along, and then we will just wait and see how I feel after that. I think about studying something or even doing some work from home part time, but again I am not sure that I am ready to commit to anything like that when I know we hope to have another baby at some point, as I am sure I will have much less opportunity to get bored with 2 little ones in the house! At least until number 2 is a bit older.
Any other stay at home mums get bored sometimes? How do you keep yourself going?