Friday night was a particularly rough night with Little Miss so on Saturday morning both Daddy and I were feeling shattered. But the thing is that when you also have a toddler to look after, life must go on. We still had to be up at a normal time and find ways to entertain Monkey.
So after a bit of back and forth about what we should do, we decided to wrap up and go for a little walk to deliver some thank you cards locally to some of the people who had generously given gifts on the birth of Little Miss.
Little Miss wasn't keen on the idea of being in her buggy so after a false start Daddy popped her in the carrier and we headed out. It was seriously cold and wet and misty but we had a lovely walk and it did us the power of good. That's the thing about getting out of the house sometimes, just a change of scene and some fresh air can really improve your mood. Especially when you have a toddler who is thrilled to be out for a walk and who takes pleasure in the simplest of things.

Like running around trees playing peepo
And chasing squirrels. Honestly he was so funny shouting "Squirrel, Squirrel, where are you? Come back! I can't see, I can't reach! I miss you" Especially as his pronunciation of squirrel sounds a bit like Bill. He he
And of course there had to be some puddle jumping going on too 🙂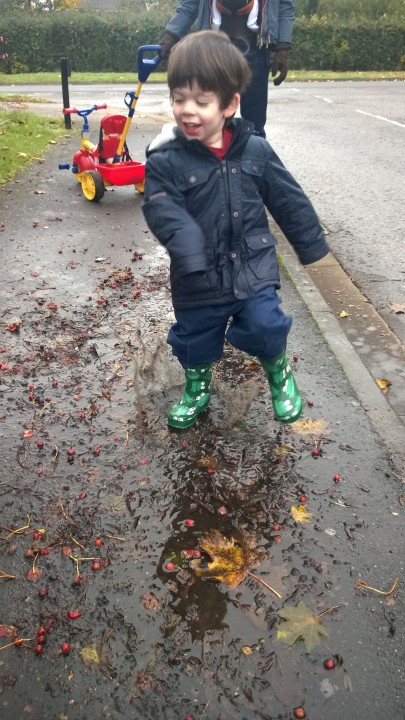 How could mummy & daddy stay grumpy when watching that happy face? So it was cold and miserable but we had a lovely happy family walk 🙂