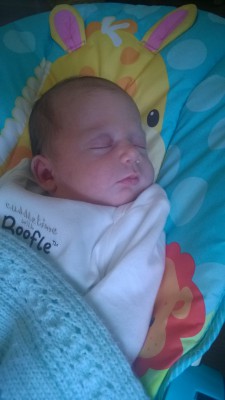 Little Miss is 4 weeks old today. The last 4 weeks seem to have both flown by and lasted forever, isn't that just the way of it with newborn babies?
Colic has well and truly taken over too unfortunately. After spending a lot of time fretting about whether there was anything I could do to help or prevent the colic, at the weekend we reached a level of acceptance I think. We have to accept that our evenings and a lot of night times are spent trying to soothe a baby in pain. Horrible as it is, it is only for the next couple of months and then we know it gets better. We have been through it once with Monkey and we can get through it again.
Having said that, the last few days have been really tough. She is definitely worse when I have eaten dairy as on Monday night we had a really cheesy dinner. I didn't even think about it as it was a meal made and frozen before she was born but it is made largely from milk and cheese. And well since then she has been really rough. That night was awful and Tuesday morning she did a weird jelly poo (sorry if TMI) and spent  lot of the day in quite a lot of pain and therefore very unhappy.
Last night wasn't awful though she was very restless between 4 and 6.30 an then we were up for the day. Today has been another really difficult day and I am glad Money has spent the day with my parents as I have spent the day soothing her. After a mega poo this afternoon she did manage a bit of a nap so I grabbed half an hour too but right now it is feeling like we have a long way to go. Hubs is trying to convince me that we are a 3rd of the way through the first 3 months, and on good days that feels do-able, but today 12 weeks feels like 8 long weeks away!
I am cutting diary out totally (no more chocolate, sob) in the hope that it stops the days like these at least. It's not going to be easy though, I had to stop myself eating tonight's meal which was lasagne! :(. Going to be difficult to get myself into the mindset of avoiding things with milk and cheese in! I don't even know whether to start with butter, marge, or other things with dairy added to them!!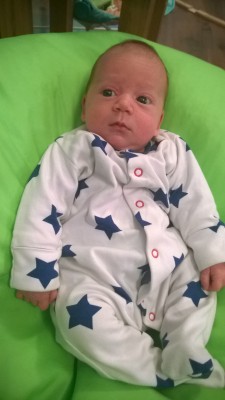 On the more positive side of life Little Miss is growing really well. She was weighed yesterday and is piling on the pounds, she is now 9lb 2 so that is lovely and is now in 0-3 mth clothes. She has lost some of that fragile newborn feeling and feels a lot more solid now. Her eyes have started to get lighter and now have a lovely light blue centre. As both sides of the family almost all have blue eyes we thought she probably would too and it is lovely to see them lightning. She quite enjoys a nice warm which is good as I remember Monkey hating them at this age!
She has smiled a lot with gas from the day she was born and though we know it is caused by gas it is lovely to get a glimpse of how she will look when those smiles are real. I can't wait for that day, I remember seeing Monkey smile at me made all the hard times of his colic a little easier to cope with.
Monkey has really accepted that she is here and part of the family now. he keeps saying how cute she is and talks to her and about her quite a lot, which is very lovely. On the whole he is being a gem at the moment and coping well with getting less of Mummy's attention.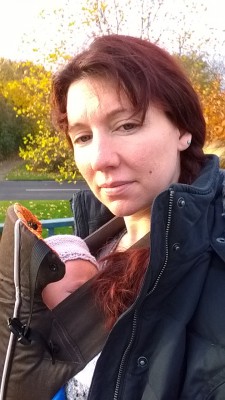 She loves being in the carrier and is in there a lot each morning, and I would probably have her in there for more of the day except that my back and tummy muscles still can't cope with it for too long yet. We went for a short walk this morning, and I mean seriously short and boy did I know about it afterwards. Most of time I feel pretty back to normal but when I have overdone it I am suddenly reminded of the fact that I have had major surgery and am not back to normal yet. My best friend and hubby keep telling me off for doing too much and I know they are right, but feel frustrated that I can't easily do things that I want to yet.
She is less of a fan of being in the pushchair, as was proved to my parents the other day when we went for a short walk together to the shops and she screamed nearly all the way there and back! They both said they had forgotten how loudly babies could scream. She really has a good pair of lungs on her, not sure she needed the steroid injections before she was born!!
So there we have it, Little Miss at 4 weeks old, the good, the bad and the ugly!