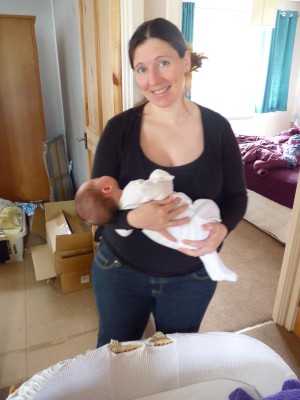 After publishing my breastfeeding journey with Monkey recently, I have been reminiscing a bit back to those early days of Monkey's little life. With the arrival of baby no.2 approaching faster by the day I guess it's no wonder really! I am nervous of going through the baby days again as I didn't find it very easy first time round. There was the initial breastfeeding struggles, which led on to a much longer struggle. You see, Monkey had Colic and coping with a colicky baby can be really hard. I'm not sure any newborn baby is easy, but I am really hoping we don't have Colic to contend with again this time!
I have been remembering the things we did and methods we used and thought I would share them, in case anyone else is going through the same struggles and needs some help Coping with Colic.

Please note that this post contains affiliate links, which means I would receive a small commission if you were to purchase any item by clicking on the link provided.  Any commission goes toward the upkeep of this blog and all thoughts and opinions are 100% my own.
What is Colic?
One of the worst things about Colic is that there is still so little known about it. What causes it, why it happens, or what can solve it. According to the NHS Choices website, Colic is defined as "the medical term for excessive, frequent crying in a baby who appears to be otherwise healthy and well fed. It is a common yet poorly understood condition, affecting up to one in five babies." 
It usually starts by around 6 weeks old and goes by the time they are 4 months old in most cases, 6 months old at the oldest. One thing we were told is that it can be caused by an immature digestive system, which causes pain when digesting milk, but that is not always the case. For us it felt very much related to his digestive system with trapped wind or constipation so a lot of the advice below is related to that.
How do you know if baby has Colic?
As I have said, Colic is the term used to describe a baby who cries excessively, and for seemingly no reason. They very often are red in the face, and can  clench their fists, bring their knees up and arch their backs. All of these are signs of Colic. The best thing though if you have a baby who cries excessively (for no obvious reason, not hungry, not tired, etc.) is to see your GP as they can rule out any other problem, such as reflux and let know if it is Colic.
What can you do about it?
It can be so frustrating when trying to get help for a baby who seems unhappy or in pain, to be told, "yeah it sounds like Colic, they'll grow out of it" and basically be sent on your way. Yes you know then it is probably nothing serious, but that doesn't help you cope with the exhausting and endless hours of screaming.
There are things that you can do to try and help your baby. If you are formula feeding there are bottles designed to help with Colic, though as we were breastfeeding, I can't say how good these are or whether they work. So what else can you do?
Burping
It is important to burp every baby after you feed them, but this becomes even more important if they have Colic as you don't want to exacerbate any trapped wind problems. We would spend quite a bit of time rubbing Monkey's back after feeding to help bring up any gas he had swallowed while feeding.
Baby Massage
Baby massage can definitely help. If you ask your health visitor they should be able to show you what to do (I am no expert and it is a while ago for me now so I won't try and describe it here) and it definitely helped Monkey sometimes. It is not a miracle and doesn't eliminate the problem (I don't think anything does). By gently massaging baby's tummy you can help their digestive system and help ease their pain.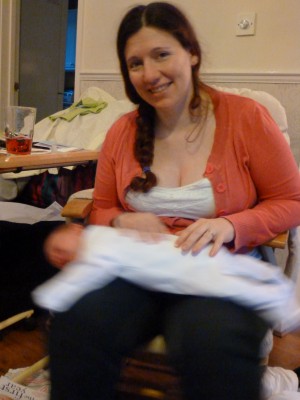 Something else that worked sometimes was laying Monkey tummy down across our knees and slowly opening and closing our legs so he moved back and forth. It feels odd to do, and, well as you can see in this pic, it definitely looks a little odd, but it can also help massage the tummy, and the rocking motion is soothing for them.
Bicycle Legs
Another suggestion from the health visitors was to bicycle Monkey's legs. I guess it makes sense in many ways, as an adult they often to say to walk if you are feeling bloated or constipated as a way to get things moving and babies can't do that so it helps them do the same. The idea is basically to cycle their legs as if they are on a bicycle for a few minutes and then to gently lift their legs towards their tummy. This would often lead to Monkey squeezing out some wind. It became quite a fun little thing to do as Monkey got older and we called it scary feet because we did it really fast p(a Monsters Inc. reference, anyone? No, just us? ok :)) and it became a fun thing to do, that Monkey loved, and so we continued even after the colic, as for some time it was guaranteed to elicit some gorgeous giggles!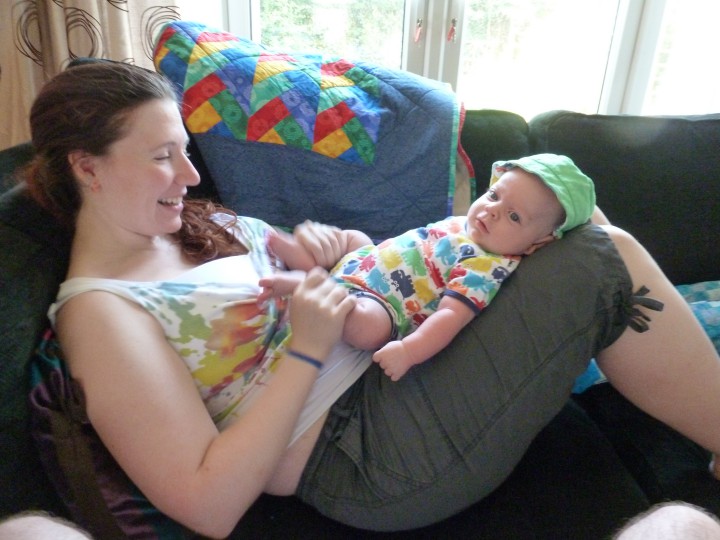 Be careful not to over stimulate your baby
This is probably going to sound like a weird one, but we found Monkey was over-stimulated quite easily. Basically all this means is that he was so curious about everything around him that he wouldn't be able to sleep if there is anything going on. So noise, light, etc just transfixed him and kept him awake. Long enough of being over-stimulated somehow made the colic worse. Not for us the cute mobiles or pretty lights on his ceiling. For us it was all black out blinds and white noise. Once when he was tiny we had the opening ceremony of the olympics on the TV and honestly that night was one of the worst ever, he was inconsolable for hours. That was when we first noticed a link for his Colic and for over stimulation. It may not have the same effect on all babies but it is definitely something to be aware of!
Remedies
There are a variety of homeopathic and over the counter remedies which claim to help with Colic, I can't comment on ones we haven't used or been told about, so this list is by no means exhaustive, but here are the few we had experience with.
Infacol. Infacol is a commonly suggested remedy for Colic and it works by releasing gas bubbles to aid digestion. We used Infacol before every feed for months and I will be honest, we saw no difference whether we used it or not. That is not to say it isn't worth trying as every baby is different, and as Colic is so undefined, it is even more true that different things will work for different babies.
Colief. Colief is an over the counter remedy that helps baby's digestive system by providing an enzyme they may not have developed yet, which helps them to digest milk. We never actually tried Colief, largely because we didn't like the idea of having to wean baby off of it, but as I understand it it can work really well. I am no expert so again talk to your GP/Health Visitor/Pharmacist about it.
Colic Calm. This is the remedy that we found worked the best for Monkey. It is quite expensive at nearly £20 per bottle but we were very much at the point of being willing to try just about anything when we found Colic Calm. It is a homeopathic remedy known as Gripe Water. There are many different Gripe Waters out there but this one is a little different, as it is made from vegetable charcoal, meaning it is black. It will stain clothes it gets spilt on and it will turn your baby's poo black. But, you know what, for Monkey it really worked.
He would be crying and upset, we would give him a dose of Colic Calm and sometimes almost instantaneously he would scrunch up and then do a big poo and be much more settled afterwards. It happened far too often for it to be coincidence so honestly this became our must have product in those first difficult months. I obviously can't guarantee it working for everyone, but it may be worth a try if you (and your little one) are struggling
None of these remedies are miracle cures though and even with the help of Colic Calm, we had hours of screaming most evenings (if not every evening!) and honestly there is nothing like a screaming baby to grate your nerves and wear you down. At a time when you are already sleep deprived, it can be so incredibly difficult.
Look after yourself
One of the best bits of advice I was given is this.
No baby dies from crying.
Yes it is incredibly hard to leave them when you know they are unhappy, but it can also be incredibly, incredibly hard to be holding them and to feel like nothing you are doing is helping them. Sometimes, wrong as it may feel, it is worth recognising that the baby will be ok if you go into another room for a breather.
To sit on the floor and cry your eyes out.
To scream in frustration.
To take deep breaths and count to 10.
So that you can then resume cuddling and soothing them with a clear head, with slightly less frustration bubbling away inside you. The baby will be ok. You are not abandoning them, you are simply trying to restore your sanity, which is so very, very important.
Know that you are not alone, and it will not last forever.
Those first few months of Monkey's life seemed to last forever. Minutes and hours felt endless, let alone days and weeks. But they did end, so it really, really is all about Coping with Colic, rather than curing it.
Ask for help
Even if you feel alone, you are not and you don't have to deal with it alone. I am rubbish at asking for help, I am too proud and I make things harder for myself by not asking for, or accepting help. But honestly learn from my experience and get help where you can. Take it in turns with your partner. If you can, ask relatives to come and give you a break or help with housework so you can get a bit more sleep when baby sleeps. Talk to your health visitor. There are also helplines, such as Cry-sis, specifically designed to help if you feel you can't cope.
Even if you don't want to, or can't ask for help, reach out to someone, and accept some sympathy. I will always be happy to offer some support and am on twitter @BecomingaSAHM or email me on mummy@becomingastayathomemum.com. Honestly, don't try to soldier on in silence, it's not easy and you are doing a fabulous job. You are the best mummy for your baby and never forget it, even when it doesn't feel like anything you do can make them happy or feel better, you are doing the best for your baby. Hold on to it and I promise that soon they will be smiling at you and then cooing and giggling and that makes it all worthwhile.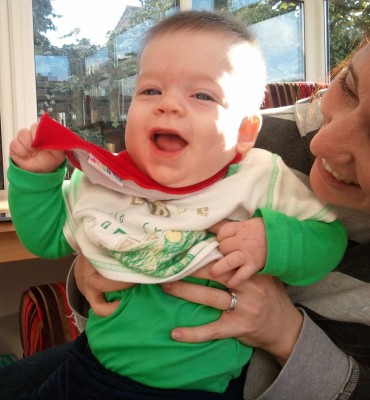 Mummies out there, did you experience Colic? How did you handle it? Or if you're little one has colic right now, how are you doing? Get in touch if you need any support or Sympathy!