I hate being late, I always have done. As a kid my Dad always took ages getting ready and so we were late to pretty much everything. Whenever we saw friends or went to events it was like a running joke "Oh it's the Pardoes, late again!" As a kid, knowing that it was outside of my control I hated the mocking, whereas it never bothered my Dad. My Mum, brothers and I would often be sat in the car ready and waiting to go while he was pottering around getting himself organised!
Whether I would be so averse to lateness as an adult if it weren't for this, who knows, but if anything now jokes are the other way round. It is extremely rare that I am late and often arrive at things early, and even if I try to be late (when it doesn't matter) I rarely manage to be later than on time. It's a bit ridiculous really but I actually find being late really stressful and I hate the thought of keeping people waiting. Thankfully hubby has similar feelings about lateness as I do though I can be a bit OTT if he is faffing slightly before we go somewhere – he is nothing like my Dad but I can over-react a little on occasion!
I have heard parents talk before about how they are never able to get anywhere ontime now that they have children, and I am not criticising, we are all different (and our kids are all different) but I haven't found that to be true yet for me. Who knows, when I have two kids my anti-lateness feelings may crash and burn! If anything though I find it even harder to be late since we have had Monkey, because we are up so blimmin early in the morning!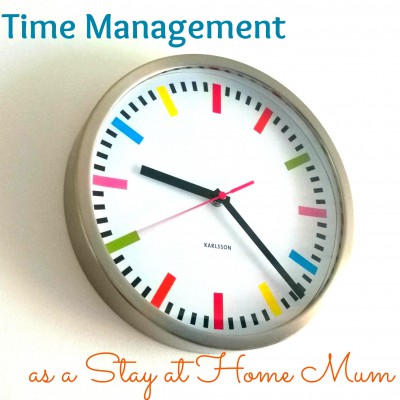 There is a lot of time to fill in a day and it is one thing as I struggled with in the early days as a SAHM. With no work or pressing schedules, how to fill all of the empty hours at home with just you and a little one felt a bit daunting. These days it is less so, and I suddenly realised it is because of how I manage my time. I have compartmentalised my day.
Have you seen the Hugh Grant film "About a Boy?" There is a scene early on where he talks about how he divides up his time into units (you can watch it here if you haven't seen the film, or fancy a reminder) and I have realised that is basically what I do! It's not quite to the extent that he does but the day is very much divided up into portions.
This has happened naturally over time and in many ways it is just part of having a routine. (I recently wrote a guest post for the lovely The L's Mum about our current routine, which you can see here). So put simply there is the time in the morning after breakfast and before Monkey has a snack (around 8.30 – 10am), then there is after snack and before lunch (10.30-12), then after lunch before his nap (around 12.30-2pm). Finally we have the post-nap time, before tea time, which varies day to day but is usually a pretty relaxed time of day. None of these periods of time feel particularly long on their own and so are easy to fill with outings or activities.
It's amazing how much dividing the time up like this has helped me get through the day. If I knew I had an entirely empty day to fill with just Monkey and I there was a time when I would panic. Remembering that I could divide the time up makes it easier. A trip to the shopping centre can fill one time block. Doing some messy play fills another. Putting on his music and actions dvd can fill another if I am knackered. Going to the park can fill a time slot, or a trip to the garden centre, etc, etc.
Not every day is like that of course, with play-dates and visiting friends or family there is less need to divide the day up so specifically and we have spent hours out in one place as he is perfectly entertained. But it has definitely helped on the more average days.
As Monkey is getting older I am thankfully able to worry a bit less as he is usually happy to potter about at home a bit more. He will play in his sandpit for a while when the weather is nice, or play with his trains on the living room floor, or just flit from activity to activity a bit more. But still, it helps us both to try and get out for at least one of the time slots during the day. It gets him to burn off some energy, and stops both of us going stir crazy!!
I do wonder how this will change when baby comes and we have to fit another little person and their natural rhythms into our day to day life. I am sure it will undoubtedly make it harder. Then as Monkey grows up and we have the school run to get ready for the routine will obviously change and who knows, I may well end up being late more often. I know I will hate it if that happens though, and will try my utmost to avoid it. I just really really hate being late!
How do you manage your time as a parent? I imagine it is different when you are working as there is less time to fill, and more things to do in less time! What are your feelings towards lateness? I know it doesn't bother everyone as much as it bothers me!