I always like to look out for new activities with Monkey and a couple of weeks ago I saw a post (I'm really sorry I can't remember where) of an activity I remember as a kid. Magic Watercolour Painting. The premise is simple you draw a picture on a white piece of paper, using a white wax crayon. When you paint over the picture using the watercolour paints, the wax repels the paint and your picture appears.
I thought this sounded simple and fun for Monkey. I thought I could draw something and I imagined him loving the images revealing themselves underneath. We haven't really done watercolour painting before, sticking to poster paints generally, so I thought this would be nice to try.
I bought some uber cheap watercolour paints, found a white wax crayon and drew somethings on some paper. I kept it simple, drawing numbers (because he loves them) and I also wrote out a Happy Birthday message to his Great Grandpa, thinking it would be a nice picture to give him.
Sadly we didn't ever give him that picture, because, well it didn't exactly work out. It's not that it was a total disatser, because it wasn't. Monkey very much enoyed the watercolour painting, although he did for some reason decide everything had to be black (cheerful colour) and sometimes randomly spent some time going from paint to water to paint to water without getting anything on paper, but it was a learning experience and he had fun.
What was unfortunate though, is that the 'magic' side of the activity didn't really happen. The images just didn't really appear. Not in the way I remembered or thought they would. Occasionally you could see a bit of a number or letter, but then they seemed to disappear 🙁
I wondered if maybe the crayon was a washable one or something, so I found a different brand of white crayon (a more basic one) and tried that, by drawing a clock. Not much of an improvement.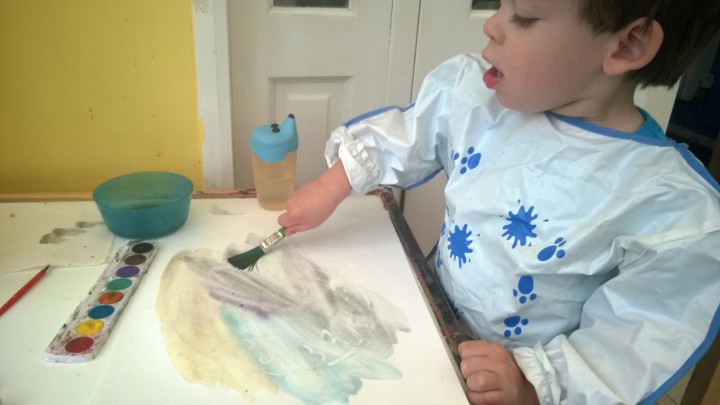 I then drew some numbers in really thick crayon, going over and over the image so get as much wax on the paper as possible. This gave the best result of the day, in that you can at least see the numbers… but it's still not really the way I am remembering it!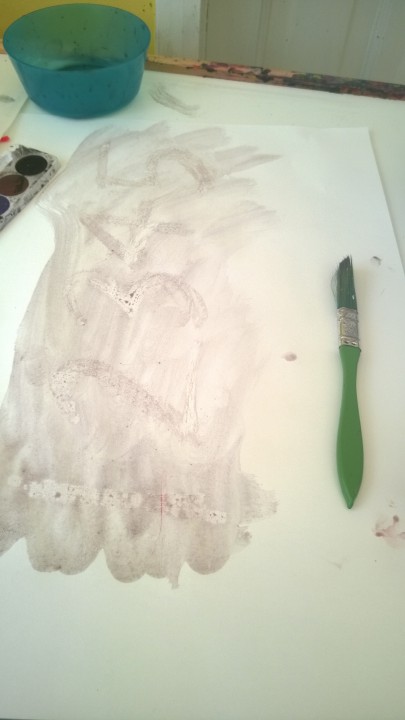 Has anyone got any tips? Am I missing some crucial step? I would love to know where I am going wrong with what I thought would be such a simple and fun activity! Monkey enjoyed himself so I'm not too despondent about it but I was a bit gutted it didn't go quite the way I had planned!