Our little lady has a real thing about tigers and giraffes. She has watched the tiger episode of show me show me countless times and has a real love of giraffes. "Gi-rar" surprised us as being one of her first words and actually while all other animals are named by the sounds they make (moo, miaow, woof woof, even an elephant is called an "oooooh" and a lion is a "rar" )" tagar" and "girar" are the clear exceptions in being called by their actual names. Because of this I've had it in my head that we should take her to see them in a zoo.
It turns out that most of the zoos within easy access for us only have either tigers or giraffes, rather than both, with one exception being Whipsnade Zoo. There's no denying it is a pricy day out but we had about £10 of tesco vouchers we were able to exchange which did take a chunk out of the cost for us. Hubs was able to take a day off during half term too so, with great excitement, off we went! It's a little over an hour for us so not too bad and we got there shortly after it opened. We were so lucky too as it was a beautiful morning.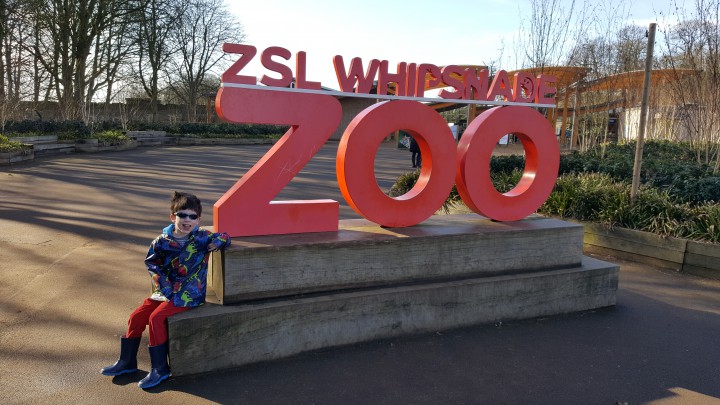 We headed in and the first animals we saw were the lynx cats. LM adores cats so she was thoroughly excited about the "miaows." Monkey was telling her off and saying that they don't miaow, until we pointed out on a sign that actually they make a lot of the same noises as housecats! Then it was on to the beautiful brown bears which looked on so cuddly! We also saw some sleeping wild boars, where LM kept telling us to shhhh, and a wolverine bounding about but I didn't get a photo of that.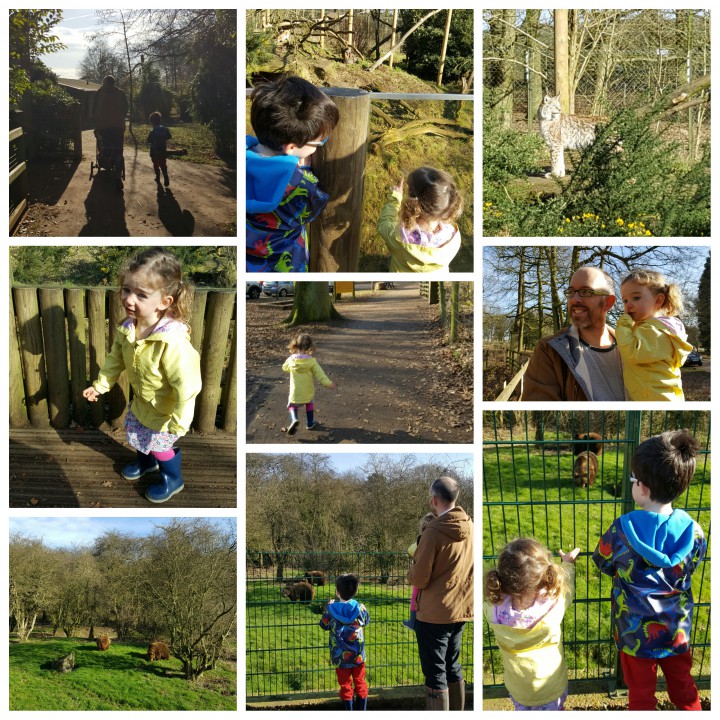 We were headed to the penguins and couldn't believe it when we came out on the hilltop to this incredible view! Again we were so lucky with the weather as we could see for miles, it was incredible. We tried to get a little family selfie but we had the sun in our eyes so it didn't work too well, still, not the end of the world!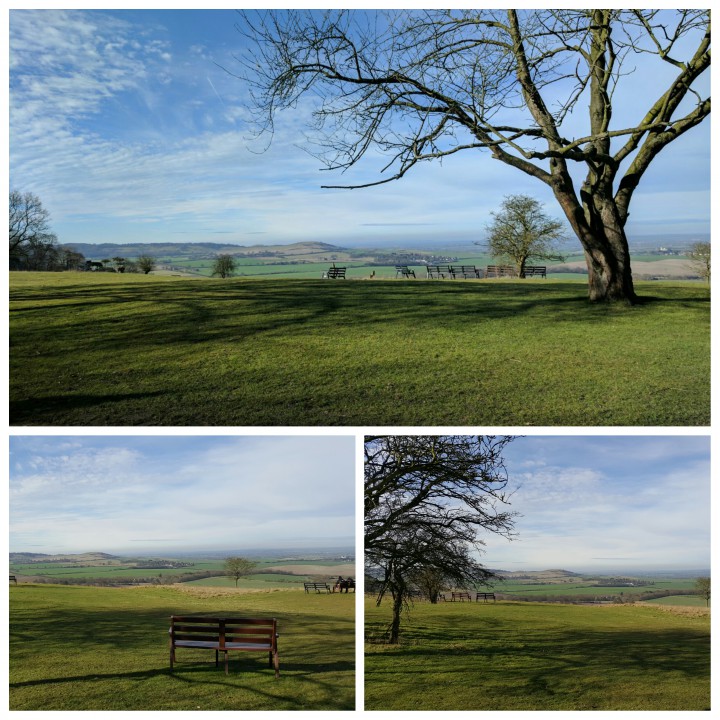 We saw the penguins, which Monkey was massively excited about (as he is in penguins class at school), then some reindeer before stopping for a little picnic looking out at the view. We had hoped this would be a cup of tea stop but as our half term is a little out of sync with the rest of the country's sadly lots of small places like this around the park were closed.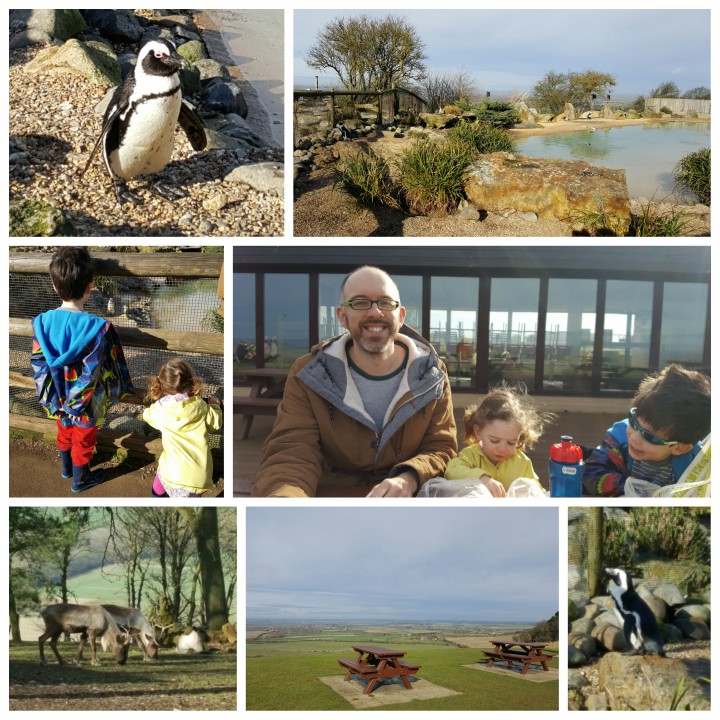 The view was beautiful but it was incredibly windy on this edge of the park and we were more than happy to go back in a bit, to see some animals of Africa, including antelope, meerkats and lions. The lions were incredible and so huge! They were asleep just in the other side of some thick glass and they were incredible to see. They were so cute too as one went in for a snuggle with some of the others and there was a lion sandwich!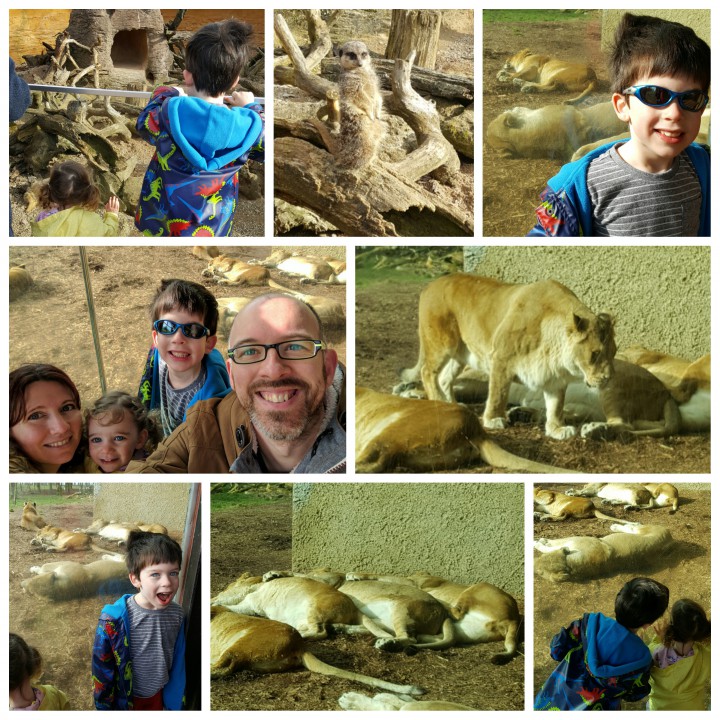 After the lions it was on to one of the animals we had particularly come to see, the Giraffes! LM was a little scared to start with, and let's face it, they are very big, but they have a wonderful viewing platform which I think helped put her at ease. She was absolutely loving them!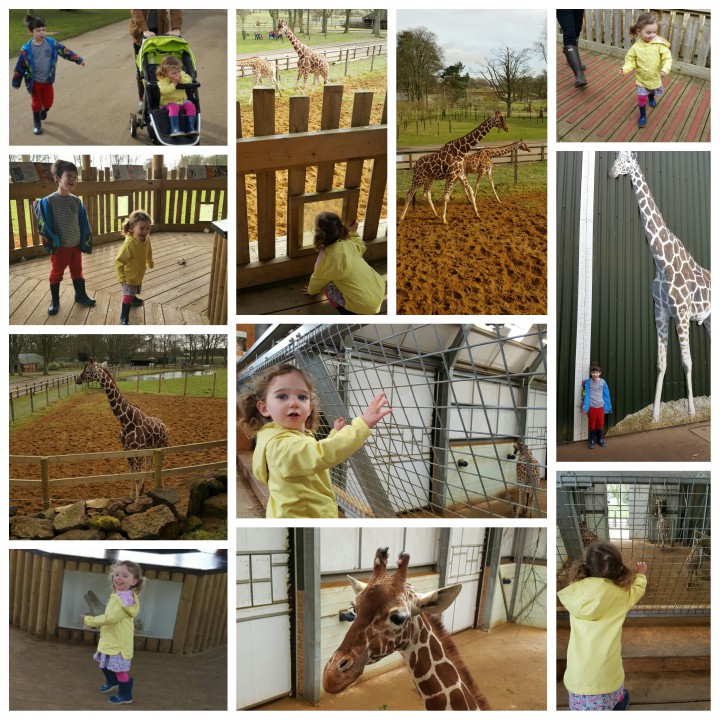 We then headed to the edge of the zoo again to see some cheetahs and hippos. It is here that I must mention the sheer scale of the place, as there are quite long walks between each animal. Which is good as they have spacious enclosures, but it was a bit of a trek at times. According to my Tom tom watch we walked around 13000 steps in the 5 hours we were there! You can pay extra to take your car in, and there are places to park at the various areas but, I'm a bit of a cheapskate for one thing, but also wasn't sure about getting the kids in and out of the car constantly. Anyway we walked to the cheetahs which were gorgeous, and the hippos, which were mainly hiding underwater, though we did get a couple of snaps when it popped its head up. Along the journey we did also see zebras and flamingos!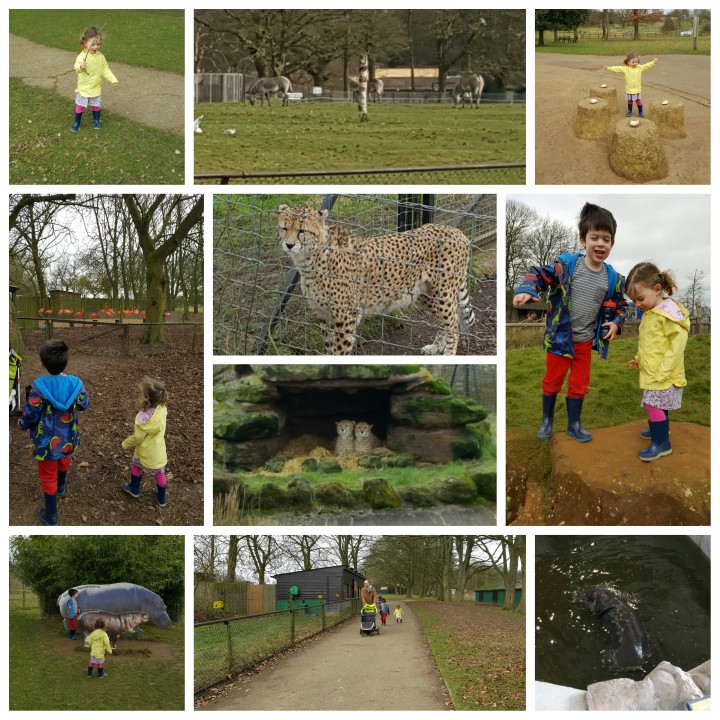 We had a little break in one of the cafes that was open, we only bought snacks as we had brought our picnic with us, but the food choices did look and sound very tasty! After that pitstop, it was on to another of the highlights, seeing the Tigers! The kids were very excited about this and we got to see them pretty close up.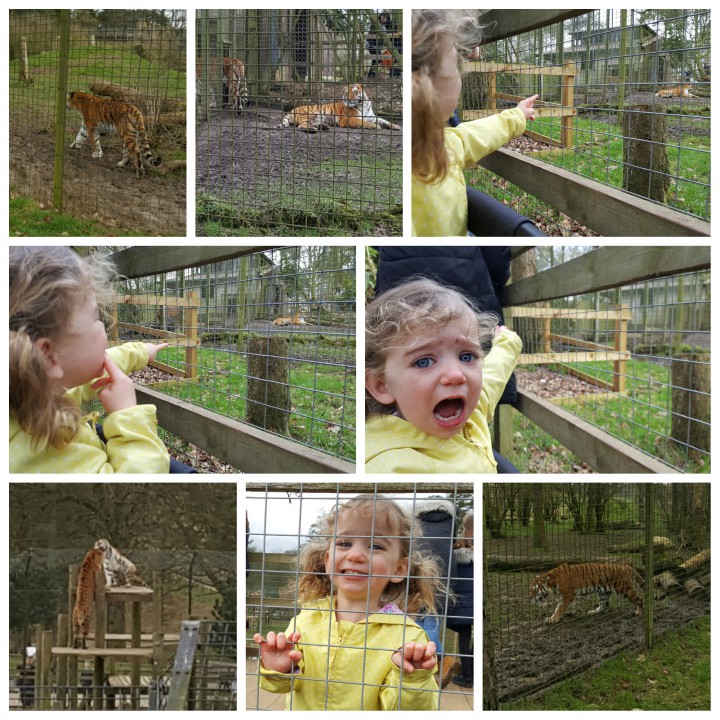 We then had a real bonus, we walked round to the other side of their enclosure, where there is a great viewpoint, and watched the Tigers having a real spat, it was incredible! The roar was so loud and they really went for each other. We saw them have another go at each other shortly afterwards, and we assumed the female must be in heat or something. Amazing to watch though, LM found it particularly hilarious and then was running around roaring at us all! Think she needed to be caged 🙂
Next up were some rhinos, which Monkey loved, purely because of the mud they were stomping around in! The elephants are having work done on their area so it was a bit of trek to get round to the all weather paddock that there were in at the time, but they were lovely to see. A little one was having great fun playing with a ball, and it would have been lovely to see them roaming in their big paddock!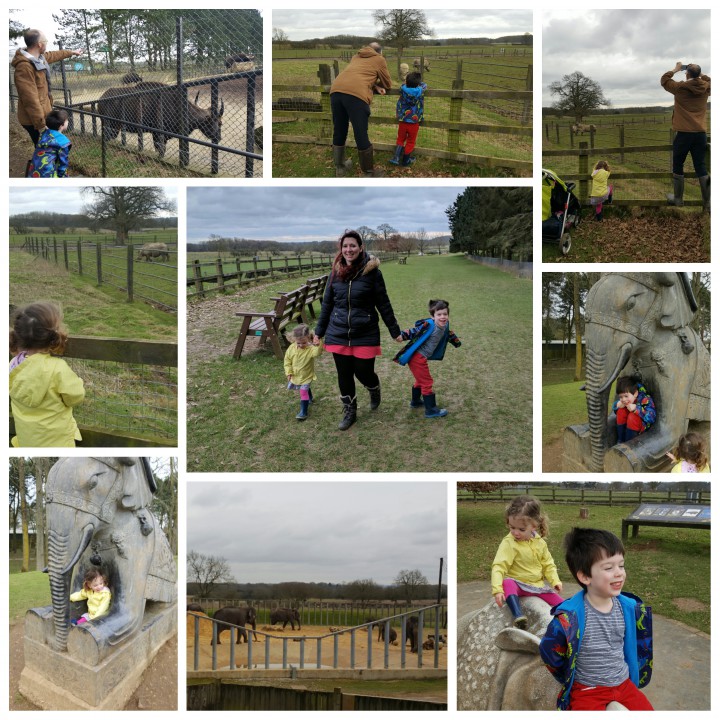 The kids had seen the playpark by this point and were desperate to go and play so we then headed there for a good old run around. The park was huge and the kids loved every second, LM did really well on the park that was clearly meant for older kids too!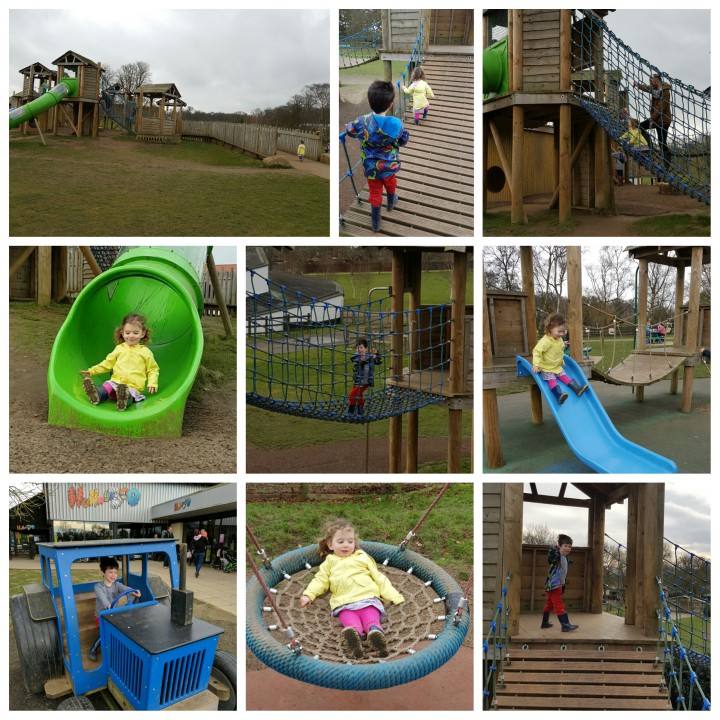 There is also an indoor soft play in this area, and a petting zoo/farm but we didn't make it to either of those. After 5 hours and 13000 steps hubs and a were getting tired of it was time for us to head off. Shame not to see the sealions, butterflies, crocodiles, Monkey's, lemurs and anything else we missed but we definitely feel we made the most of the day and saw lots of animals.
Have you taken your littles to the zoo? What are their favourite animals?