After some of my more downcast posts lately, this week has been a very lovely week. Daddy is feeling better, monkey has been well (although he's caught another cold in time for the weekend, bless him) and we have been having lots of playtime!
As he is growing older I am always trying to find new ways to keep him entertained, he is a curious monkey and likes a lot of variety. We are a very busy little pair and are out and about a lot as he gets quite bored by being in the house, but his attention span and concentration are improving and he is enjoying playing with some of his "older" toys, like his shape sorter and moving beads toy (not sure what to call it!). It's amazing seeing him learn so much week by week and watching the concentration on his face when he tries new things!
So here are some of the new things we have been trying. I try and get ides from all over the place, on websites such as babycentre.co.uk, where they have age appropriate play ideas, from other mummy blogs such as rainy day mum, and also I received a gift of "50 things to do with baby" which has some cute ideas too.
1. Water play
With the gorgeous weather last week who could resist giving water play a go! Monkey loves bathy time we daddy and has a good splash about so I wanted to have fun with water play too and the lovely sunshine gave the perfect opportunity, in the shade and plastered with suncream of course! I bought a sand/water table a little while ago being optimistic for the summer and so we put a little water in there with some toys and let him splash about and play. He basically want to throw the toys out of the water (getting mummy and daddy soaked in the process) so he could just splash with his hands. He's so happy doing this and pulls the cutest expressions when he splashes himself in the face.
2. Sand play
As it cooled off later in the week and we were generally inside more I decided to try the sand/water table with some sand in the conservatory. Yes I knew it could get messy but there's always a hoover and the conservatory is only really used as a playroom anyway. At a local park there is a sandpit and we tried it once but monkey didn't want to know. Nevertheless, I thought that maybe in his home surroundings he would like it. He is very happy sat playing with the gravel and stones on our drive, and at a playpark recently he wasn't interested in any of the equipment and wanted to be sat playing in the dirt for ages, so I thought sand would be on his list. But, nope, he pulls his 'yuk' face when he touches it and tries to wipe it off his fingers. I tried with sieves and buckets and things but nope, he doesn't like it. Hey ho, will try when he gets older!
3. Rolling balls.
I liked the idea of this one right away, use a cardboard tube and roll balls down it, sounds brilliant! But we had no balls of the size that would fit down any tubes. So on one of our outings, I thought it would be really simple to find some bouncy balls, but no, I couldn't find any in our Tesco (which is ginormous) or smiths or mothercare/early learning centre. How hard can it be? Anyway in the random party bit of Tesco I found some suitable-sized balls, but they are eyeballs. Charming! But they will have to do, they are a good size as not too small to be a choking hazard, but they don't fit down the cardboard tube I had found either!
Hubby had the solution, make a tube out of a piece of card, perfect, made a lovely big tube that some of our other balls fit down too. Monkey loved it, after showing him what to do he really enjoyed putting the ball in the tube and watching it pop out the other end! Unfortunately the piece of card wasn't strong enough to withstand his grip and once he decided he wanted to hold the tube and the ball, it soon got crushed! So I raided the wrapping paper drawer again and managed to pull a tube out of some wrapping paper without completely destroying the paper itself. Hey presto, a better sized tube! Only the eyeball balls fit down this one but that's good enough. When daddy came home we had fun sending the balls flying backwards and forwards between us.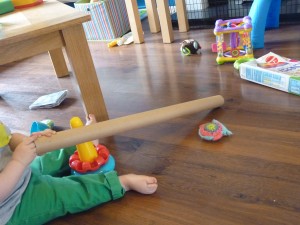 4 – Toys in a pillowcase
I liked the idea of this one, basically teaching little one about object permanence, and how to find them. Basically put a variety of objects in a pillowcase and watch them find them and pull them out one at a time. I used a pretty random selection of bits and bobs that monkey likes to play with, including a soft ball, a random chick shaped purse and an old remote control which he likes pushing the buttons on. I also put in one of his instrument toys so that it jingled. Monkey was a bit intrigued but not actually that bothered. If I opened it so he could see the bits inside he would pull them out, but when it is more closed he lifts it up but then gets distracted and moves on to something else. Another one to try again another day!
Even with all of this play our time has mostly been taken up with monkey walking! More on that later …. If you are reading this and have any good playtime ideas for us to try, please share!