I'm not sure if it is toddlers in general or just him, but Monkey loves helping. He can be getting in the way and under my feet but if I give him a job to do, he is so excited. He doesn't always actually help that much but it certainly keeps him busy while I am getting something done, and he does look cute while he is helping! Plus I figure it helps him learn life skills. For example he likes cleaning up after himself when he has spilt something on the floor or on the table.
So anyway we were doing some tidying in the front garden last weekend, which involved a bit of chopping but mainly weeding. Rather than Daddy doing it all and me trying to entertain Monkey elsewhere, we figured we could get Monkey involved. His Granny & Granddad bought him some gardening bits for his birthday, which have mainly been used in the sand pit so far, and it felt like the perfect opportunity to do some gardening with them!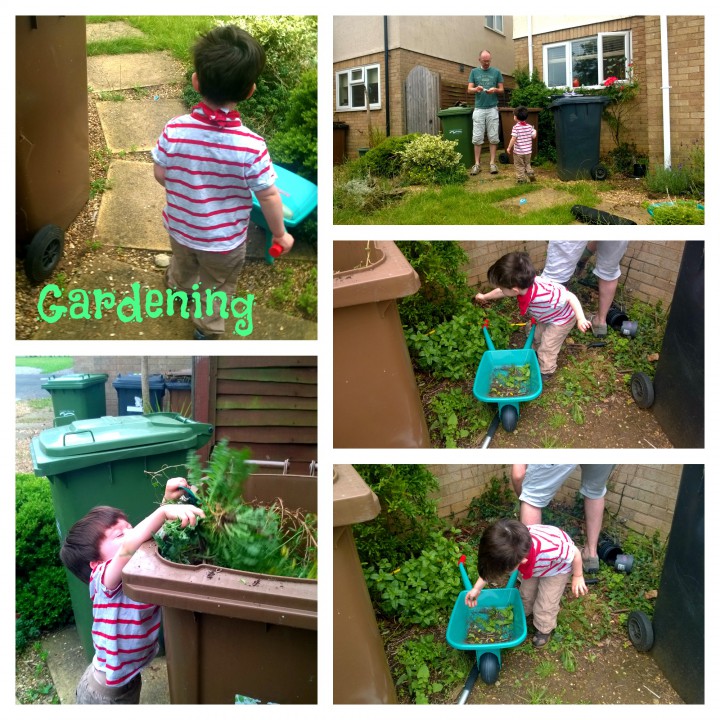 I was lopping bushes as it meant I could be standing still for the most part, while Daddy was weeding, and Monkey was helping Daddy. He was very cute and shouting "mo wee" "mo wee" (more weeds, at the moment we only have the 1st syllable of most words!!) and trying pull up weeds with his bare hands – we need to get him some gardening gloves but as it was managed to keep him away from any of the prickly weeds!
It's not just weeding he likes to help with though, at a friends house one day Monkey and his friend were being very helpful watering the new turf that had been laid. Monkey in charge of a hose is a slightly scary sight and I may have gotten sprayed a bit, by both kiddies, but thankfully it was hot and we soon dried off!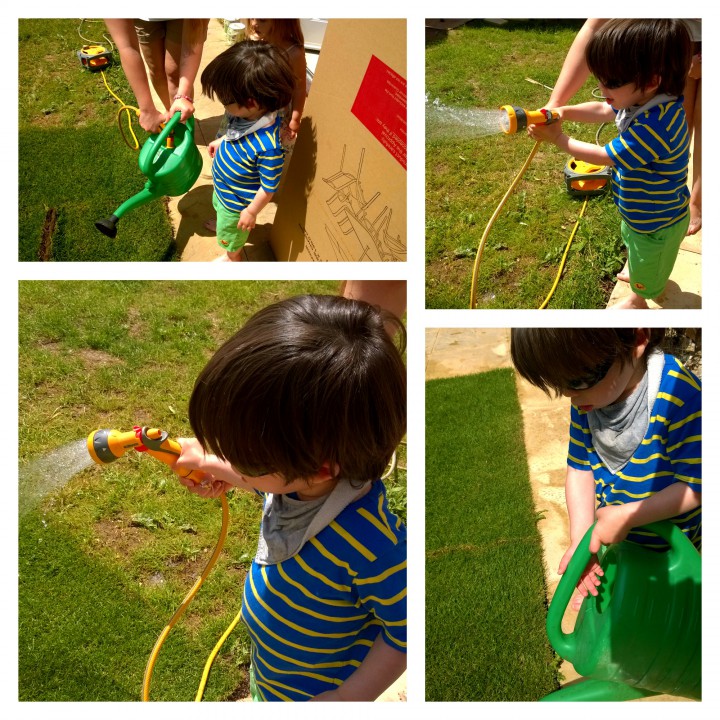 And on another occasion Monkey helped us wash our cars! I'm afraid to say we are very very lazy when it comes to car washing, we've had hubby's car about a year and that was the first time we ever washed it, and I think my car may have been washed once or twice since Monkey was born… though I'm not really sure. Anyway they were very much in need of a clean, and Monkey was only too happy to help 🙂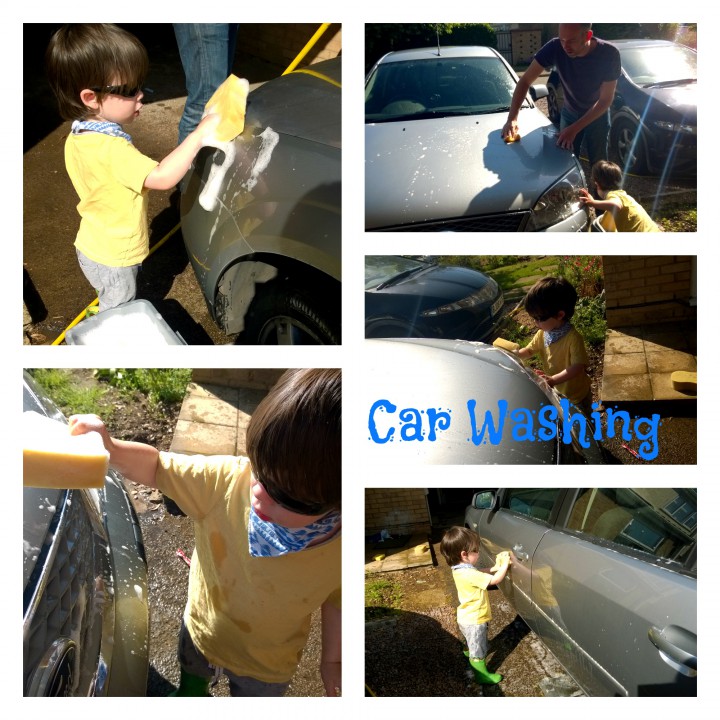 He can only clean up to a certain height…. and actually found it most entertaining to hold a sponge and watch all the water fall on the floor rather than use it to clean, but hey the cars got cleaned and he was kept busy so what more could you ask for?
How do you get your kids to "help?"