The days are getting shorter and the evenings are drawing in, but for the moment it is still quite warm at least. When Daddy comes home just after 6 in the evening it is family dinner time, but after dinner is very much Monkey and Daddy time. Monkey loves the time he gets to spend with his Daddy and lately they have been very much making the most of the warm evenings and having a lot fun in the garden between dinner and bathtime. Monkey always has loads of energy at this time of day so I guess that's why it is called the witching hour!
Most of the time I leave them to it but a couple of times lately I have poked my head out to watch the giggles.
Sometimes they do a bit of gardening, and Monkey loves running under the stream of water from the hose if Daddy is watering the plants.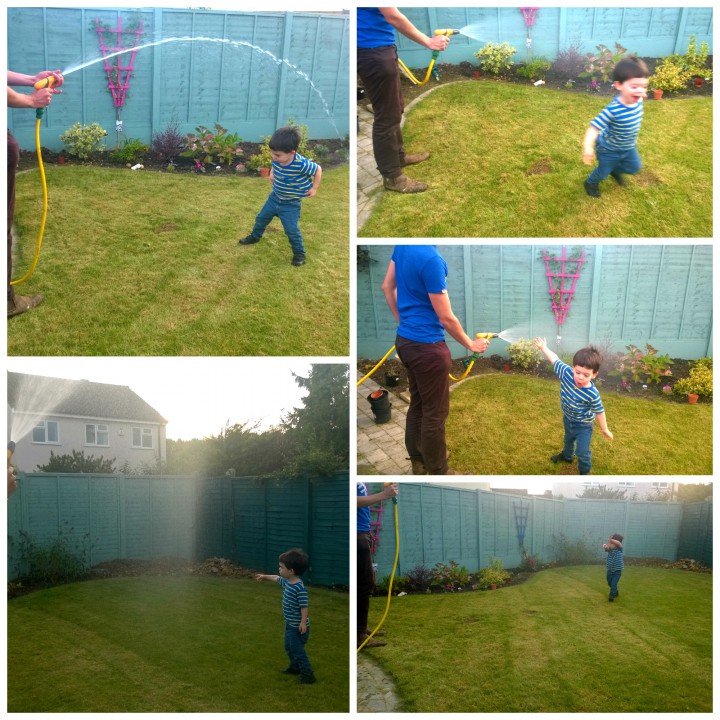 Sometimes they just run around like a pair of loonies, or play in the sand pit, or on his climbing frame.
Whatever they do though they have a lot of fun together and the fun continues into bathtime. There was so much giggling at bathtime the other day that I poked my head in… to be told "bye mummy, close the door" by Monkey. Charming eh? I know when I am not wanted! 😉 Made me chuckle and made me very happy to know he was just having fun with his Daddy 🙂