Last weekend, we did something very grown up. We *gasp* bought some garden furniture! The set we had previously hubby had inherited from a friend and it was very weather beaten and wobbly. It didn't really match our lovely new garden. We have had in mind we wanted some for a while but they have all been so expensive. On a trip to our local garden centre however we found a lovely set, heavily reduced in the sale and, well, we snapped it up!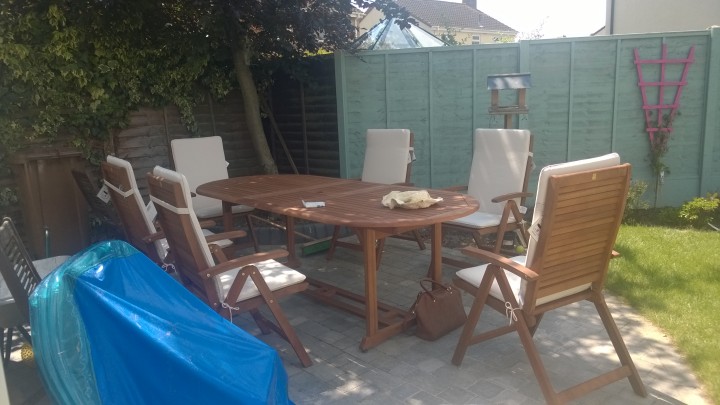 It took a couple of trips to get it home in the car, and hubby had to tie the table in on the last leg as it didn't quite fit, but we managed and it is now set up and looking lovely in the back garden. I'm not sure why, I mean we have a house, a toddler and a baby on the way, but for some weird reason, buying garden furniture feels like a very grown up thing to do. And I really don't feel like a grown up!
Anyway, immaturity was soon restored!
The furniture was heavily packaged in a looot of cardboard and initially, not knowing what to do with it, it was in a big pile in the middle of the lawn. Then Monkey saw it and decided it looked like fun! My little bro and his girlfriend were round helping us with moving some furniture and Monkey soon corralled Uncle Marky and Daddy into making something for him.
It started off as a very cramped little house with a tunnel to one side.
Monkey was far more interested in the tunnel bit though so it soon evolved in to one huge tunnel!
Monkey, Daddy and Uncle marky were having tonnes of fun running around the tunnel chasing each other with Monkey shouting "chase, chase" every few seconds. They were in out, round and round…
Until this happened!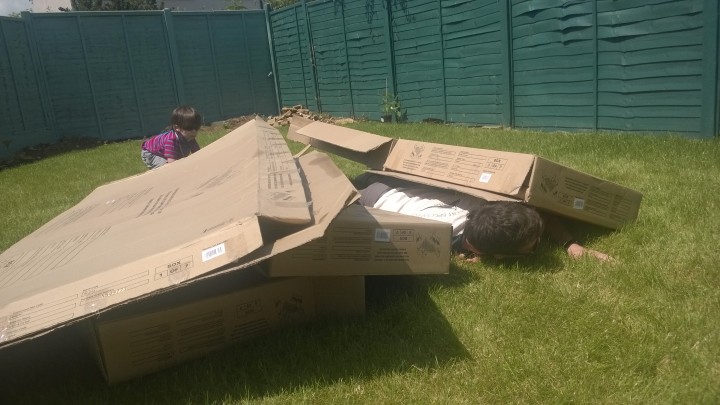 Monkey was not impressed so it was soon rebuilt and the fun continued until lunchtime.
In fact the tunnel stayed there and was very much in use until the rain set in and we had to put the cardboard in the garage ready for a tip run at some point (or until we think of something else to make with it :))
Cardboard to us adults is just packaging, and a bit annoying as you have to figure out what to do with it. To kids though, there is a whole world of fun imaginative play to be had with it and it is just lovely to see 🙂