We had a lovely little holiday at Overstrand, just south of Cromer on the Norfolk Coast at the weekend and we really had such a lovely time. There was a lovely beach at the village itself, walking distance from the cottage we were staying at. It is very much a tidal beach and unfortunately this last weekend there were high tides in the morning and low tides later in the day. With Monkey still very much napping most afternoons we weren't sure how much time we would get to spend at the beach.
Thankfully with it being so close though we managed to pop down every afternoon/evening for a play in the sand, and had a lovely time. Of course being September it wasn't the warmest time of day to be on the beach but that didn;t stop us having a lovely time, and making the most of the last of the suns rays!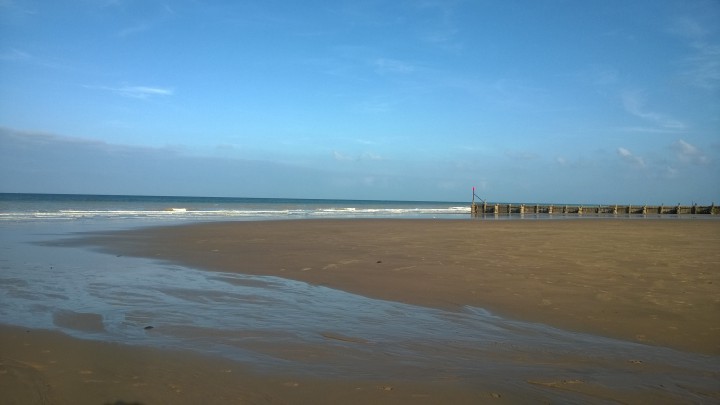 Monkey loves playing in the sand, doing lots of digging and helping daddy make castles… then promptly knocking them over again! Daddy was aso having lots of fun digging and creating moats, because of the tides he didn't have to dig the sand too far before it started filling with water. Perfect to make a moated castle 🙂
He also just loves running around barefoot on the sand, and I have to admit I love to see it. There's just something about running on the compacted sand that means he can be entirely free. No shoes, no stumbling over, just running carefree. I just love to see it. Maybe it's because I know that if he falls he will have a pretty soft landing. Yes he may get covered in sand but much better than falling over on tarmac!
I love this little video of Monkey running around on the beach. Note I am perched at the back of the beach as we forgot a chair (d'oh!), I managed the walks but couldn't stand too long and would have got a soggy bottom if I sat on the sand! ANyway we just love this video of Monkey enjoying the beach so much 🙂
We had a bit of an achievement on the beach too on one of the days. On our holiday in June we couldn't get Monkey to enjoy paddling and this weekend looked set to be the same as he didn't want to go anywhere near the sea. Then Daddy had a good idea of drawing numbers in the sand. I have mentioned Monkey's love of numbers before and believe me it has not dimmed, if anything he loves them even more!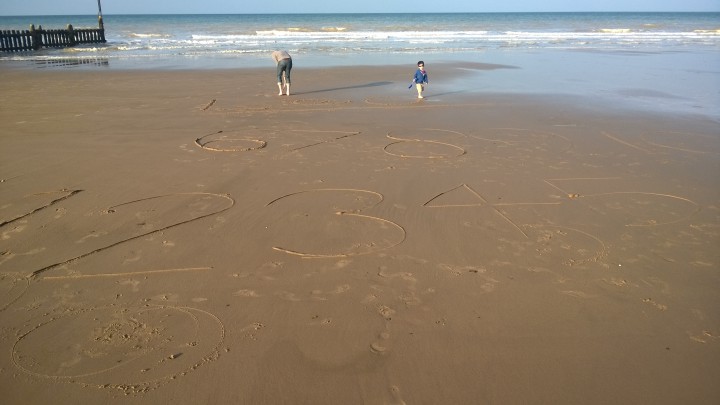 Anyway, by drawing numbers in the sand he slowly and gradually coaxed Monkey closer to the waters edge. We wouldn't force him if he really didn't want to do it but with lots of positivity and encouragement he gradually got closer and closer to the waves.The sea was quite gentle on that particular day, and ater running bare foot on the wet sand for a while the water felt quite warm.
It took a little while but once he was in he was in, and actually got quite brave and went pretty deep (for him)!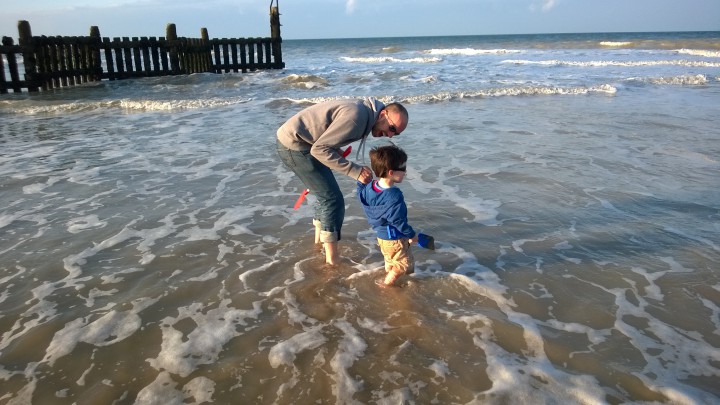 The sun was starting to go down behind the cliffs so it was time to head back to the cottage, we were very glad we got to make th most of being at the seaside though with lots of beach play!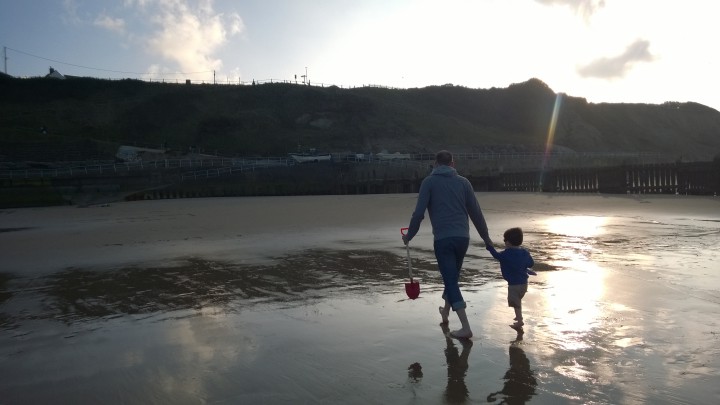 Linking up with Mini Creations for the joint Monkey-Daddy effort on the moated castle, Small Steps Amazing Achievements and Loud n Proud for Monkey's paddling bravery, and Savouring the Season for making the most of the last bit of warmth on the beach :).
Also linking with