At the weekend we took our little family on a short little Norfolk holiday. Our last little holiday as a family of 3 before baby arrives! We looked at a variety of places to go but it was all last minute (as we wanted to see how I and my pelvis were faring before we booked anything) and didn't want to go too far from home as long car journies aren't great fun in late pregnancy.
We considered going to Butlins as then there would be no cooking involved, but even on offer we thought the food packages were quite pricey and honestly we weren't convinced about the quality of the accommodation. I don't mean that to sound snobbish but we wanted to be comfortable. With Hubby being as tall as he is (6'2″) we really need a king size bed, especially now I am the size that I am too! But we also wanted it to be a good bed. We stayed at a Premier Inn when we went to a wedding recently and honestly had such a rubbish nights sleep as the King Size bed there was basically solid as a rock. We wanted this to be a lovely relaxed holiday and so wanted to find somewhere offering comfort.
(I'm sure there would be other benefits to going to Butlins such as the other things included, but with Monkey the age he is I am not sure how much use he would have got out of the other activities on offer, he is generally happy as long as he can have a run around somewhere!)
After a bit of a search we came across Poppyland Holiday Cottages. They have a number of holiday cottages to rent in Norfolk and they had availability at Rectory Cottage in Overstrand, just south of Cromer on the Norfolk coast. We felt that with doing breakfasts ourself and eating out all of the other meals it would still cost around the same as a Butlins trip, and we would hopefully have more spacious and more comfy accommodation.
We were not disappointed!
The cottage was gorgeous and the lovely king size bed was perfect, not too soft, not too firm… just lovely really. I even slept better on that bed than I have at home on our lovely bed recently, it was wonderful.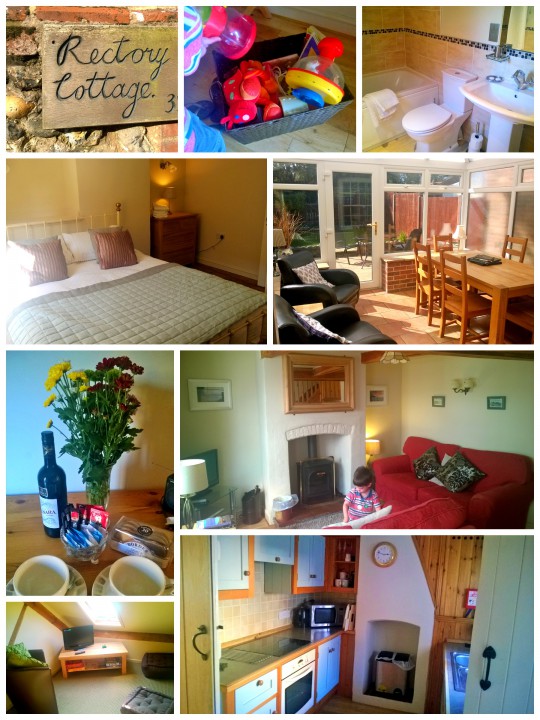 There was lots of little touches that welcomed us to the cottage including milk in the fridge, a bottle of wine, tea bags, yummy chocolate biscuits and fresh flowers. They were very family friendly too, and, knowing we had a 2 year old with us, they kindly provided a lovely box of toys for Monkey (you may see in some of the pictures that Monkey very quickly aquainted himself with the toys!) and a baby monitor. They also have a travel cot, high chair and stairgates available if you need them. Very reassuring when you have little ones and lovely not to need to pack everything.
Overstrand village was a very sweet little village and we were walking distance from the beach (even for me!) which was lovely – although the tides were not in our favour much this week and generally low tide was in the afternoon during Monkey's naps. We still managed to get some good beach fun in the evenings though and the weather was very good to us.
We spent some time at Cromer and nearby Sheringham and in general had a lovely relaxed weekend together. Sadly Monkey came down with a cold on the Saturday so we did have some wonderful grumpy meltdowns in restaurants which as a parent always make you feel wonderful. We let him have ice cream for lunch on Saturday as he seemed to have a sore throat and it was the only thing that cheered him up – but oh my you should have seen the judgement and disapproving looks coming from other people in the cafe. We weren't too concerned and chuckled if anything, but I do wish people would mind their own!
We did lots of holiday things – played on the beach, walked the promenade and went on Cromer Pier. We played with stones on Sheringham beach and ate lots of Ice Cream! We went in the penny arcades where Monkey proved to be hugely skilful at one of the games and won enough tickets to get himself a cool glider aeroplane. He was very pleased with this and we were quite impressed by his skill/fluke! 🙂 We treated ourselves to some lovely meals out, including a yummy fry up breakfast at the local cliff top cafe in Overstrand one morning.
A couple of more detailed posts about specific places to follow, but here are a few of our fave shots of what was a lovely and relaxed few days away, at a gorgeous holiday cottage! It was a lovely little cottage in a great spot and we will definitely look to go back at some point when no.2 is here!