After a really productive start on my #GetGoodSummer journey thinks have been quite a bit slower lately, hence there was no update post last week. We have managed to do a few bits though so here is where things stand at the moment.
Goal 1 – Clearing out the baby room – this one is thankfully completed!
Goal 2 – Decorating the baby room – well we are making pretty good headway with this one actually! After having the ceiling plastered last weekend, hubby spent a lot of this last weekend painting it. We are keeping it simple and painting it all white, and as I mentioned previously we have got some gorgeous wall stickers which will go up eventually. Monkey helped us clean the walls before painting and then daddy got cracking.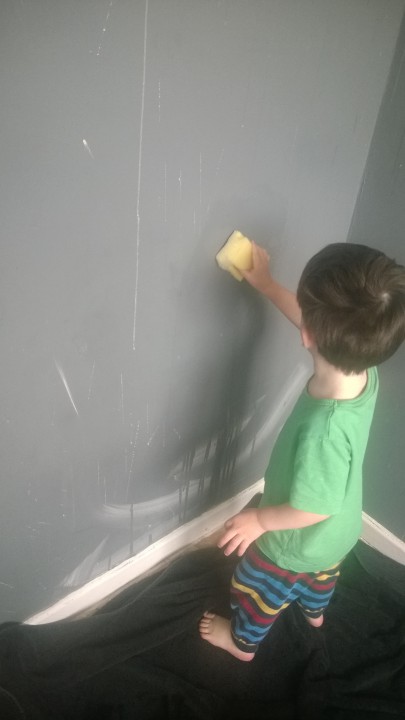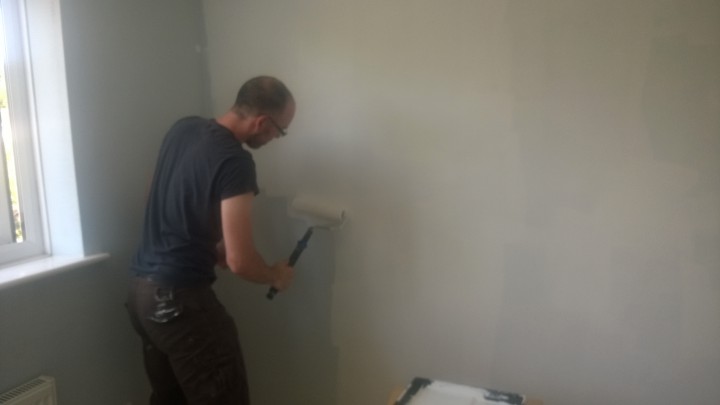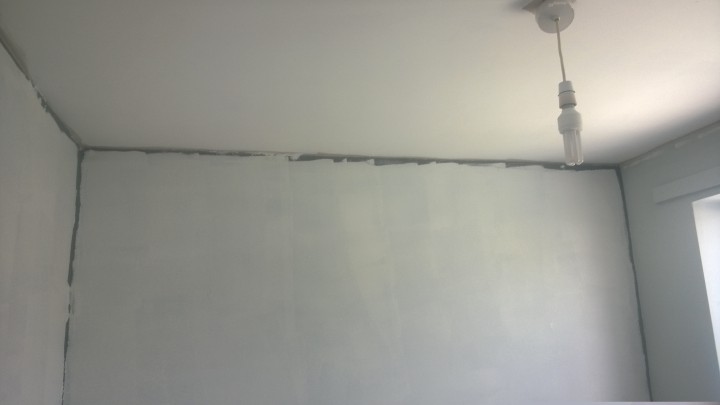 Sadly we ran out of white paint as 'one coat' actually turned out to be 2 coats, so 2 of the walls still need a second coat, and then it is time to do the glosswork.
Goal 3 – Sorting out the lease on my flat…. I am really not looking forward to dealing with this one but we have been recommended some property lawyers to talk to and hubby is going to call them this week. So who knows maybe we will make some progress with it eventually!
Goal 4 – Catching up with friends and family who don't live nearby. This goal has stalled a little, and after a good start I had to cancel some plans. I was supposed to catch up with two very good friends who live in London last weekend. I was really looking forward to seeing them and then I was supposed to be going to pop by a hen do for a couple of hours. Unfortunately with the way my pelvis has been lately I realised I couldn't manage it. It really got me down for a while as I hate not being able to do things because I am pregnant, but I had to be sensible and realistic about what I can and can't do. When I thought about it even the walk from getting off the train at Kings Cross to get to the underground felt like way too far. So I am still gutted, but it was the right decision.
We have some lovely friends from Newcastle coming to stay in a couple of weeks which I am dead excited about. While I may not be able to visit people anymore, we can still have people come to see us, so yay to that :).
Goal 5 – Getting Organised. We have made a bit more progress on this one as we spent a lot of time on Saturday sorting out Monkey's toys. He has sooo many toys, seriously where do they all come from? I know we bought some but I swear most of them just magically appeared! Anyway our house was overflowing with them so it was time to sort out some he doesn't play with much or has grown out of. He still seems to have loads but there is now a box of toys in the loft that will come out for baby at some point!
I'm not sure when I will feel that I have completely completed this goal, as it could encompass a lot – but at least it is motivating me to attack a lot of the little jobs that need sorting out but never get done!
So that is our little update! Hopefully we will have the painting finished this weekend and may know a little but more about what to do with Goal 3 :/
How is your #GetGoodSummer going?