You may or may not have read that I have set myself a Creative Challenge to be more creative with Monkey's playtime and to allow him to explore his creativity more at the same time. I know I am not alone in my fears about messy play but I am trying my best to brave with this challenge. (Please click here if you would like to join the challenge!)
With V day coming up I thought it was a perfect opportunity to be a bit creative. Hubby and I don't really do valentines day but I thought that Monkey's Nanny and Grandma might appreciate a card from him. So using an idea I've nabbed from Baked Potato Mummy I decided to do some cutting and sticking. I cut out some heart shapes and tore up some tissue paper in suitable valentines colours.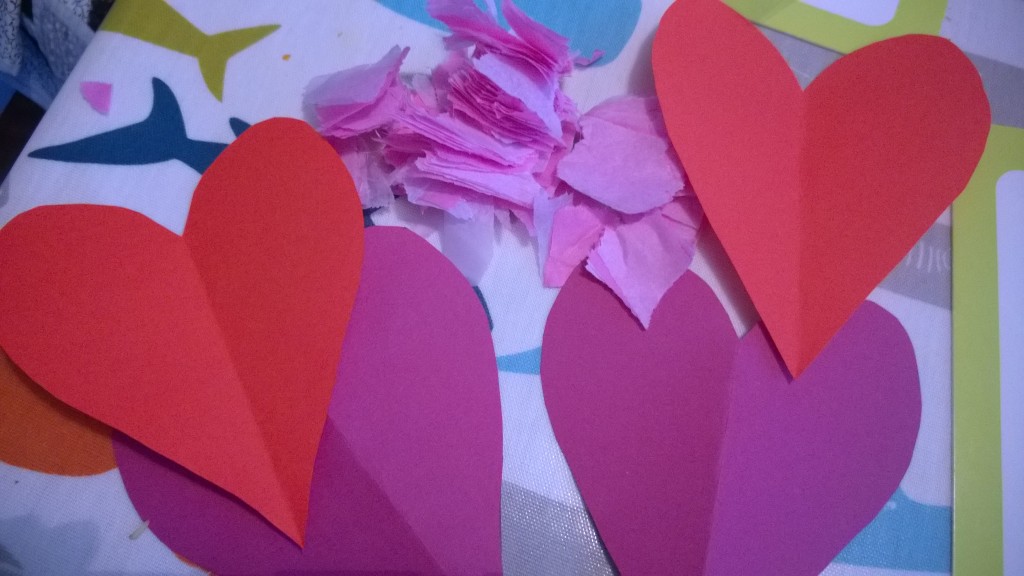 I was going to try and do the gluing on the hearts before Monkey joined in as I was worried how he would get on with the glue… but well I failed and my child is far too clever for me. He always seems to know when I am doing something I don't want him to know about. I think it's a combination of me being rubbish at being sly and the fact that he wants to know what is going on ALL the time to make sure he's not missing out!
So anyway he came to find out what was going on and was immediately obsessed with the glue bottle and lid….
for ages….
…even while I was trying to get him interested in sticking things (he loves stickers so I thought he would love it, but, no). He eventually had fun blobbing the glue on the card, but he didn't want to stick the tissue paper down.
And then, well I'm not really sure why, I think he thought I was trying to take the glue away from him (he was getting annoyed with having sticky hands so was trying to help!) but he started bawling. Properly bawling. As if his world was ending. For ages. For apparently no reason.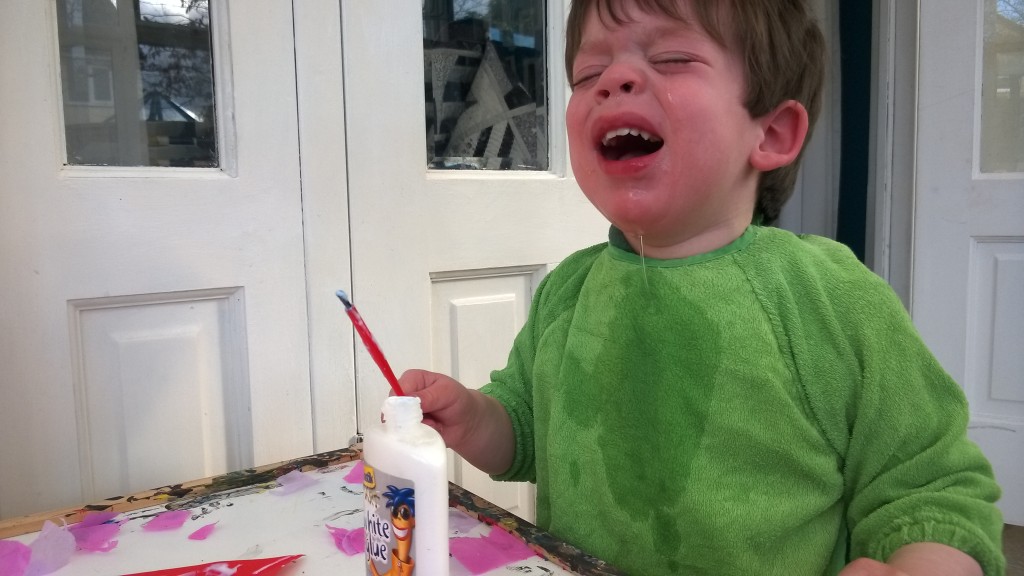 After a while I got out some little foam bits and he cheered up instantly – and played with them for a bit and then went to off to play-doh. (Kids, eh?)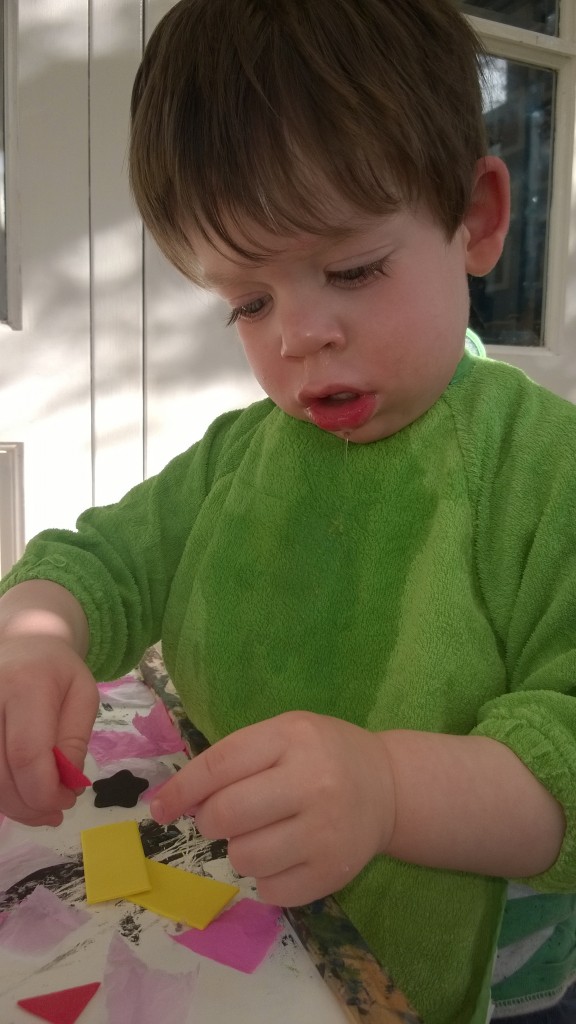 So well, here are the valentines cards… but I'm ashamed to say that aside from a little bit of glue dobbing, I made them (eye roll). Not a great start to the Creative Challenge!  I've tried to console myself that it was good sensory play, and good fine motor control practice, but, well, really it was a big fat fail wasn't it? haha oh well, you've got to laugh! Maybe I will try something slightly less ambitious for our next messy play!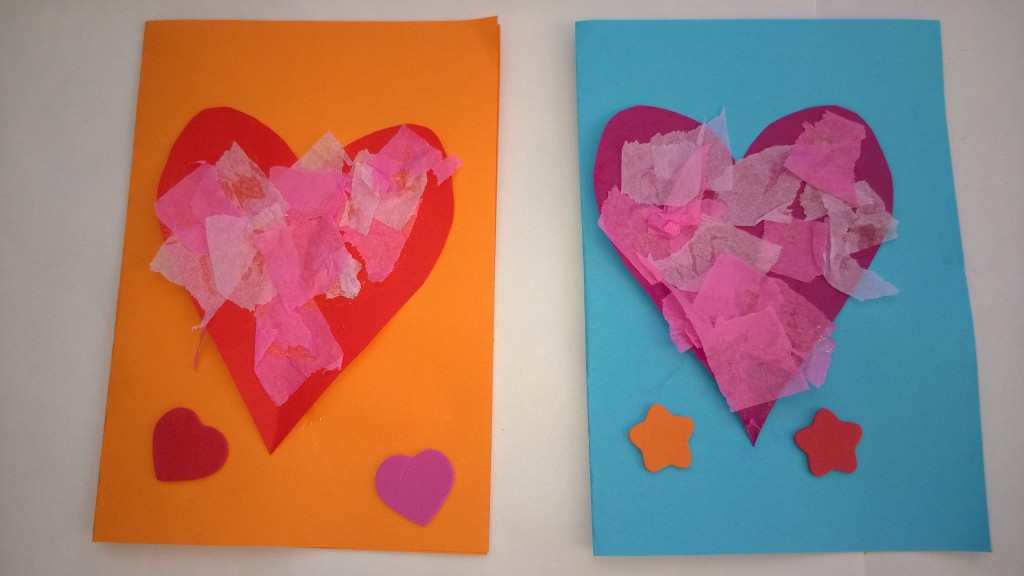 The upside was that when my little bro, Uncle Marky, came round for a play after work, the two of them had a whale of a time playing with the tissue paper, throwing it up in the air and all around! haha They were at it for ages! Silver lining and all that!
The Creative Challenge linky will open on the LAST WEDNESDAY of every month – so 26th February. I hope your creative challenge is going better than mine is so far! 🙂 Two weeks to go! Click here to find out more!!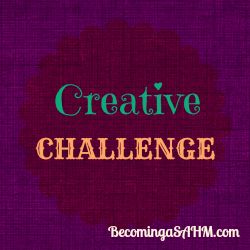 I'm also linking up with Kid GLloves and Mini creations… though all Monkey really made was a mess 🙂 sorry guys! xx