Yes, I made my own birthday cake. Before I go any further I will say that my lovely hubby did offer to make it, or we could have bought one, but I said no. I wanted to make my birthday cake, and I will tell you why.
Regular readers will know that I recently went to a cake decorating masterclass with Cake Boss Buddy Valastro. At the class, I was basically just having a bit of fun and the cake I decorated was a right mess if truth be told! When we left we were given a decorating set from the Cake Boss range, and I decided that I would like to decorate my birthday cake, using the set. Partly to make use of the set, and partly to prove to myself (and the world) that I am capable of decorating a cake slightly better than the one I did at the masterclass!
We were having a birthday BBQ on the Saturday after my birthday, so on Friday, Monkey and I did a lot of baking. Or at least, I did a lot of baking while he basically ate quite a lot of butter and sugar. He was happily occupied at least!
I made a huge batch of cake mix, all following a very simple recipe. To make a fairly small batch (for 12 cupcakes or a fairly thin layer of sponge) you would follow this recipe.
4oz Self Raising Flour
1 tsp baking powder
4oz soft Marge or butter (I use Stork)
4oz Caster Sugar
2 Large eggs
2-3 drops Vanilla Extract
Preheat oven to 170°C
Put all in a bowl and whisk with electric whisk until smooth and light. (Yep it is THAT simple!)
Bake 30 mins for cake, or 25 mins for cupcakes. Should be golden and bounce back if pressed gently in the middle) 
I made 4 times that amount, made a huge cake, in two layers, and 24 cupcakes.
Then I made lots of lovely buttercream icing, using this recipe: (I made a double batch for my cake and cupcakes)
110g Unsalted Butter at room temperature
60ml Semi-skimmed milk
1 teaspoon vanilla extract
500g sifted Icing sugar
Beat the butter, milk, vanilla extract and half the icing sugar until smooth – can take several minutes with an electric hand mixer.
Gradually add the remaining icing sugar and beat until smooth and creamy.
If you want different colours – your best bet is to add gel food colouring otherwise the consistency gets a lot sloppier and harder to work with.
On Friday night I dirty iced the cake (or applied a 'crumb coat') ready for some fondant. Now I didn't do quite as cake boss would recommend. I didn't trim the cake to make it flat (I did plan to cut off the tops of the sponge, but it felt too much like a waste of cake!) and I don't really have the smoothing tools he mentions in his book. I did pipe the icing onto the cake before spreading with a spatula though, and I have to say that was much easier. Normally i am dragging it all over the place and there is crumbs sticking to the icing everywhere, and it basically looks a bit rubbish. Piping the buttercream onto the cake, and then spreading with a spatula, worked a LOT better!
I made some different coloured buttercream for decorating the cupcakes and used a couple of the tips we already had for piping the decorations on. It started off quite well, and I was really pleased with myself.
Then somehow, it went wrong. I know they say a bad workman always blames his tools but honestly something went weird with the piping tips. I used exactly the same technique from moments before, but they went from looking like this…
to this…
What? How? Oh I don't know, but they look like I suddenly got drunk while piping, and well, as I am 3 months pregnant, I don't think that happened. Anyway, hey ho, they will all taste the same!
I had planned on finishing the cake on the Friday night too but this had annoyed me somewhat and by now I was tired and irritable and eventually conceded the point to hubby and agreed it may be more sensible to finish icing the cake the following morning!
Feeling fresh on Saturday I set about decorating my cake. Unlike at the masterclass where I just went all guns blazing with no clear idea in my head, this time I had a vague design idea.
I started with the white fondant, which seemed to go ok, although I did make a bit of a mess on the sides of the cake.
Thankfully I planned on putting a thick band of icing round this bit, which will hide it but I managed to patch it up a little.
Then I cut some ribbons using the handy cutting tool from the set, and applied round the base of the cake (handily hiding my previous errors!).
The set comes with lots of different shaped cutters, but I chose to just use the star shapes for my cake. So I cut out lots of stars in the different coloured fondant and applied to the cake.
I don't think I was very delicate with the stars as they look a little more like star fish than stars as they are all wavy, but they still look quite pretty! We'd bought some gel icing pens for writing on the cake with, so I had a little practice, and actually found them really easy to use!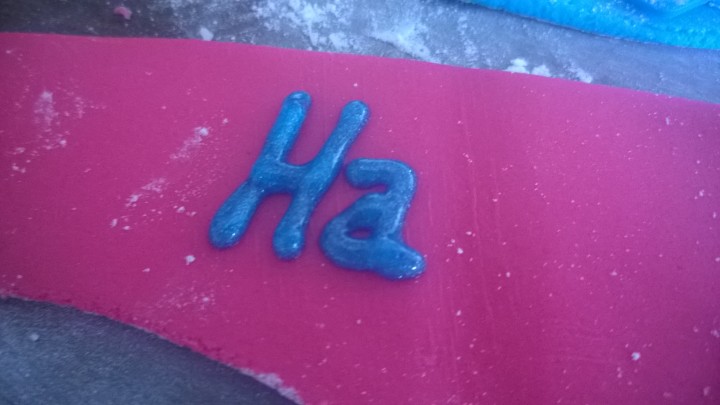 So Ouila! My Birthday Cake and cupcakes! Not perfect and my writing on the cake was a little wonky but overall I was quite pleased. I was pretty chuffed with them, and everyone said they tasted yummy, so a big success overall I think!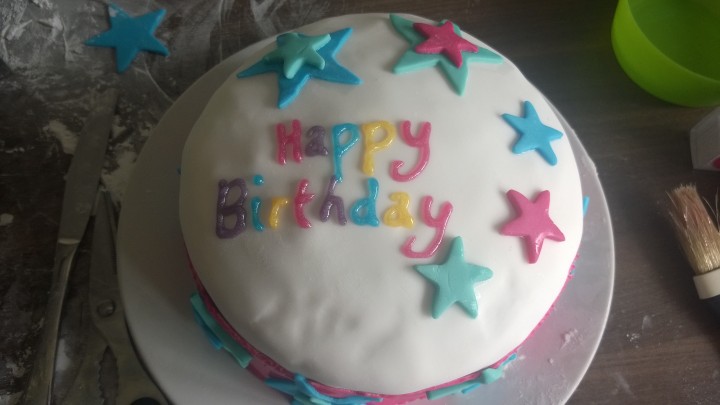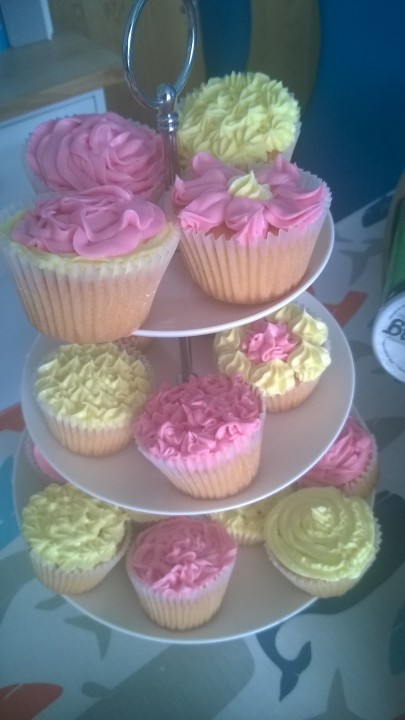 I used the Cake Boss circus kit to make my birthday cake, which retails at £25.00. I received the kit free but all words and opinions are my own.